Fredette, BYU confound Wofford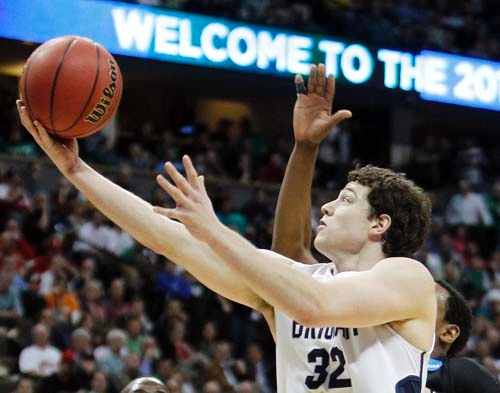 DENVER — Slowing down The Jimmer? It's possible.
Stopping him altogether? Well, as the sign in the stands put it, "Fredette about it."
Wofford used about every defense imaginable Thursday but still got "Jimmered" by the nation's leading scorer. Jimmer Fredette dropped in 32 points to lift third-seeded Brigham Young to a 74-66 victory over the Terriers in the NCAA Tournament.
Fredette shot 10-for-25 from the field, hit 10 of 12 free throws and added seven assists to help the Cougars gain their school-record 31st victory. Next, they'll play Gonzaga on Saturday in the Southeast Region.
"He's a great player, great scorer," said Jamar Diggs, the Wofford guard who drew the short straw and covered Fredette much of the night. "One of best players I guarded all year."
The 14th-seeded Terriers (21-13) lost in the first round for the second straight year, but as they did in a four-point loss to Wisconsin in 2010, they gave BYU (31-4) a game. The Cougars played with a six- or eight-point lead for most of the second half and never turned it into the rout that many of these 3-vs.-14 matchups can be.
But in the end, Wofford wound up like most of BYU's opponents this season — on the losing end, with nobody to match one of the country's most tenacious players. Fredette's 32 points were 3½ more than his season average.
"He's really deceptive quick," Diggs said. "You think you're in front of him, and he's by you. He's quick and unlimited range. Tough matchup."
While Fredette forced his share of shots and was only 2-for-9 from 3-point range, Wofford didn't live up to its billing, either. The eighth-best 3-point team in the country went 4-for-19 from behind the arc. Outside of post man Noah Dahlman, who went 6-for-10 en route to 22 points, none of Wofford's key players came close to making half their shots. Diggs got his 14 points on 5-for-14 shooting. Cameron Rundles went 1-for-9 on 3-pointers and had 11 points.
"I thought we did do a great job on Fredette," Wofford coach Mike Young said. "That he'd be 10 of 25 from the field and 2 of 9 from 3, I'd have thought we would have won the game."
Taking turns covering Fredette were Diggs, Rundles and guard Brad Loesing. Occasionally, big man Tim Johnson would pop out and try to trap. But they found it difficult to deny Fredette, who even attempted shots from 4 feet behind the arc. His favorite play in the second half was driving left to the hoop, then switching to his right hand for a layup.
"They were forcing me left so I kept going left all the way to the basket," he said. "I was able to get to the basket, get the lead up and give us a cushion."
He did that on two straight possessions to give BYU a 49-41 lead. The teams traded buckets for a bit, then Wofford went on a three-minute dry spell during which BYU extended the lead to 65-51.
Charles Abouo did most of the damage in putting the game away, scoring eight of his 10 points during the late stretch and giving the Cougars something they'll need if they're going to go far in the tournament — a complement to Fredette.
Leading rebounder Brandon Davies, also the team's third-leading scorer at 11.1 a game, was suspended this month for violating the school's honor code.
BRIGHAM YOUNG — 74
WOFFORD — 66
KEY: Jimmer Fredette had 32 points as the Cougars got their school-record 31st victory.
NEXT: BYU vs. Gonzaga, approximately 4:45 p.m. Saturday, CBS (8)