Gilles, Hird crowned Las Vegas Marathon winners
November 12, 2017 - 11:42 pm
Updated November 13, 2017 - 12:26 am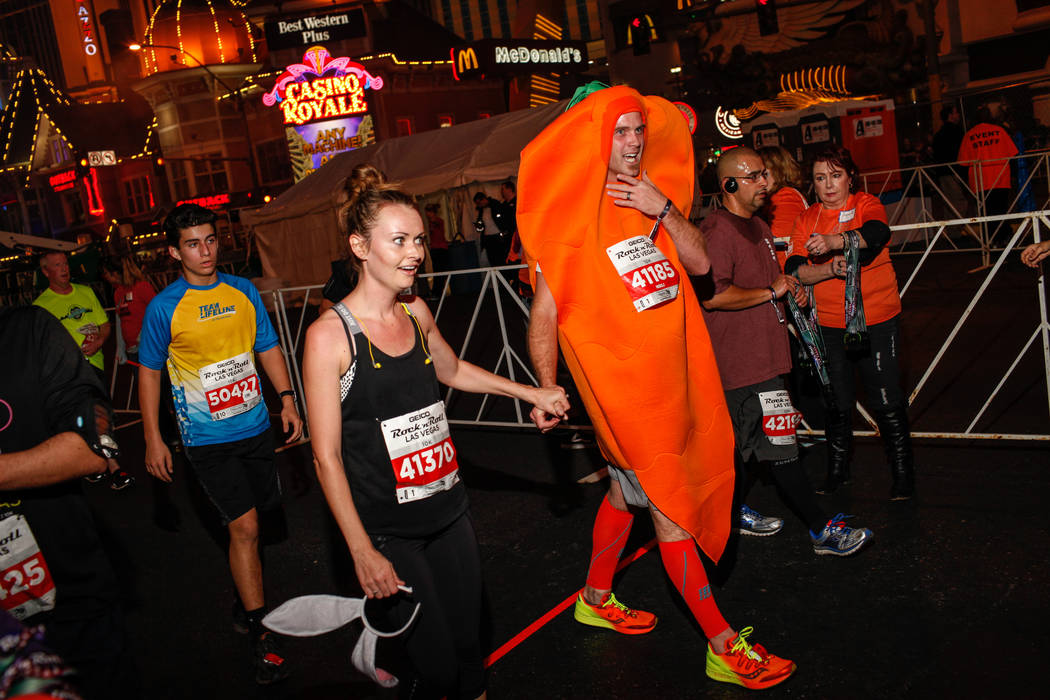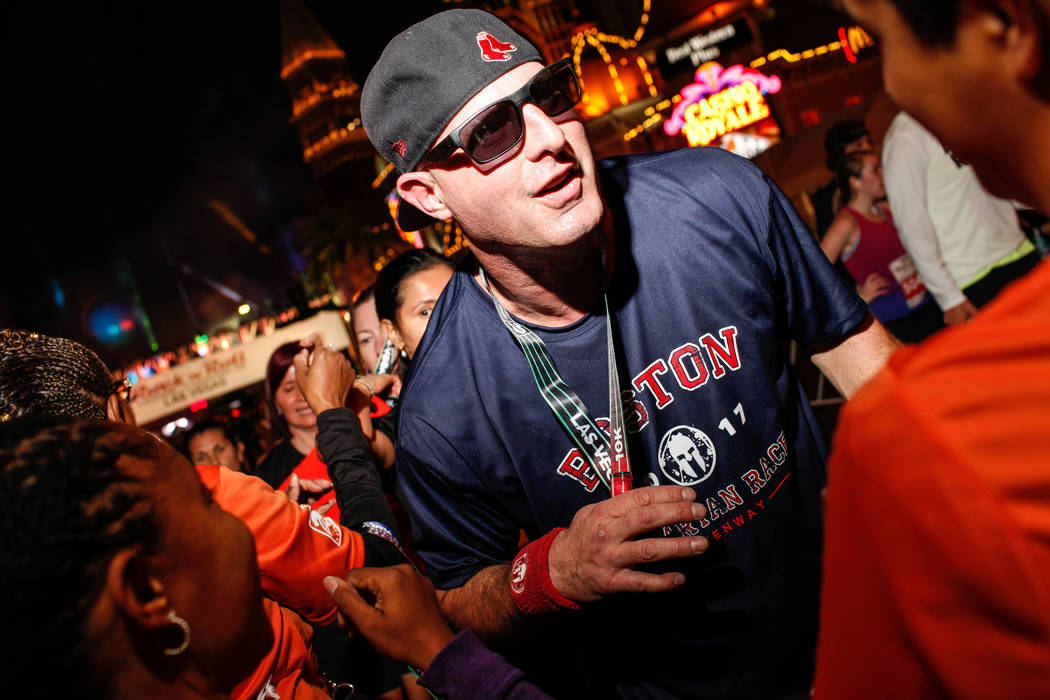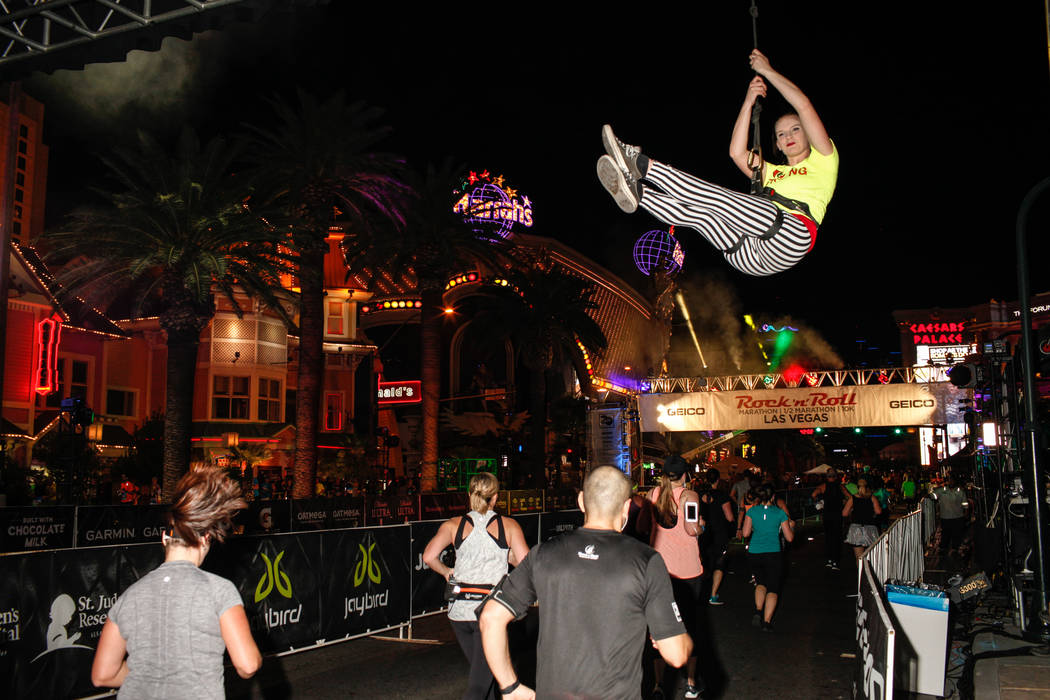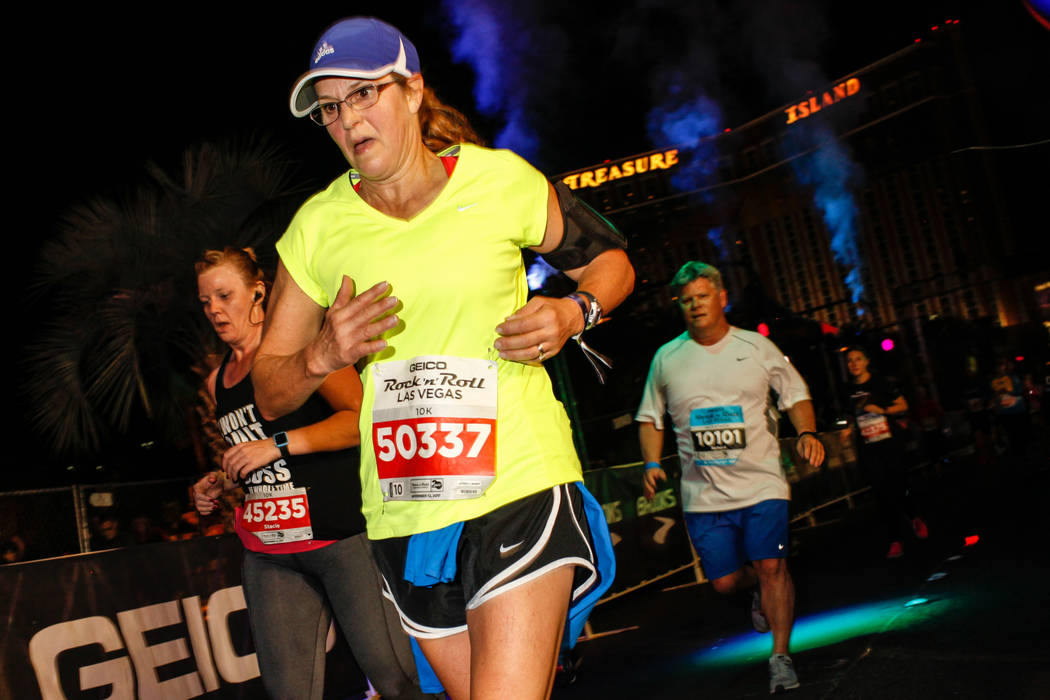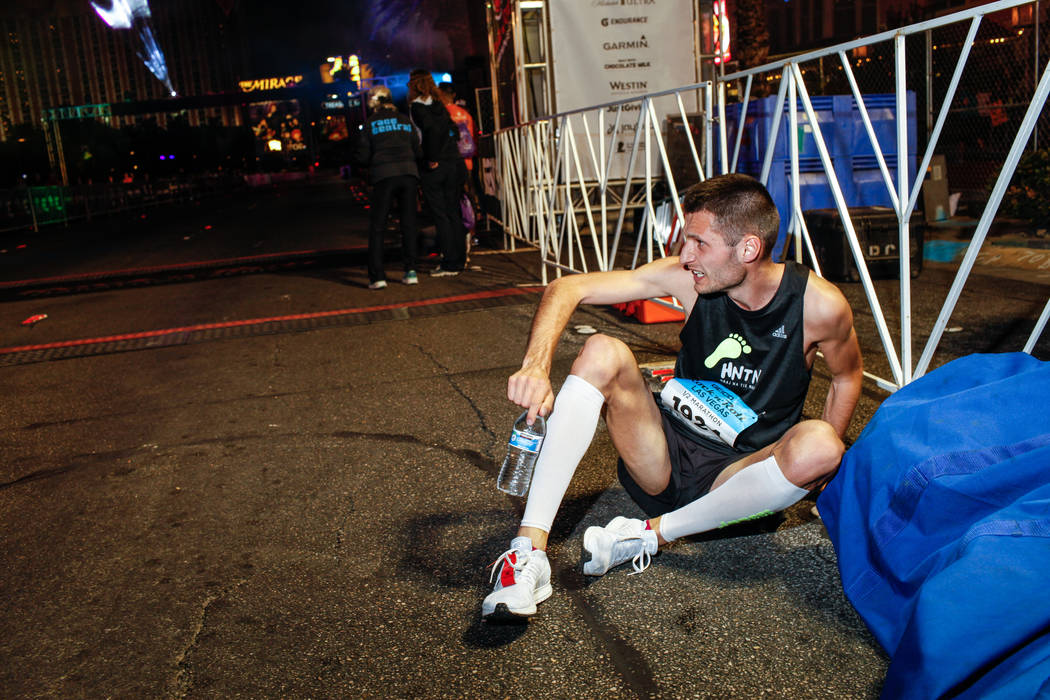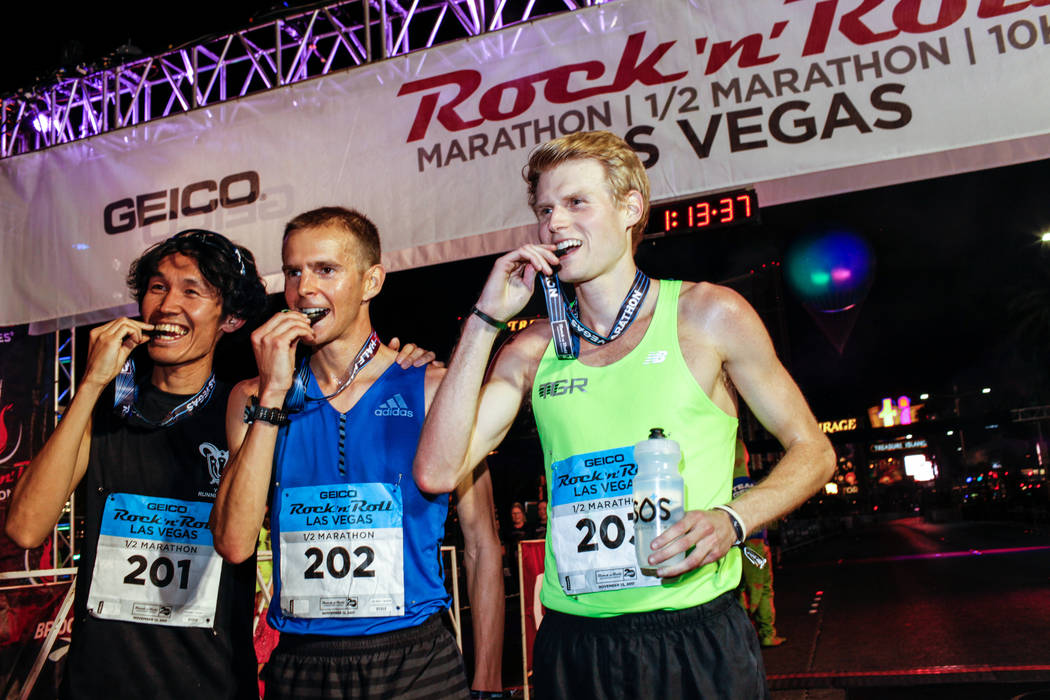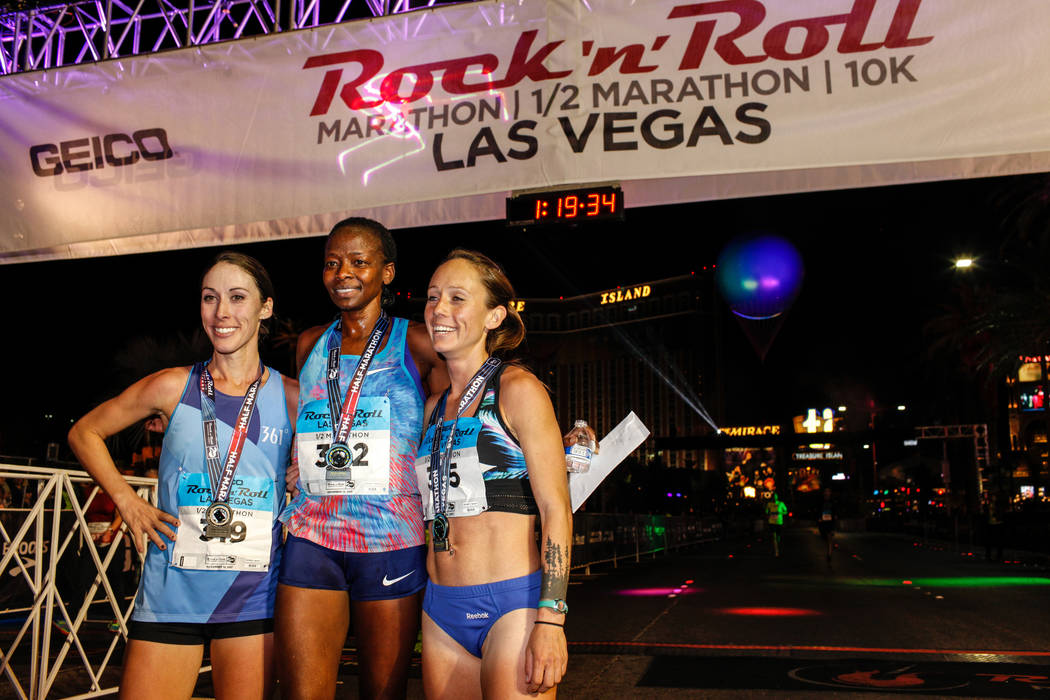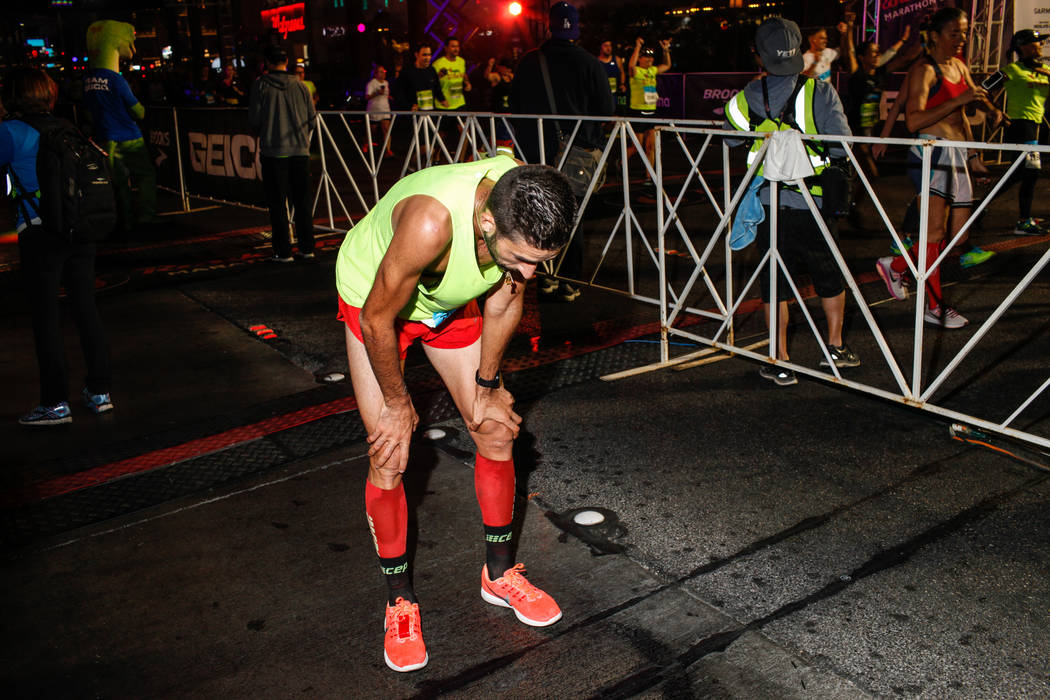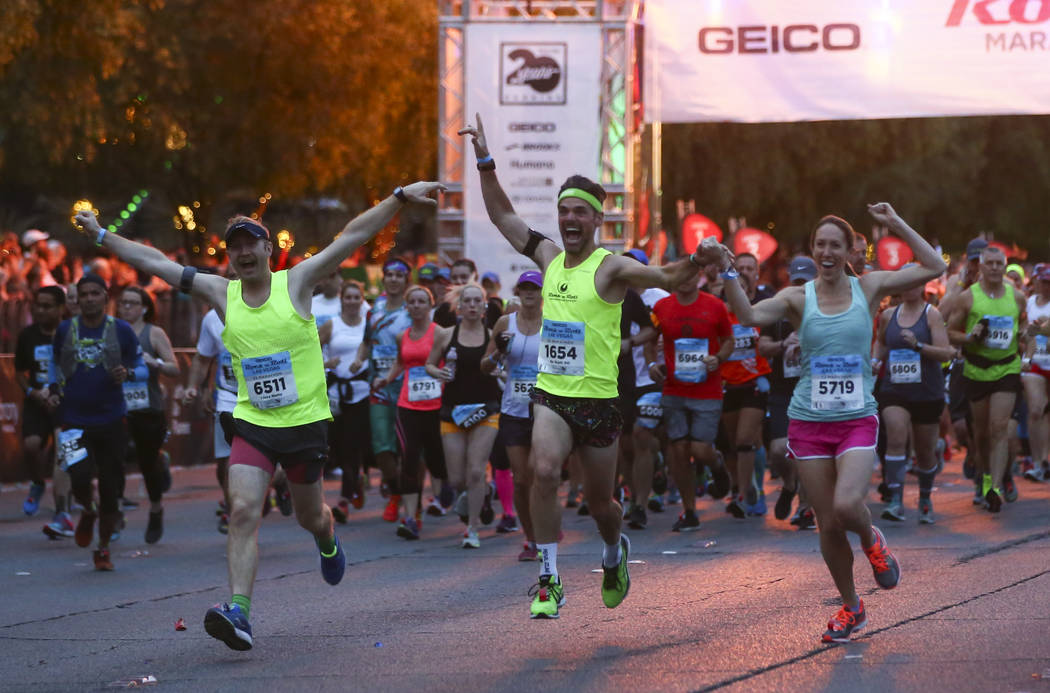 Rubio Gilles' right forearm is a tribute to places the 37-year-old has run.
The Statue of Liberty and the Chrysler Building are etched in ink as a tribute to the New York Marathon, which he ran last year. Next to it is a signpost where Gilles is filling in all of the World Marathon Majors. So far, New York, Chicago and Berlin are marked. He still needs Toyko, Boston and London.
After winning the Rock 'n' Roll Marathon on Sunday, the runner from Menton, France now has an idea of what to ink on his left shoulder. Coming soon: the "Welcome to Las Vegas" sign.
Gilles surged ahead in the last mile of the race, completing the marathon in 2 hours, 38 minutes, 4 seconds while Marisa Hird of Naperville, Illinois, led the women at 2:55.19.
Hird took control of the women's race in about Mile 9 or 10, she said, and never looked back. She finished 10 minutes before Elizabeth Ehrhardt of Denver, Colorado, the next closest female finisher.
The men's race had a bit more intrigue, though, as Tyler Pence, who had been leading the pack, started to fatigue in the later miles, paving way for Gilles to take the lead. Pence finished third behind Rubio and Karel Buger.
Gilles said his sub-2:30 time set in Berlin was his personal record.
For Hird, Sunday night marked her third marathon victory of the nine she has competed in. She previously ran in the half marathon in Las Vegas in 2011.
She said running on the Strip was a lot of fun and, in the wake of last month's shooting that killed 58 and wounded more than 500, she said the 2½ miles were "peaceful."
"You could kind of tell everybody felt it," Hird said. "You kind of couldn't help but think about what happened."
They're off @RunRocknRoll: pic.twitter.com/zXunruvSnB

— Betsy Helfand (@betsyhelfand) November 13, 2017
Eggleston, Bawcom win Half Marathon
Jeffrey Eggleston was still catching his breath following his Half Marathon victory, but he already had plans for his prize money: It would go to the Las Vegas Victims' Fund, benefiting the victims and families of the shooting.
Eggleston of Boulder, Colorado (1:04.14), and Janet Bawcom (1:18.02), of Flagstaff, Arizona, were the Half Marathon winners, both breaking away from the pack late in the race.
Eggleston separated himself from Yuki Yagi and Wilkerson Given around the ninth mile to win his third Half Marathon in Las Vegas.
"I don't gamble, but maybe my luck is good in Vegas," he said.
Eggleston, who has also won other Rock 'n' Roll events, including the marathon in San Diego in June, said he has always liked running in Las Vegas because of the unique environment.
Bawcom, a 2012 Olympian visiting Las Vegas for the first time, said she loved the atmosphere of the race.
"I am so terrible at running in the night and just the crowd and the lights was so awesome," she said.
And this year, the event took on a special importance.
"It's a much different atmosphere then your typical Rock 'n' Roll where you have bands every mile and I think that was important because it's just good to be mindful," Eggleston said. "Even when I was out there in the first two miles we were running with a small group of us, it does give you time to reflect and appreciate life and being here."
Contact Betsy Helfand at bhelfand@reviewjournal.com. Follow @BetsyHelfand on Twitter.
Related
Runners show their 'Vegas Strong' side at Las Vegas marathon
Las Vegas Marathon embraces 'Vegas Strong' spirit — PHOTOS
Arizona man finishes race on crutches after losing leg at age 7