Americans block Canada's bid to win group at World Juniors
January 1, 2017 - 12:26 am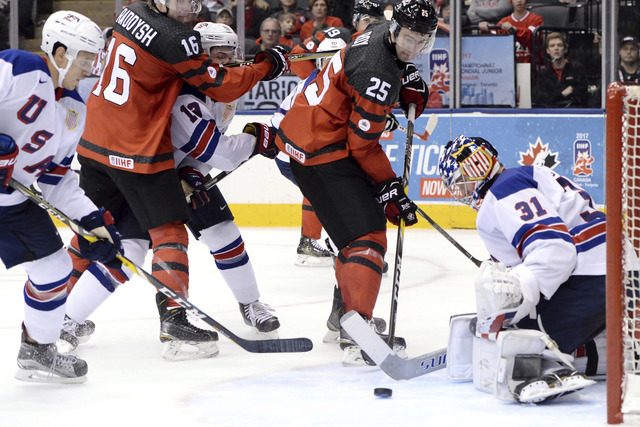 TORONTO — It's a good thing Team USA gets New Year's Day off from the World Junior Hockey Championships.
The Americans are going to need time to ice their bruises from the many blocked shots they took in Saturday's 3-1 win over host Canada at the sold-out Air Canada Centre.
The USA, winners of Group B after going 4-0 in round-robin play, will face Switzerland on Monday in Toronto in the quarterfinals.
But don't look for the Americans to change much. They'll try to not take as many penalties, but this team was built to skate as well as take punishment.
"We don't want to play scared," said forward Clayton Keller, who assisted on the first two USA goals from Colin White and Jordan Greenway, which came 1:31 apart and gave the Americans a 2-0 first-period lead. "It's a different mindset in round robin, but it still comes down to playing hard for 60 minutes and outworking the other team."
The Americans killed off one first-period 5-on-3 disadvantage and nearly killed off a five-minute interference major that Luke Kunin received in the second period after he nailed Philippe Myers from behind. In both instances, players were diving on the ice to throw their bodies in front of pucks.
Greenway said the team bought in to blocking shots during training camp last summer in Plymouth, Michigan.
"It shows everyone's committed to winning," Greenway said. "You know it's going to hurt, but you do it for your teammates and because it's the best way to be able to win."
Defenseman Charlie McAvoy said: "It's bigger than any one guy. It's part of our identity."
It also complemented the solid play in goal by Joseph Woll, who made 25 saves and gave up few rebounds to the Canadians, who finished second in Group B at 3-1 and will be in Montreal on Monday to meet the Czech Republic in the quarterfinals.
"They were more desperate to win," Canada forward Matt Barzal said of Team USA. "They blocked a lot of shots, and even though we played better the second half of the game, we have to play desperate ourselves."
The International Ice Hockey Federation, which governs the WJC, doesn't keep track of blocked shots. USA coach Bob Motzko isn't sure why, but figured there were a lot of them.
"That's a good question, why they don't keep track of that," he said. "We know it was important for us, and it was the difference. Our guys are willing to sacrifice their bodies, and we'll look to give them some rest and recovery before we pick things back up on Monday."
Contact Steve Carp at scarp@reviewjournal.com or 702-387-2913. Follow @stevecarprj on Twitter.
World Junior Hockey Championships
Monday's quarterfinals
At Toronto
Russia vs. Denmark, 10 a.m.
Switzerland vs. United States, 2:30 p.m.
At Montreal
Slovakia vs. Sweden, 12:30 p.m.
Czech Republic vs. Canada, 5 p.m.
Wednesday's semifinals
At Montreal
Russia-Denmark winner vs. Switzerland-USA winner, noon
Sweden-Slovakia winner vs. Czech Republic-Canada winner, 4:30 p.m.
Thursday's medal round
At Montreal
Bronze medal, semifinal losers, 12:30 p.m.
Gold medal, semifinal winners, 5 p.m.