As kids, Golden Knights players asked Santa for hockey gifts
December 24, 2017 - 3:18 pm
Updated December 24, 2017 - 3:44 pm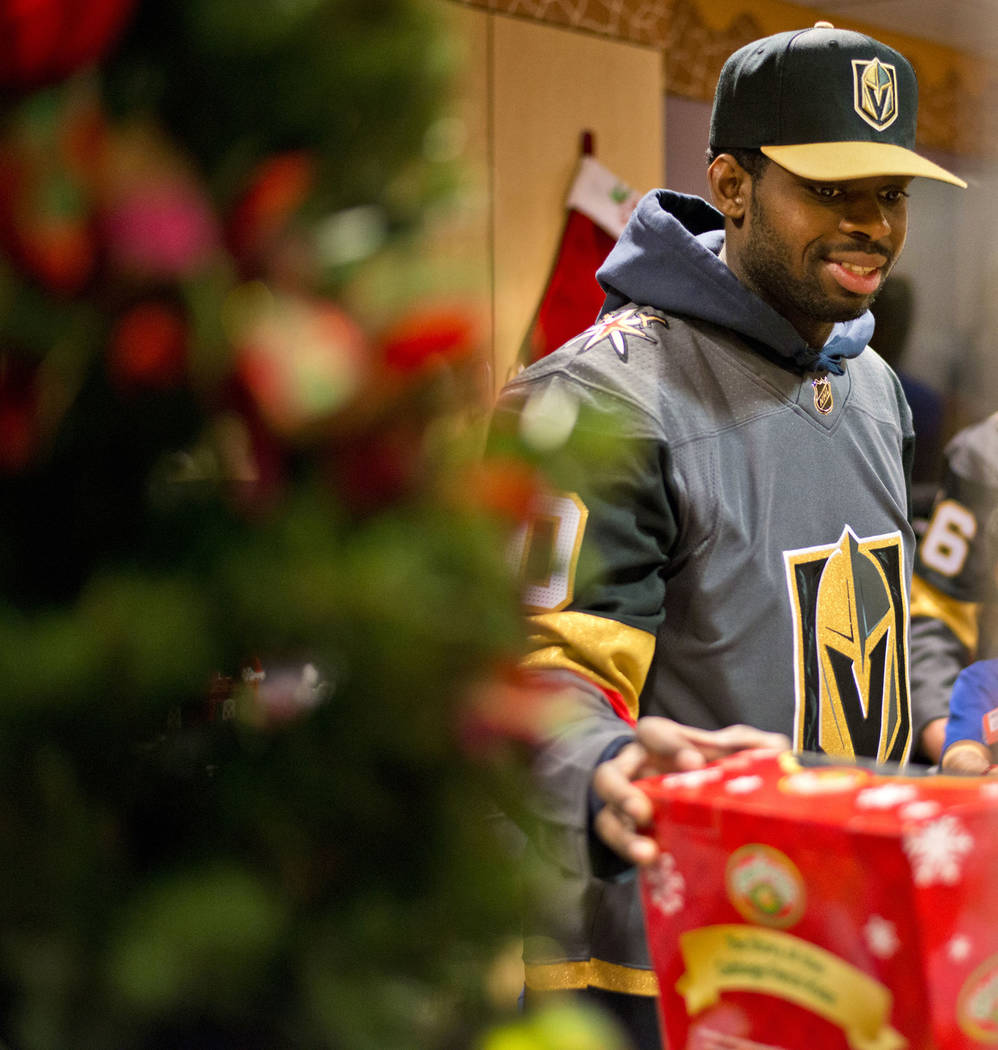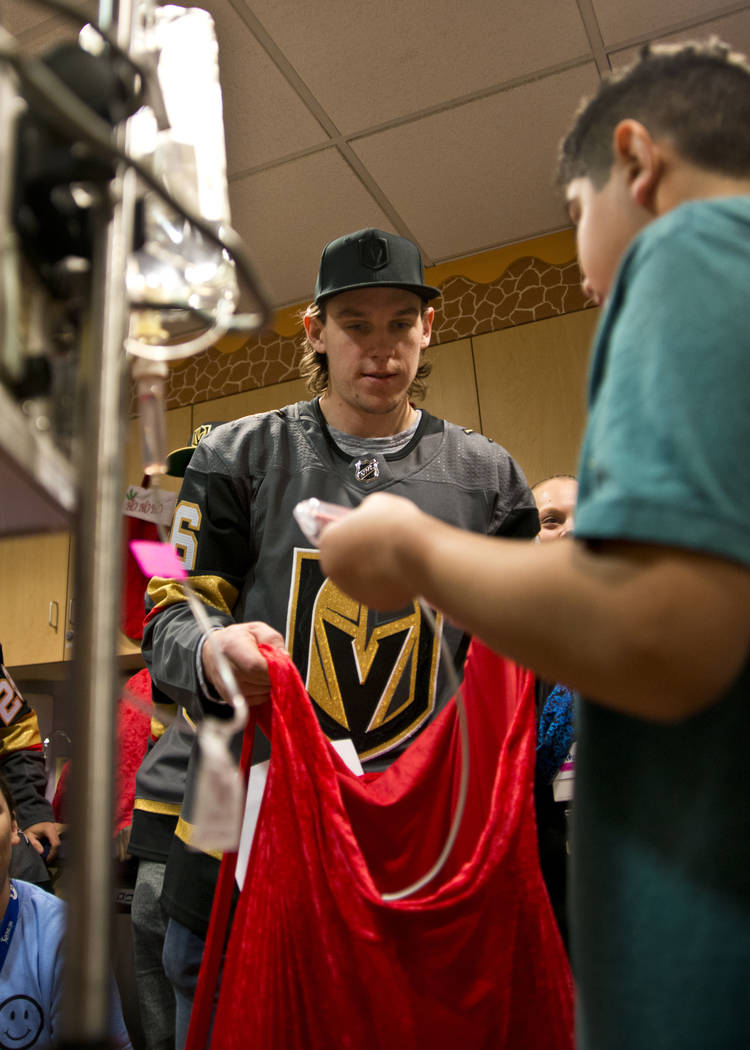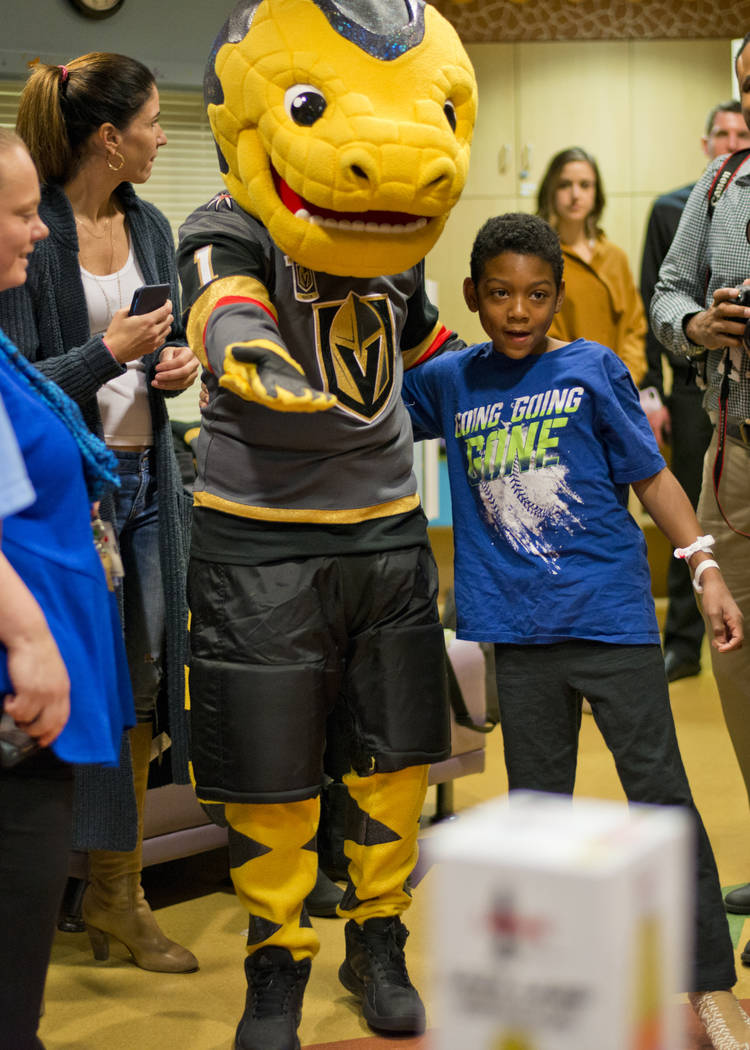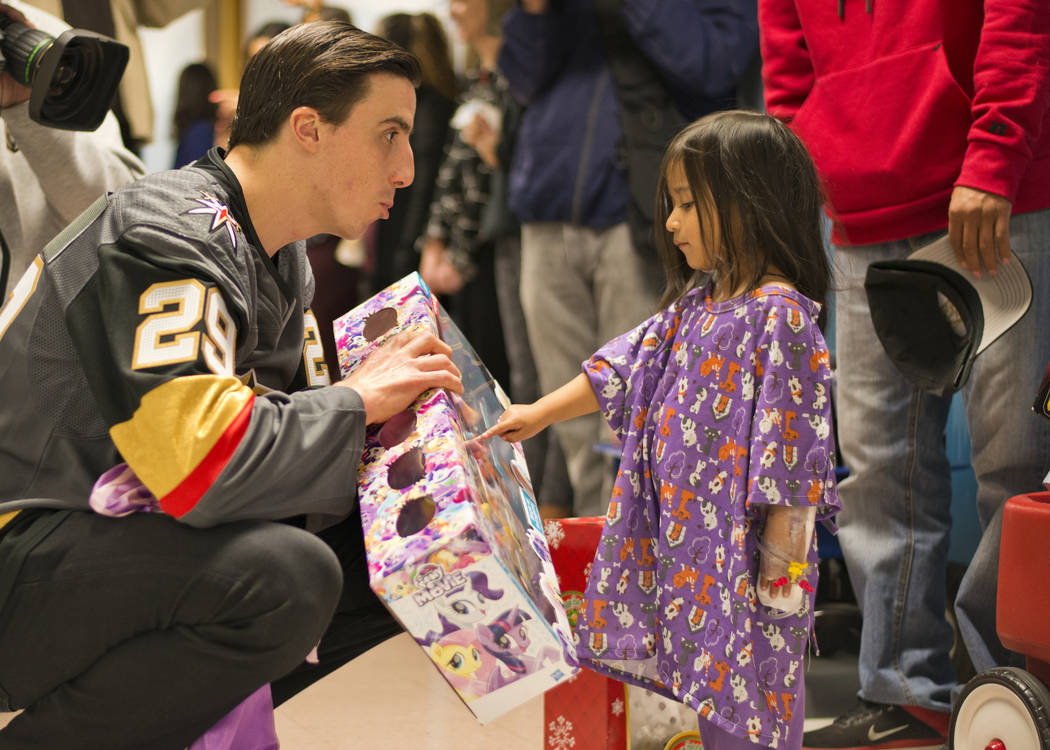 Deryk Engelland remembers waking up as a 6-year-old on Christmas morning and looking under the tree and finding his dream gift — a hockey stick.
But this wasn't just any stick. This was an Easton black-and-silver aluminum Wayne Gretzky model. After all, what kid didn't want to be like The Great One? Especially a kid growing up in Edmonton like Engelland.
"My grandparents got it for me," Engelland said. "It was a pretty good stick."
The Golden Knights have much to be grateful about as they celebrate their first Christmas as an organization. They are in first place in the NHL's Pacific Division with 23 wins in their first 34 games and 48 points, looking like a team that will be playing in the postseason.
But when players reflect on their childhood, they recall fond memories of waking up on Christmas morning, usually in frigid conditions, and receiving the gifts they had asked Santa for weeks before. For some like Engelland, it was a stick. For others, it was a pair of skates. For a couple, it was a jersey of their favorite team or a video game. But for all, Christmas and hockey went hand-in-hand.
Sticks and skates
Center William Karlsson grew up in Sweden and wanted a new model stick when he was 12.
"I remember once getting a white Montreal stick," he said. "I scored a lot of goals with it."
James Neal is the oldest of five children. The Knights' forward and leader in goals always expected some sort of hockey present under the tree.
"One year I got this Easton hockey stick," Neal said. "It was green, and you'd put it over the stove, heat it up, put the blade in it, and you were ready to go. It was one of my favorite sticks."
Jonathan Marchessault's birthday is Dec. 27. But he said Christmas in his house meant an upgrade in skates.
"I'd always get the newest model," he said of the skates. "And because my birthday is two days after, I'd get some sort of equipment or a new stick, something like that. It was always the best Christmas. And they always did it two separate days. It was awesome."
For defenseman Nate Schmidt, getting his first new pair of skates when he was 12 was his favorite Christmas.
"I was always wearing hand-me-downs," he said. "So I got these Graf skates, pretty old school. But I remember how much my feet hurt trying to break them in. I never had to break in a pair of skates because the ones I always wore were already broken in. But it was worth the pain, definitely."
Games and gear
Marc-Andre Fleury must have known he was born to be a goaltender. Fleury said that when he was 5, he got street hockey goalie's gear for Christmas.
"We would play down in the basement and on the street," Fleury said.
Fleury said one advantage of being a goalie as a kid was you never had to worry about not being picked.
"You were always chosen, so that was good," he said.
Malcolm Subban, the Knights' backup goaltender, said equipment was never found under the tree in his house.
"We got normal Christmas stuff," Subban said. "Hockey stuff we'd get during the year as we needed it.
"But we got NHL 2003 and a PS2. That was really good. Jarome Iginla was on the cover that year, so I liked playing the Calgary Flames."
Forward Alex Tuch recalled getting a hockey table game when he was young.
"I got a bubble hockey game when I was 6 or 7," he said. "I'd always get the NHL video game for Playstation or Xbox. That was fun."
Coach Gerard Gallant remembered getting a table rod hockey game when he was a kid growing up on Prince Edward Island. Coming from a family of 11, there were no shortage of opponents.
"I was real good," Gallant said. "Me and my younger brother would play for hours and hours."
Center Erik Haula said one Christmas his dad went the extra mile for him.
"I was 13, and my dad got me these sticks with my name on them," he said. "I thought that was pretty cool seeing my name on my stick."
Forward David Perron said there was never any disappointment on Christmas for him.
"Anytime you got a gift of hockey, it was unbelievable," he said. "My parents were awesome. We always got what we needed for hockey. But there'd always be a little something extra. Anything with hockey is unreal."
Contact Steve Carp at scarp@reviewjournal.com or 702-387-2913. Follow @stevecarprj on Twitter.
All a young Knight wanted for Christmas
Some of the Golden Knights' favorite childhood hockey gifts:
Marc-Andre Fleury — goaltender street hockey equipment
James Neal — hockey stick
Alex Tuch — bubble hockey table game
Deryk Engelland — hockey stick
Nate Schmidt — hockey skates
Jon Merrill — Sergei Federov Red Wings jersey
Oscar Lindberg — hockey stick
Malcolm Subban — hockey video game
Will Carrier — "Shooter Tutor" shooting aid
Jonathan Marchessault — hockey skates
Shea Theodore — hockey gloves
William Karlsson — hockey stick
Colin Miller — hockey stick
David Perron — hockey video game
Erik Haula — personalized hockey sticks
Brad Hunt — hockey stick
Pierre-Edouard Bellemare — hockey stick