Bettman: NHL expansion committee meets, still ponders Las Vegas franchise
December 8, 2015 - 12:08 am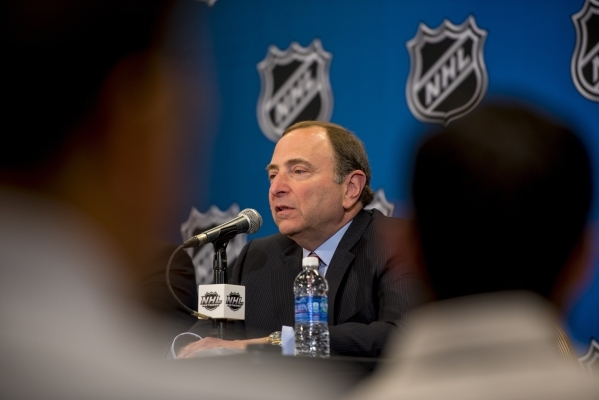 PEBBLE BEACH, Calif. — The wait continues. For how long, nobody really knows.
The NHL is still deliberating whether it wants to expand beyond its current 30 franchises, commissioner Gary Bettman said Monday at the league's Board of Governors meeting here.
For Bill Foley, who wants to bring Las Vegas its first professional major league sports franchise, that means patiently respecting the process. Same for nearly 14,000 fans who have made a financial investment in a potential team by putting down season ticket deposits.
"We're grateful for (the fans') interest, but we're going through a process," Bettman said. "We have what we need from the applicants. It's a business decision and it's being treated in a businesslike fashion."
Foley, who did not attend the meeting, said via telephone he remains optimistic about getting a franchise. "They're taking their time and we understand that," he said. "No one has said no. And at this point I feel very good about our position.
"We've been very transparent throughout this process and I believe it's going to happen. I just don't know when."
Las Vegas and Quebec City have submitted applications for expansion franchises. The league's 10-member executive board met for three hours Monday to review both applications, then spent about 20 minutes discussing the topic with other owners at the meeting of the full Board of Governors.
"It was very informative," Carolina Hurricanes president Don Waddell said. "The (executive) committee gave us an update and the process continues."
Bettman said the next step is to determine whether the NHL wants to expand — and if so, by how many teams?
"I want to be very clear and very precise — there is no timetable for expansion," Bettman said. "The executive committee received additional information it was seeking and now that it has it, it informed the rest of the owners and outlined the issues and to make sure if we're missing anything."
Asked when the league plans to make a decision, Bettman reiterated that there is no hard timetable.
"I think the board will vote at a time when the executive committee feels it is ready to put it to a vote," Bettman said. "I've said the earliest could be the 2017-18 season. I know the steps that need to be taken. When do you expand? What are the terms of the expansion draft? Are you going to expand by one or two teams? What will be the role in the entry draft?
"These are all issues that the board is going to have to discuss before we can bring it to a vote. Can they make it to 2017-18? Yes. Will they? I don't know."
Bettman said the NHL will "internal subsequent discussions" with Foley and the Quebecor group, which is behind Quebec City's bid.
Reports in Seattle last week speculated the NHL would consider the Pacific Northwest city for a franchise if it could amend an agreement to build an arena for hockey or renovate Key Arena, former home of the NBA Seattle SuperSonics. Bettman said the NHL has no plans to invite further expansion applications.
Bettman said owners also were updated Monday about a potential rise in the salary cap next season, perhaps by as much as $3 million. The current cap is $71.4 million.
"That is very, very, very preliminary based on the early, early revenue projections I've seen," Bettman said.
— Contact reporter Steve carp at scarp@reviewjournal.com or 702-387-2913. Follow him: @stevecarprj