'Black Aces' soak in success of Knights' Stanley Cup playoff run
They worked out in secrecy, hockey's answer to Area 51.
No one saw them. They didn't talk to anyone. They skated behind curtains at City National Arena, quietly going about their business. You've heard their names. You may remember their faces. A mix of prospects, young players and veterans, working out together.
Meet the Golden Knights' taxi squad, or, as they are commonly referred to in hockey parlance, the Black Aces.
The tradition goes back to 1940 when Eddie Shore referred to his players from his minor league team in Springfield, Massachusetts, that were recovering from injury or weren't good enough to be called up to the Boston Bruins as "Black Aces."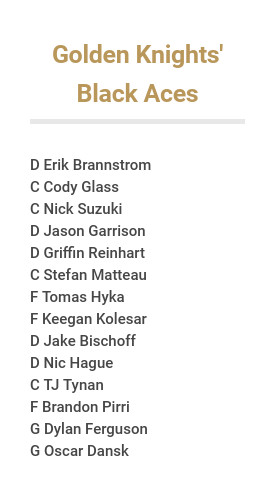 But over the years, it has taken on a more positive meaning as teams have players prepare to play in the event they're needed.
The Knights' Black Aces included draft picks Cody Glass, Nick Suzuki, Erik Brannstrom and Nic Hague. There were veterans Jason Garrison, Griffin Reinhart and Brandon Pirri. There were goaltenders Maxime Lagace, Oscar Dansk and Dylan Ferguson. All getting to skate together and be around the Knights' amazing playoff run.
Lagace has actually suited up for the playoffs, serving as Marc-Andre Fleury's backup after Malcolm Subban was injured in practice prior to Game 3 of the Western Conference Final.
"It's great to experience this," said Glass, the team's first draft pick who went at No. 6 overall and played for the Portland Winterhawks in juniors this season. "Just to see how they prepare, the way they focus, how they handle the pressure, it's great to see it up-close."
Glass, who led the Winterhawks with 37 goals and 102 points, will be looking to win a job in the fall with the Knights and make the move to the NHL. He's watching the way the way the current Knights practice, how hard they go through the drills and also how much fun they have.
"They really seem to be enjoying themselves and having a lot of fun," he said. "The coaches have done an unbelievable job putting in the system and the way they've stuck with it. They play really fast and it gets the fans into it easily."
Suzuki, who was taken in the first round at No. 13 overall a year ago, and led the Owen Sound Attack with 42 goals and 100 points, said: "Watching the way they play on the ice and how they conduct themselves off the ice has made an impression on me. Everything is about the team and they've been fun to watch."
Brannstrom, who spent most of his season playing home in Sweden, said just being around everything has been good for him and he's hoping the Knights can finish the job.
"They're a good group and they're good together and I hope they can go the whole way," he said.
Brannstrom said fellow countryman William Karlsson's remarkable season of a career-high 43 goals was not lost on the Swedish hockey community.
"Everyone back home knows how talented he is and he just needed an opportunity," Brannstrom said.
Following the Knights' win in the Western Conference Final, the prospects were no longer needed and headed home to prepare for the team's development camp in late June. However, a few veterans are sticking around just in case. One of them, defenseman Jason Garrison, went to the Stanley Cup Final in 2015 with Tampa Bay. He said being around the Knights has brought back fond memories.
"Greatest experience of my life," said Garrison, who appeared in eight games with the Knights this season. "Just to be around it and to play for the Cup. It's something you work your whole life toward. And even though we didn't win it, to have the opportunity is something I'll never forget."
Garrison's advice to the guys who will play for the Cup? Enjoy every moment.
"You never know when it'll come around again so soak up every minute of it," he said. "Enjoy it. Have fun with it."
Garrison said he's fine with it if he doesn't play in the final.
"If they need us, it means something bad happened," he said.
Contact Steve Carp at scarp@reviewjournal.com or 702-387-2913. Follow @stevecarprj on Twitter.