Consistency, healthy roster carry Wolves to success at midseason
January 3, 2018 - 4:32 pm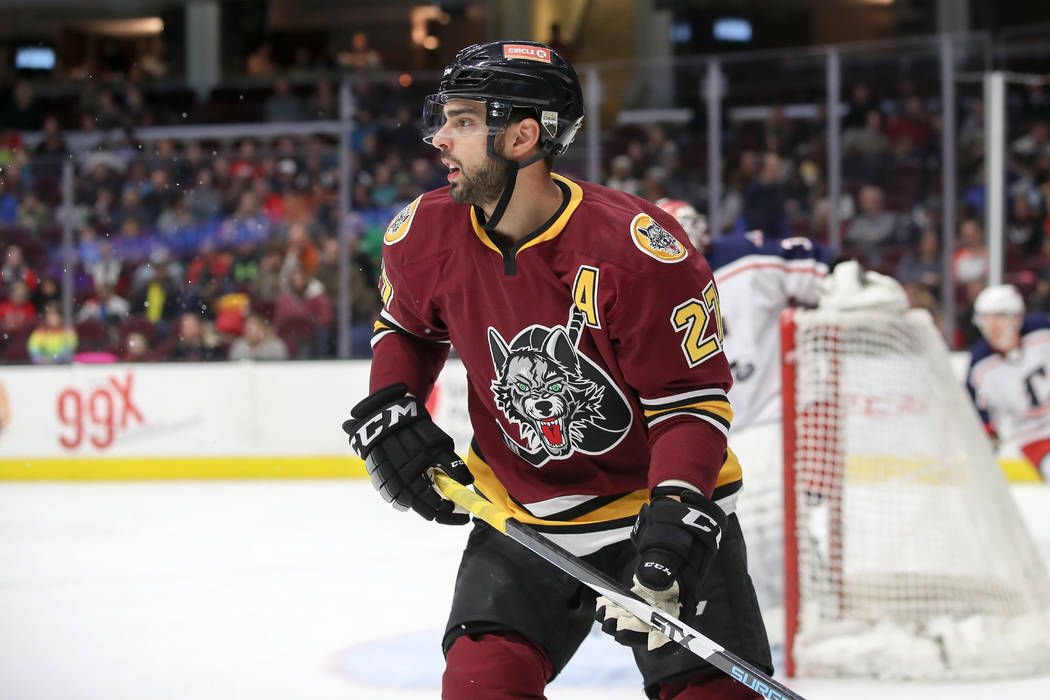 The Golden Knights have been the biggest surprise in the NHL in their inaugural season. Their top minor-league team is now following a similar path in the AHL.
The Chicago Wolves still hold the longest winless streak in the league, an eight-game skid in November. Now, nearing the midway point of the season, Chicago is on a league-best points streak at 11. The team has come from the bottom of its division back to a playoff contender.
"When you go through the tough times that we did, it can go one of two ways," head coach Rocky Thompson said. "You can maybe claw your way out, or you can completely fall off the map, and I give our guys a ton of credit."
The story of the AHL season for the Wolves has been consistency. Three losses during the winless period were one-goal games, and the last three came in either overtime or a shootout. Chicago slowly but surely made its way out of the hole by doing much of the same.
"I believe that teams, believe it or not, respected us when we were losing, too," Thompson said. "We felt that we were getting teams' best games, and you don't get that if you're a lame duck."
Thompson said that early leads and learning to play with them have been a big difference-maker that finally pushed the Wolves over the losing hump. That in conjunction with mainstays like Chicago's top-10 penalty kill and its third-best shots on goal average, have put the team in a tight race for a top spot in the AHL Central Division.
"It's dumbing it down," forward Brandon Pirri said. "We have enough skill, that when there's plays to be made, we made them, but at times we were forcing it and that was getting us in trouble … we're getting a lot better with that and we're getting the results from it."
Playing with a full deck
Another key to the Wolves' recent success is a healthy roster. The Wolves started with most of its pieces in place, but that didn't last long.
The Wolves sent both of its goaltenders to Vegas, top forwards were injured, and other players spent short stints in the NHL to fill holes for the Golden Knights.
Goalie Max Lagace returned from the Golden Knights in early December, and forwards Brandon Pirri and Tomas Hyka have made recoveries. The Wolves haven't had any roster moves to the NHL club since Dec. 18, and all players have returned since.
"It's good that we're all healthy, and that we still have a couple of guys that are scratches that can play and want to play," Hyka said. "We're more confident … We come to the rink every single game and are working hard and having fun."
The returning players have made a big impact during the points streak. Hyka has provided 11 points, Pirri has nine and Max Lagace has six wins in his eight appearances.
Now that everyone is back, Thompson said it's important to build on the familiarity and carry it through the rest of the season.
"We're finally getting a bit of chemistry, we hope," Thompson said. "We're happy with our guys and the position that we're in right now, but again, it's not enough. We want to continue to strive to be a little bit better, every single day, every single game."
Reliable additions
There are 11 Vegas-affiliated players on the Wolves roster, and they've been some of the most reliable.
Forwards Teemu Pulkkinen, T.J. Tynan, and Paul Thompson, and defenseman Jake Bischoff are the only Chicago players that have played in every game for the Wolves.
Pulkkinen has 26 points in 34 games, good for second on the team, and Tynan and Thompson come in at third and fourth with 23 and 20 points, respectively.
Bischoff is third in scoring of active Chicago defensemen with eight points. Fellow Vegas defenseman Griffin Reinhart has seven points and the best plus/minus ranking for the Wolves at plus-10 through 20 games.
Contact Emily Polglaze at enpolglaze@gmail.com. Follow @enpolglaze on Twitter.