Early-season goalie injuries a mounting concern in NHL
November 5, 2016 - 11:39 pm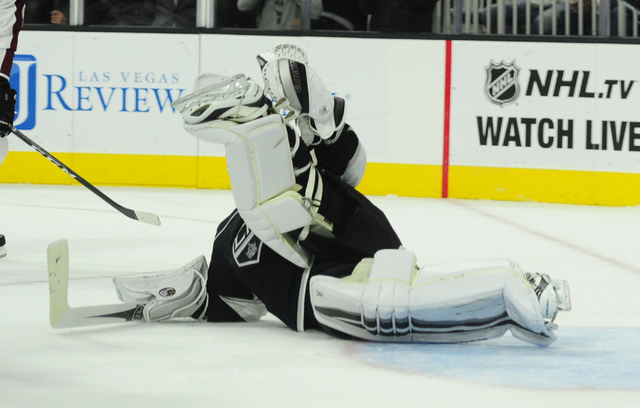 Is there a plausible explanation for why several NHL goaltenders have been sidelined with injuries a month into the season?
The Los Angeles Kings would like to know after losing starter Jonathan Quick and Jeff Zatkoff to groin injuries. The Arizona Coyotes wish they knew why Mike Smith is hurt again. In Ottawa, the Senators could sure use Andrew Hammond back in net while Craig Anderson is on an indefinite leave of absence as he attends to his wife, Nicholle, who is battling cancer. Mike Condon, recently picked up from Pittsburgh, is in net for Ottawa.
Actually, some of the injuries go back to the World Cup of Hockey or its aftermath. Pittsburgh's Matt Murray broke his hand playing for Team North America. Montreal's Carey Price missed a couple of games with the flu after leading Canada to the gold medal, and Boston's Tukka Rask had some soreness that forced him out of the lineup for two games after playing for Finland.
Dave Prior, the director of goaltending for the Las Vegas NHL expansion team, is as confused as everyone over the rash of injuries to goalies.
"I can't say I do," Prior said when asked if he had a solid reason for the injuries. "I think you have to look at each injury individually and how it happened. I don't know that there's a common thread."
Some hockey experts point to the fact that today's goaltenders are taught to play differently because the game is so much faster. Side-to-side movement is so important for a goaltender, and it's not a natural way for the body to move.
"It's a strange position," Prior said. "You don't control your body. You just react. The game moves at such a high speed now that it may be causing some of these injuries."
Age also might come into play. For someone such as Smith, who is 34 and has battled leg injuries the past few seasons, time is not on his side, and it might take him longer to recover.
"As you get older, you're not as flexible as you were at, say, 22 or 25," Prior said.
But Prior wouldn't classify what happened early on as an epidemic. Injuries are part of the game, and when star players get hurt, regardless of the position, it's going to draw attention.
"No, I don't think so," he said. "But you obviously want to keep your goalies healthy. Not everyone is deep enough to absorb a long-term injury to their top goaltender. Look at what Arizona is dealing with. They're in a tough situation."
THREE'S A CROWD?
In Brooklyn, there's a mounting concern about the Islanders' goaltending situation. The Isles have three active goalies on their roster — Jaroslav Halak, Thomas Greiss and J.F. Berube.
Halak's agent, Allan Walsh, let it be known publicly that his client is not happy with the setup. Ironically, Walsh also represents Berube, who has dressed as the backup but has yet to play this season. That outburst by Walsh was met with a response from general manager Garth Snow that Halak was available via trade.
Berube, 25, could be the key in this. The Islanders don't want to put him on waivers in case Halak gets hurt (he has a history of injuries). They want Berube ready. Also, Halak, 31, has two years left at $4.5 million per year, and Berube is making $675,000 and is a restricted free agent after the season. Greiss, 30, who makes $1.5 million, is an unrestricted free agent July 1.
If Snow can trade Halak, he can protect Berube in the expansion draft while re-signing Greiss as an unrestricted free agent, assuming Las Vegas general manager George McPhee doesn't beat him to it. Las Vegas gets a shot to woo unrestricted free agents before the expansion draft June 20.
The goaltender issue is just one more thing on a growing list of problems for the Islanders, who can't get forward Andrew Ladd going offensively and have not been dominating at Barclays Center despite a favorable early-season schedule that has the team playing 10 of 11 games at home from mid-October through next week.
ETC. …
• The Red Wings honored the memory of Gordie Howe on Friday at Joe Louis Arena by inviting his four children — Marty, Mark, Murray and Cathy — for a pregame ceremony dedicated to Mr. Hockey.
• Columbus' 10-0 win over Montreal on Friday saw 16 of the Blue Jackets' 18 skaters register at least one point.* The Canadiens opted not to pull goalie Al Montoya, whose goals-against average soared to 3.15. Montoya's GAA was 1.18 before Friday's game.
Steve Carp's weekly NHL notebook appears Sunday. Contact him at scarp@reviewjournal.com or 702-387-2913. Follow @stevecarprj on Twitter.