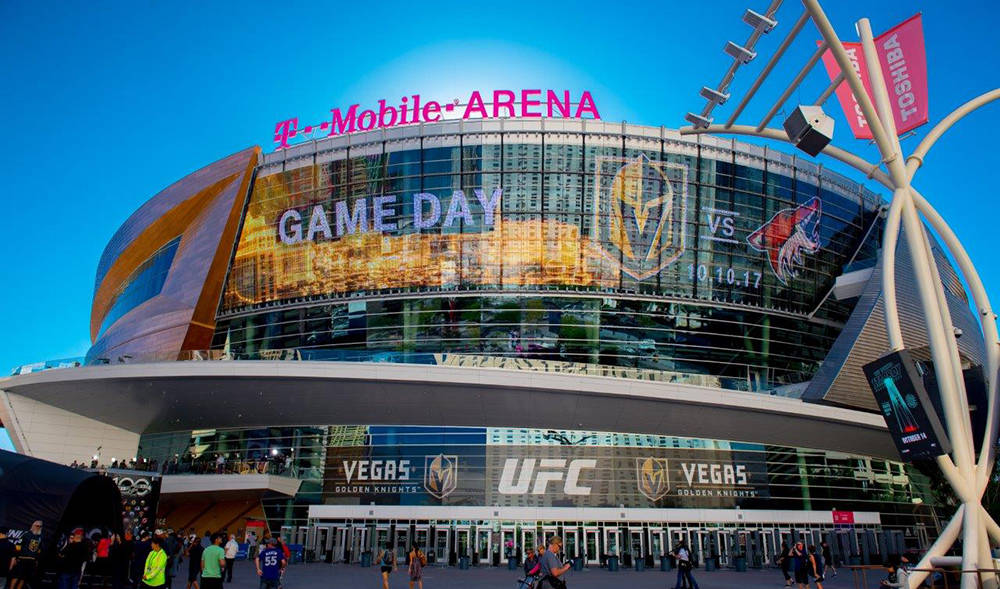 There was a solemn mood to the start of the Golden Knights' home opener, which came nine days after the Oct. 1 mass shooting on the Strip.
Expect a more festive atmosphere Friday.
The Knights plan to unveil an elaborate pregame show prior to their 7:30 p.m. game against the Detroit Red Wings along with several in-game entertainment productions that originally were scheduled to debut Tuesday.
"Because of the tone of what was happening that night, the community needed a group hug from 17,000 people, and we understood," said Jonny Greco, the club's vice president of events and entertainment.
"Our objective, even months ago, was to celebrate the city and celebrate the sports fans who make up the fabric of this great community. … We're going to make (Friday) in the spirit of what we intended all year long."
Greco said the organization carefully considered the imagery associated with Tuesday's game against Arizona and removed elements it believed were inappropriate for that evening.
Greco didn't want to spoil the surprises for Friday, but did reveal there will be a new pregame video, and the Knights' castle in the standing-room only section will be activated.
"We want our fans to lead the charge in the entertainment experience," Greco said.
The Red Wings also are expected to have a large legion of fans at T-Mobile Arena, and Knights coach Gerard Gallant said that should enhance the environment even further.
"I think it's going to be great," Gallant said, "but I hope our fans are cheering for us more than they're cheering for the other teams."
Motown memories
Gallant spent the first nine seasons of his playing career with Detroit and amassed 207 goals, 260 assists and 1,600 penalty minutes.
Gallant, who played in Detroit from 1984-93, said he remains close with several members of the Red Wings' organization, notably general manager Ken Holland, but no longer gets sentimental facing the winged wheel.
"I loved my time in Detroit. They were great to me … but I'm trying to beat them now," Gallant said. "I'm trying to represent the Vegas Knights and I'm trying to win every night."
Record rating
The Golden Knights' home opener against Arizona on Tuesday drew a 3.74 local rating on NBC Sports Network, making it the highest-rated regular-season NHL game ever in the Las Vegas market.
Off day
Gallant said defenseman Luca Sbisa was ill and did not practice Thursday.
Contact David Schoen at dschoen@reviewjournal.com or 702-387-5203. Follow @DavidSchoenLVRJ on Twitter.
Detroit Red Wings
7:30 p.m., Friday, T-Mobile Arena
— The Skinny: The Red Wings got defenseman Niklas Kronwall back Thursday after he missed the first three games of the season with a tweaked groin. Detroit wraps up a four-game road trip Friday.
— Top scorers: Defenseman Mike Green, who turned 32 Thursday, leads the Red Wings in scoring over the first three games with six assists. Right wing Anthony Mantha has two goals and two assists in his first three games.
— Goaltender: Jimmy Howard, 2-0, 1.44 goals-against average, .961 save percentage. The 33-year-old from Syracuse, New York, is in his 12th NHL season and is a two-time NHL All-Star (2012, 2015).
— Founded: 1926
— Last Stanley Cup: 2008 (11 total)
— Did you know: One of the NHL's original six teams, the Red Wings play in the league's newest building, Little Caesars Arena, which opened Sept. 5.