Game 1 of Stanley Cup Final produces record ratings
Updated May 29, 2018 - 6:11 pm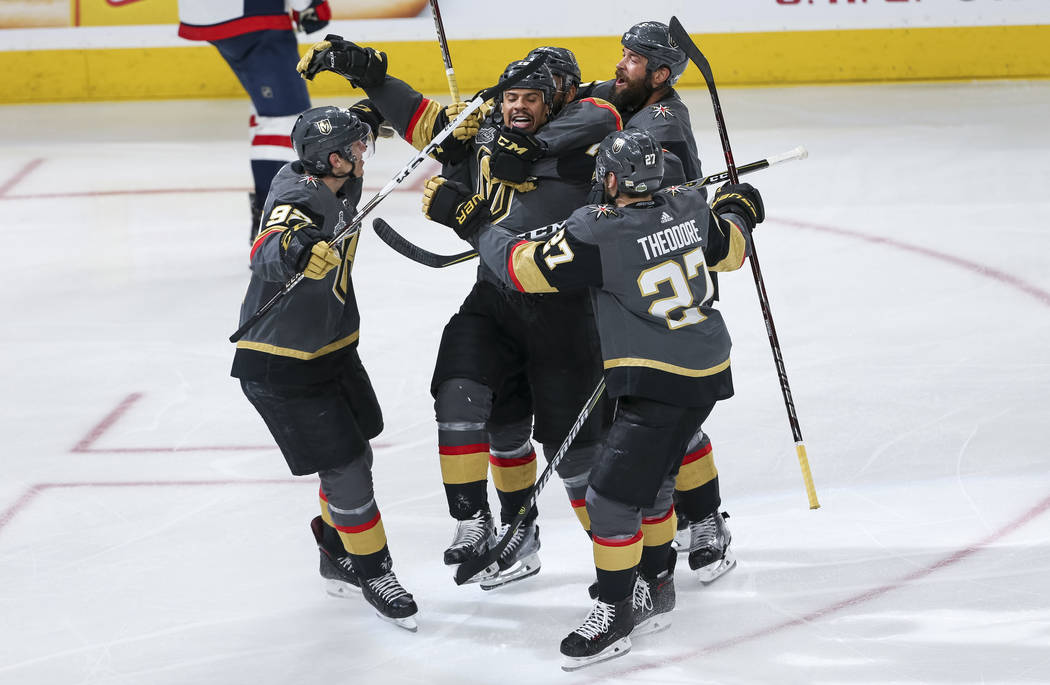 Las Vegas was watching. So was the nation's capital.
According to NBC, Game 1 of the Stanley Cup Final between the Golden Knights and Washington Capitals on Monday night saw the telecast do a 28.1 local rating and a 44 share in Las Vegas. It was the highest rating ever for a Knights game in the market, shattering the previous number of 17.9 for Game 5 of the Western Conference Final vs. Winnipeg.
The 44 share translated to one in every two TV sets that were in use were tuned to NBC for Game 1 as the Knights took a 1-0 series lead in the best-of-seven Final with a 6-4 win. Game 2 is at 5 p.m. Wednesday on NBC Sports Network.
In Washington, the game did a 16.0 local rating making it the highest-rated Capitals game ever shown. The previous best was a 12.6 rating which was from Game 7 of the eastern Conference Final against Tampa Bay.
According to NBC, Game 1's overnight rating of 3.72 was up 7 percent vs. both last year's Stanley Cup Final Game 1 with Nashville-Pittsburgh (3.49) and 36 percent over 2016's Game 1 with San Jose-Pittsburgh (2.73). It was the best overnight rating for a Game 1 Final since 2015 when Chicago-Tampa Bay did a 4.23 rating.
Not surprisingly, Las Vegas and Washington, D.C. led the list of the top-10 markets to watch Game 1. Pittsburgh was third with a 10.31 rating followed by Baltimore (9.07) and Buffalo (8.84).
Contact Steve Carp at scarp@reviewjournal.com or 702-387-2913. Follow @stevecarprj on Twitter.
Must-see TV
The top-10 markets for Monday's Stanley Cup Final Game 1 on NBC:
1. Las Vegas 28.08
2. Washington D.C. 16.02
3. Pittsburgh 10.31
4. Baltimore 9.07
5. Buffalo 8.84
6. Richmond, VA 6.92
7. Minneapolis-St. Paul 6.58
8. St. Louis 5.22
9. Denver 5.11
10. Fort Myers, Fla. 4.71
Source: NBC