George McPhee not sweating Golden Knights' salary cap situation
Updated October 25, 2018 - 5:34 pm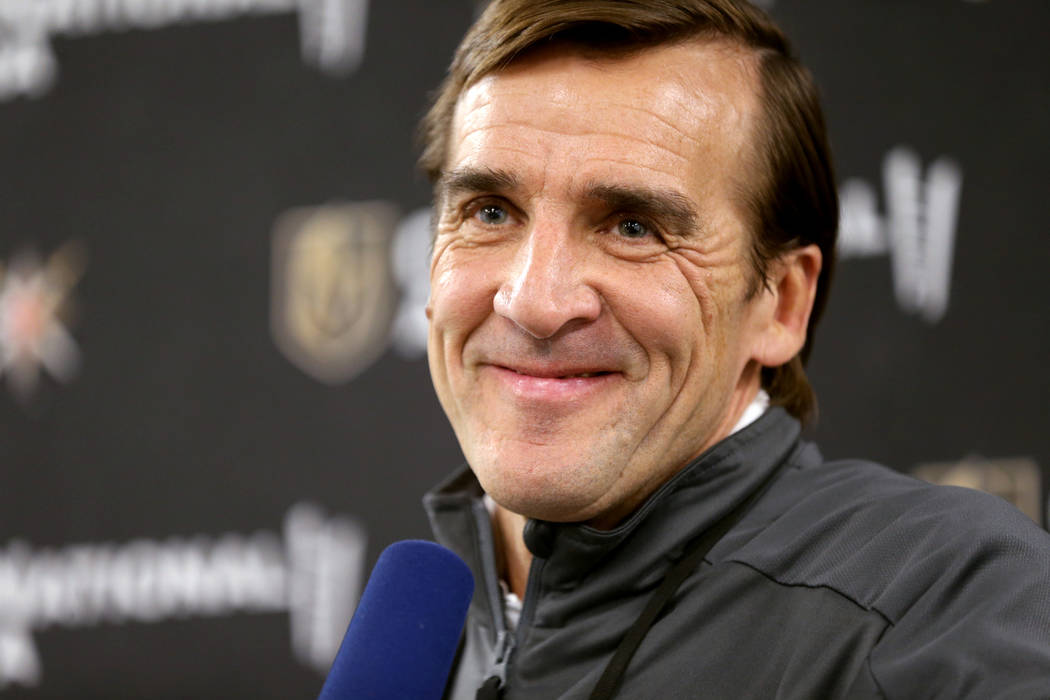 Golden Knights general manager George McPhee scratched one item off his lengthy to-do list Wednesday by extending defenseman Nate Schmidt but he now has less money to get everything else done.
Schmidt's six-year, $35.7 million deal was the third extension the Knights have handed out in the last month, along with ones to forward Alex Tuch and defenseman Shea Theodore. The three deals, plus extensions for forward Max Pacioretty and goaltender Marc-Andre Fleury this offseason, added a lot of money to the Knights' books next season but McPhee isn't worried about the team's salary cap situation.
"We have flexibility, and the cap is going to go up every year and we're going to be fine," McPhee said Wednesday. "We're fine now and we'll be better in the future as a result of these deals. As I said in one of our last conversations about this, the cap space can be a perishable commodity and you want to utilize it while you have it in a way that makes sense and helps you down the road."
If the cap stays flat the Knights are projected to have $7.3 million in space next offseason after the extensions, according to the website CapFriendly. They will get additional flexibility with defenseman David Clarkson on long-term injured reserve, which means the team can exceed the cap by as much as his salary of $5.25 million.
With the money they have available the Knights will have to decide who they can afford to keep among the nine internal free agents to-be on their roster. That group includes center William Karlsson (restricted), center Pierre-Edouard Bellemare (unrestricted) and defenseman Deryk Engelland (unrestricted).
Forwards Erik Haula, Cody Eakin and Ryan Reaves also will be entering the final year of their contracts; they will eligible for extensions in the offseason.
Even with all that in-house business, McPhee believes the Knights will have enough room to pursue outside free agents.
"We'll be fine in the summer if we want to do something like that," McPhee said. "But I think we all know it's not about chasing free agents. It's about doing a lot of different things well, a lot of different resources to acquire players or develop players and it's a number of things.
"Just chasing free agents all the time can be a suckers game. You don't want to be in that position."
Defensemen shuffle
The Knights sent defenseman Jake Bischoff to the American Hockey League's Chicago Wolves. The move opens a roster spot for defenseman Deryk Engelland to come off injured reserve, potentially before the team's game against the Tampa Bay Lightning at 3 p.m. Friday.
"There's a good chance Deryk will play tomorrow if he's ready to go and the trainers give me the OK," coach Gerard Gallant said.
Wake-up texts
The Knights announced Schmidt's extension at 10:07 p.m. PST on Wednesday. That meant the 27-year-old got plenty of early-morning congratulatory texts just after 7:07 a.m. Thursday in Austria, where he is practicing with the Vienna Capitals while serving a 20-game suspension for violating the NHL's policy on performance enhancing drugs.
"We all texted him," forward Jonathan Marchessault said.
More Golden Knights: Follow all of our Golden Knights coverage online at reviewjournal.com/GoldenKnights and @HockeyinVegas on Twitter.
Contact Ben Gotz at bgotz@reviewjournal.com. Follow @BenSGotz on Twitter.
Golden Knights 2018-19 Free Agents
(2017-18 cap hit, per CapFriendly)
*William Karlsson ($5.25 million)*
*Oscar Lindberg ($1.7 million)
*Pierre-Edouard Bellemare ($1.45 million)
*Tomas Nosek ($962,500)*
*Ryan Carpenter ($650,000)
*Tomas Hyka ($650,000)*
*Deryk Engelland ($1.5 million)
*Brad Hunt ($650,000)
*Malcolm Subban ($650,000)*
* — Restricted free agent