George McPhee's Golden Knights resemble Capitals team he built
February 3, 2018 - 6:45 pm
Updated February 3, 2018 - 7:11 pm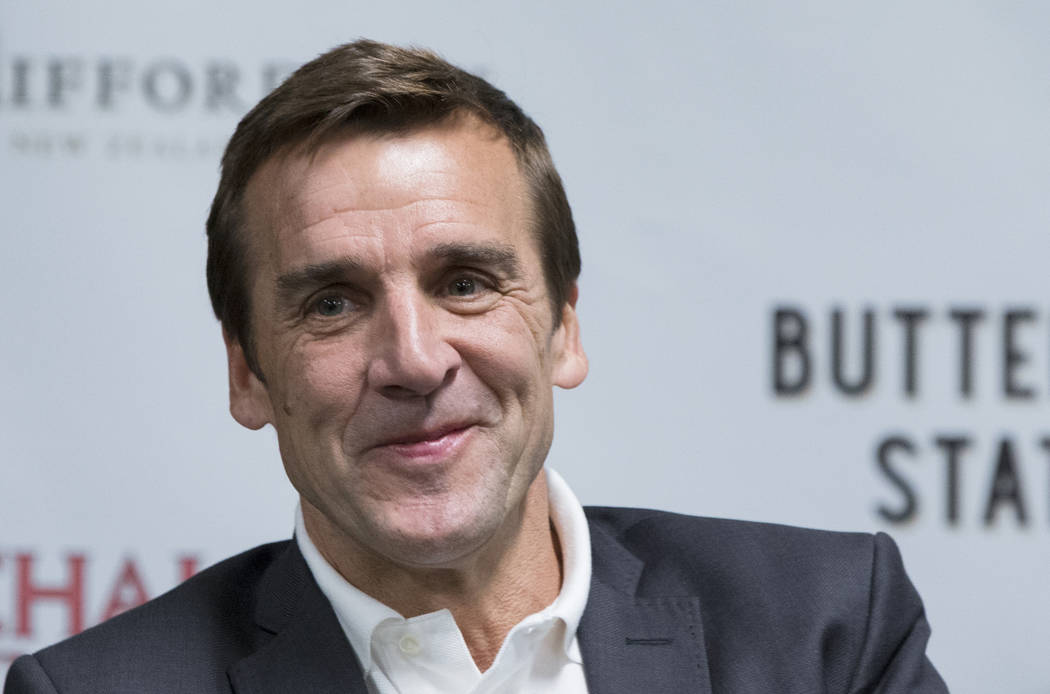 WASHINGTON — The circumstances were different, but George McPhee has kept the same playbook — literally — in building the Washington Capitals and the Golden Knights.
The teams meet at 9:30 a.m. Sunday at Capital One Arena, and it's easy to see the similarities. Both teams rely on speed and quickness. Both have mobile defensemen who can transition quickly and support the attack. Both are solid in goal. Both are well-coached.
"I always kept a manual of things that happened over the years, and that has served me well," said McPhee, who spent 17 years as Washington's general manager before being fired after the 2013-14 season. "Speed has always been important. You have to have four lines that can play and a D corps 1 through 8 that can play. It's a highly skilled game today."
McPhee's fellow general managers see his DNA from Washington on the Knights' roster.
"It's all about being in tune to the way the game is being played," said Kevin Cheveldayoff, the Winnipeg Jets' GM. "George has always been one of the smartest people in hockey. When he was in Washington, he always had teams that had skill on the high side. He's done that with Vegas. They're very skilled throughout."
Calgary Flames GM Brad Treliving said he's not surprised at what McPhee has accomplished.
"Everybody may be surprised at how quickly things came together in Vegas, but in my mind, having George as the boss there, you knew they were going to be successful," Treliving said. "They have speed, skill, size. He's got talent. He's got a formula for it.
"What George did in Washington, you see that in Vegas, too. He does things the right way. You can see the influence."
Like a general preparing to go to war, McPhee planned and strategized. In Washington, it was dealing with a salary cap and the change in the rules on the ice. With the Knights, it was understanding the complex expansion draft procedure.
"When we rebuilt Washington in 2003 right before the lockout, we wanted to get ready for the new rules and the salary cap," McPhee said. "We moved a lot of pieces, got rid of a lot of contracts. But we were totally transparent with the process and explained it to the fans. Three years later, we were on our way.
"With the Golden Knights, we made sure we understood the process going in, and we did our homework and we built our team in keeping with how the game is played today."
Knights assistant general manager Kelly McCrimmon said there never was a plan by McPhee to mold the Knights in the Capitals' image.
"I don't think that was ever discussed," McCrimmon said. "I think the reality is, when you look at it, George built a really good hockey team in Washington that has been successful for a long time and the nucleus of that team continues to be good. So that probably speaks more to his strength as a hockey person more than us sitting around modeling our team to another. That would probably be a better description of what he did.
"Even in his time in Washington, there was an emphasis on speed. We have speed, and we have a team that skates well. It's about staying ahead of the curve, and that had a lot to do with how our team was constructed."
Contact Steve Carp at scarp@reviewjournal.com or 702-387-2913. Follow @stevecarprj on Twitter.
Game day
Who: Golden Knights vs. Capitals
When: 9:30 a.m. Sunday
Where: Capital One Arena, Washington, D.C.
TV: AT&T SportsNet (Cox 313/1313, DirecTV 684, CenturyLink 760/1760, U-verse 757/1757)
Radio: KRLV (98.9 FM, 1340 AM)
Line: Capitals -125; total 5½ over -115
Three storylines
1. Bouncing back. The Knights were a tired team, physically and mentally, in Friday's 5-2 loss at Minnesota. The team had Saturday off to get ready for Sunday's game.
2. Ovechkin vs. the D. In the first meeting Dec. 23, the Knights kept Capitals star Alex Ovechkin off the scoresheet in a 3-0 win at T-Mobile Arena. Ovechkin, who leads the NHL in goals with 32, will be the primary target again.
3. Schmidt, McPhee return. Defenseman Nate Schmidt was popular with fans when he played for the Capitals. He can expect a warm welcome in his first trip back to Washington since he was left unprotected in the expansion draft. General manager George McPhee wasn't as popular at the end of his 17-year run as the team's GM.