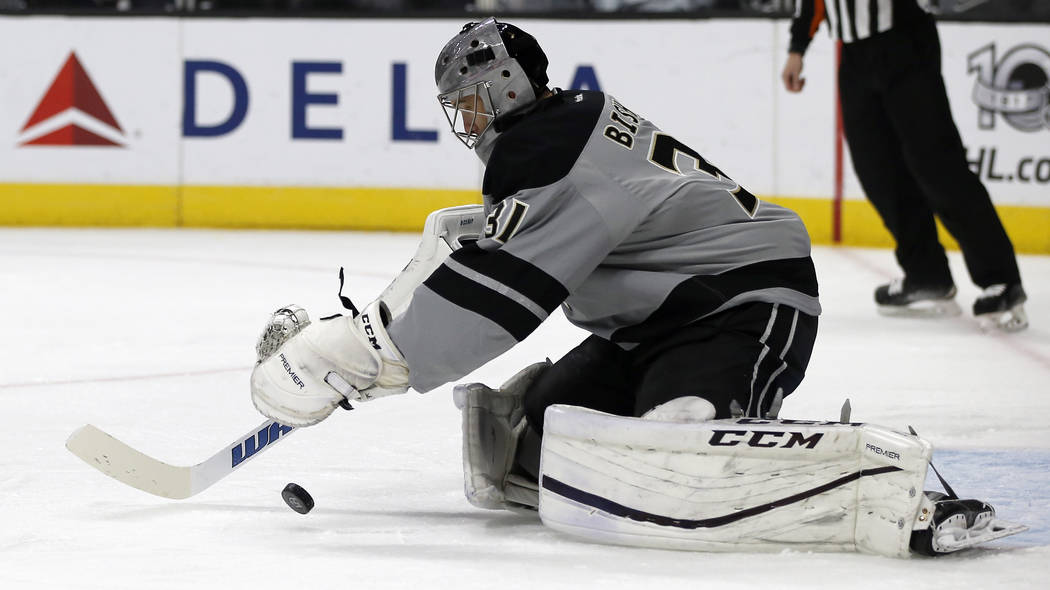 The wheeling and dealing and maneuvering has started for the NHL Expansion Draft on June 21.
As hockey people like to say, it starts in goal. So it comes as no surprise that goaltenders are involved in some of the early moves.
Last week, Chicago dealt backup Scott Darling to Carolina. On Tuesday, the Dallas Stars got Ben Bishop from Los Angeles. The Hurricanes and Stars need help in net, and the Blackhawks (Corey Crawford) and Kings (Jonathan Quick) are set in goal.
But by making the moves, the Blackhawks and Kings don't have to risk losing a quality goalie to the Golden Knights in the Expansion Draft. A team can protect one goalie, and with Darling and Bishop off the market, that's two fewer goalies the Golden Knights could have acquired.
The Blackhawks and Kings acquired draft picks in their deals. Chicago received a third-round pick from Carolina, and Los Angeles got a fourth-round selection from Dallas. And while neither Darling nor Bishop commanded a high pick in return, the bigger picture is saving salary cap space.
On Friday, Bishop signed a six-year, $29.5 million deal with the Stars. Darling is locked up in Carolina through 2021 after signing a four-year, $16.6 million deal. Bishop made $5.95 million this year and Darling $597,000.
Look for more goalies to be moved before June 21. Vancouver would love to trade unrestricted free agent Ryan Miller and his $6 million salary. Winnipeg would like to do the same with Ondrej Pavelec, a free agent who made $4.75 million this season.
The New York Islanders probably would like to move Jaroslav Halak, who spent a good portion of last season in the minors and made $4.5 million. He has one year left on his contract.
The Islanders probably are comfortable with Thomas Greiss as their No. 1, and they have good goaltenders in their organization who can back him up after J.F. Berube didn't wow anyone as Greiss' backup. Berube is an unrestricted free agent who made $675,000 this season.
Then there are the side deals. Can Pittsburgh general manager Jim Rutherford convince Golden Knights GM George McPhee to look the other way on Marc-Andre Fleury and give Vegas enough to do so? Can the New York Rangers do the same with Antti Raatna, their goalie of the future, while keeping future Hall of Famer Henrik Lundqvist?
Nobody wants to give anything away. So if McPhee can get draft picks for 2018 and beyond and still land decent goaltending, look for him to do it.
Sabres get their man
Jason Botterill was hired Thursday as the Buffalo Sabres general manager, and the former Pittsburgh Penguins assistant GM has work to do.
Botterill, 40, has to hire a head coach to replace Dan Bylsma. He has to replace some scouts and hockey operations people who were fired when general manager Tim Murray was canned last month. He has to prepare for the NHL Entry Draft and the Expansion Draft.
Murray supposedly was close to a deal with the Golden Knights regarding who not to take June 21. But with Murray gone, it will be up to Botterill to either resurrect the deal or create something else.
"Jason's hockey knowledge, experience drafting and developing players, and his approach to management stood out to us during our interview process," Sabres owner Terry Pegula said. "Jason has built a solid reputation as a leader that connects strongly with players and staff around him."
AHL 2017-18 alignment
The American Hockey League has set its alignment for 2017-18. There will be 30 teams in four divisions again, which means the Golden Knights will share the Chicago Wolves with St. Louis. The official announcement on the affiliation is expected this week.
The Wolves will play in the AHL Central with Cleveland, Grand Rapids, Iowa, Manitoba, Milwaukee and Rockford.
Here's the other divisions:
Pacific: Ontario, San Diego, San Jose, Stockton, Bakersfield, San Antonio, Texas, Tucson.
North: Belleville, Binghamton, Laval, Rochester, Toronto, Syracuse, Utica.
Atlantic: Bridgeport, Charlotte, Hartford, Hershey, Lehigh Valley, Providence, Springfield, Wilkes-Barre.
Steve Carp's weekly NHL notebook appears Sundays. Contact him at scarp@reviewjournal.com or 702-387-2913. Follow @stevecarprj on Twitter.
Week's three stars
1. Erik Karlsson, Ottawa. The Senators defenseman was the best player on the ice in leading Ottawa past the Rangers and into the Eastern Conference finals while playing with a left heel injury.
2. Marc-Andre Fleury, Pittsburgh. The goaltender was the star of Game 7 as the defending champs eliminated Washington again.
3. Pekka Rinne, Nashville. He's arguably the best goalie left in the playoffs, and he helped knock out St. Louis with 32 saves in Game 6.