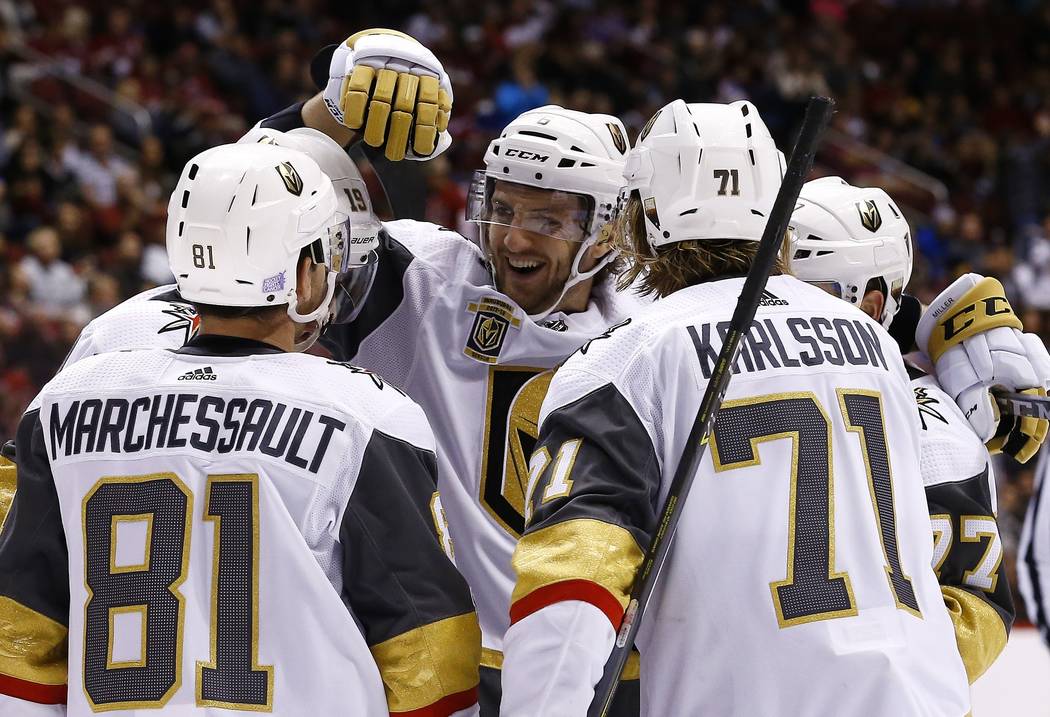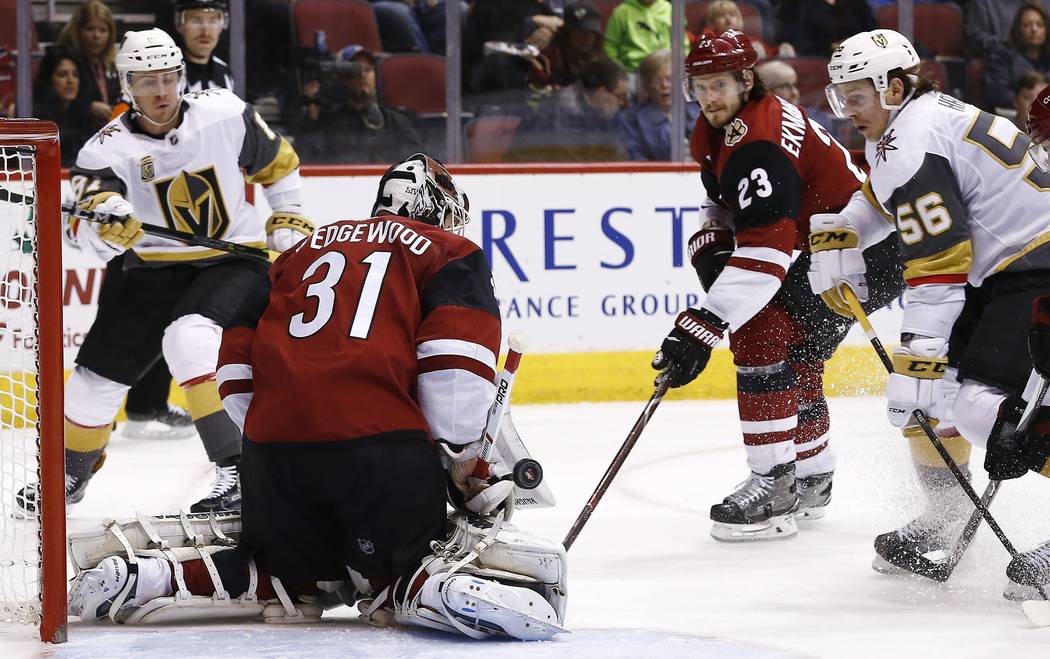 GLENDALE, Ariz. — There are going to be games when a team isn't at its best and does just enough to win.
Such was the case Saturday night for the Golden Knights.
Scoring three times in a 1:42 span of the second period, the Knights then held off a furious third-period rally to defeat the Arizona Coyotes 4-2 before 13,226 at Gila River Arena.
The Knights were sluggish for a good portion of the game, and had it not been for some big saves by Malcolm Subban and some bad luck for Arizona, the outcome might have been different.
The last-place Coyotes had a first-period goal by Christian Fischer taken away for goaltender interference. They hit a couple of posts, missed a couple of wide-open nets and couldn't capitalize on a 5-on-3 third-period power play.
The Knights won their fifth straight game, improved to 15-6-1 and remained atop the Pacific Division with 31 points.
"It wasn't our best game, but somehow we found a way," coach Gerard Gallant said. "It was back-to-back, it's three games in four days with a couple days of travel. We bended a little, but when the game got tight, we played well."
Tomas Nosek, William Karlsson and Erik Haula scored against Arizona starting goaltender Scott Wedgewood, with Haula's power-play goal sending Wedgewood to the bench in favor of backup Marek Langhamer.
Jonathan Marchessault's empty-net goal with 1.7 seconds left sealed the win.
But it was Nosek's goal, a short-handed tally 7:23 into the second period on a fine defensive effort, that changed the complexion of the game. He stole the puck at the Knights' blueline from Coyotes all-star defenseman Oliver Ekman-Larsson, skated in 2-on-1 with Cody Eakin, held the puck, then wristed a shot over Wedgewood's right shoulder for a 1-0 lead.
It was Nosek's third goal, two coming against the Coyotes.
"I tried to stay with (Ekman-Larsson), and I tried to get a good angle on him and push him off the puck," Nosek said. "He tried to fake and dangle me, but I got the puck from him."
His shot was equally impressive as he waited patiently, saw Eakin getting picked up by Derek Stepan and Ekman-Larsson and took his time lining up the wrist shot.
"I was thinking about passing, but I saw they were cheating on Eaks so I shot it," said Nosek, who was a healthy scratch Friday against San Jose but returned to the lineup because David Perron was out with an upper-body injury sustained in a 5-4 overtime win over the Sharks.
Karlsson, the hottest of all the Knights, made the score 2-0 31 seconds later after Marchessault won a faceoff cleanly in the Arizona zone and drew the puck back to Karlsson, who was untouched in the slot. His slap shot whizzed by Wedgewood, giving Karlsson his team-leading 13th goal.
Haula's goal, his seventh, came 1:11 after Karlsson's when he banged home a rebound of Marchessault's shot as the Coyotes were serving a bench minor for too many men on the ice.
At the other end, Subban made his first start in goal since Oct. 21 and stopped 23 of 25 shots. The Coyotes scored 21 seconds into the third period when Ekman-Larsson's shot from the point eluded Subban. Brendan Perlini scored from in close to cut the deficit to 3-2 with 9:25 to play.
"I felt good," said Subban. "I wanted to get off to a good start tracking the puck, and I was able to do that. Nobody complains about playing back-to-back when you're winning."
Gallant was pleased with Subban's effort.
"Pretty solid," the coach said. "He competed, and he didn't see a lot of rubber. But he made the stops when he needed to."
Contact Steve Carp at scarp@reviewjournal.com or 702-387-2913. Follow @stevecarprj on Twitter.
Three takeaways
1. Patience pays off. The Knights were dead-legged to start, as they were playing back-to-back games and had to travel to Arizona. But once they broke through in the second period against starting goalie Scott Wedgewood, it was as if someone flipped a switch, and they scored three times in a 1:42 span to chase him. It was the third time in four games the Knights sent the opponent's starting goalie to the bench.
2. Dominating the division. Going into this six-game stretch against Pacific Division opponents, there were 12 possible points available. With Saturday's win, the Knights picked up 10 points. They only faltered against Edmonton on Nov. 14.
3. The Coyotes are better. They lost again to the Knights and are 0-3 against Vegas, but the Coyotes are playing better hockey. They were doing a good job of reading the passing lanes, they were getting good looks at Malcolm Subban, and if Christian Fischer's first-period goal had counted, perhaps it's a different story.
Steve Carp Review-Journal