Golden Knights fall to Oilers in OT in first game after bye week
January 13, 2018 - 9:49 pm
Updated January 14, 2018 - 12:12 am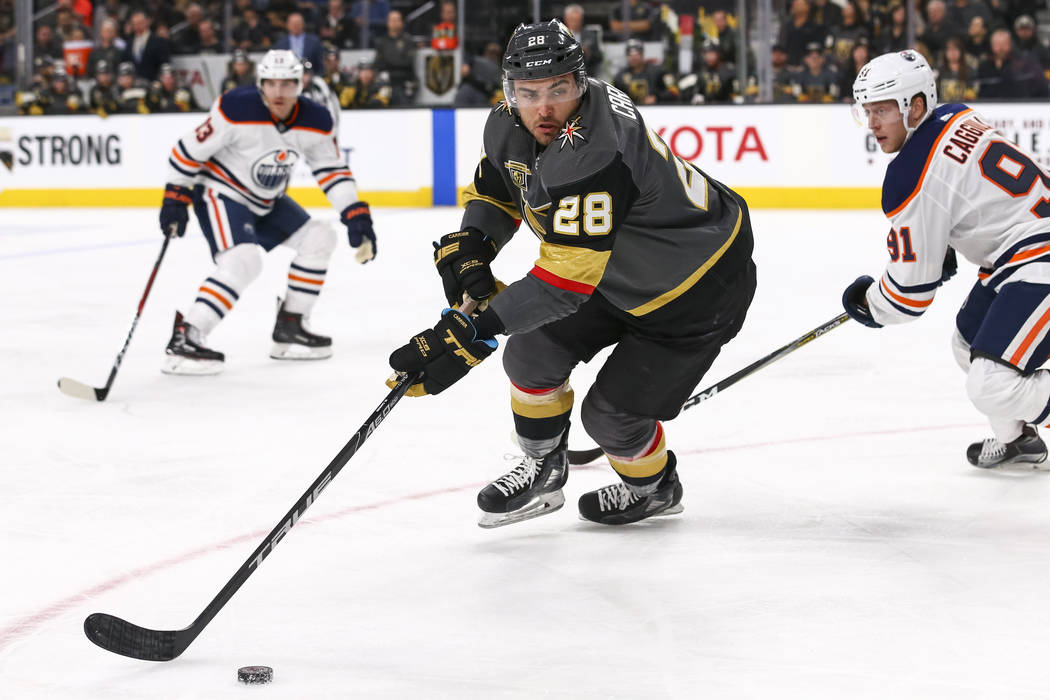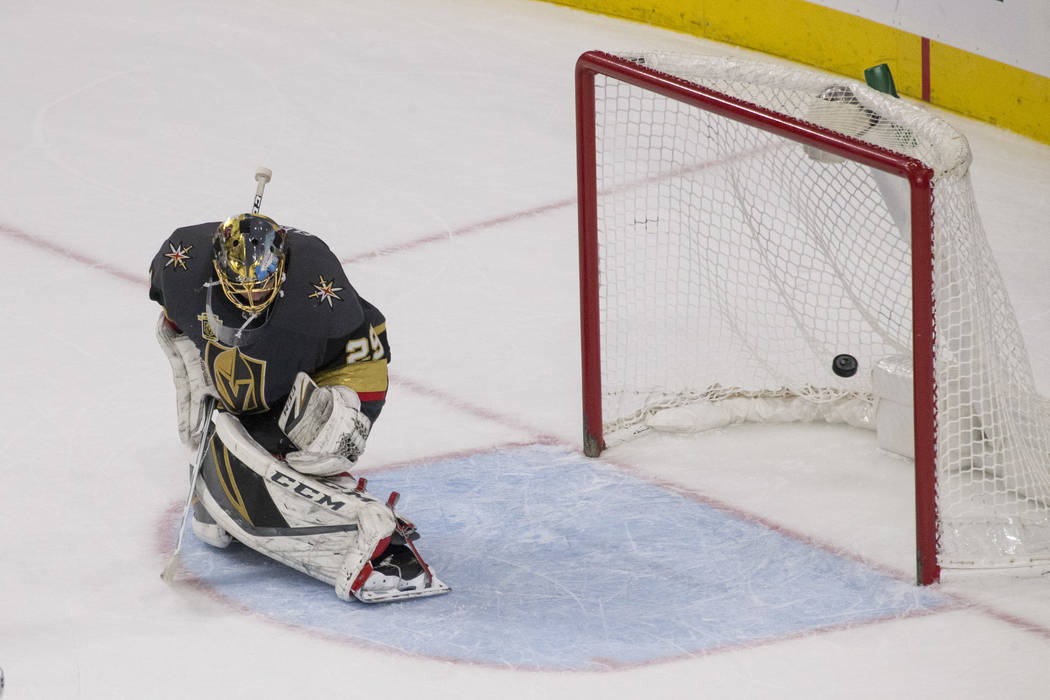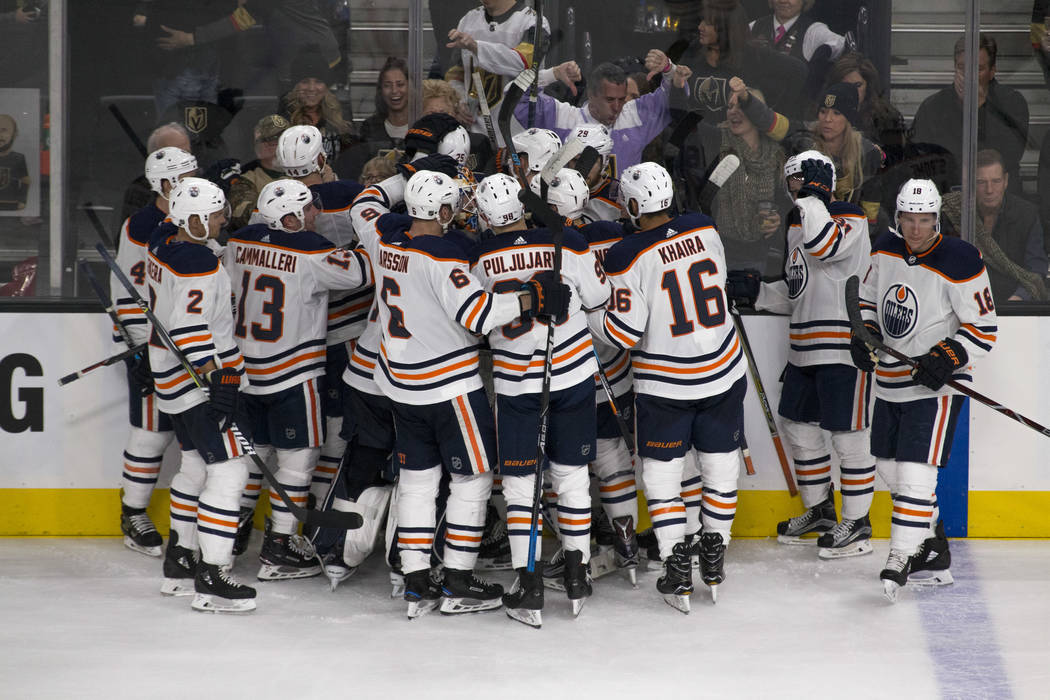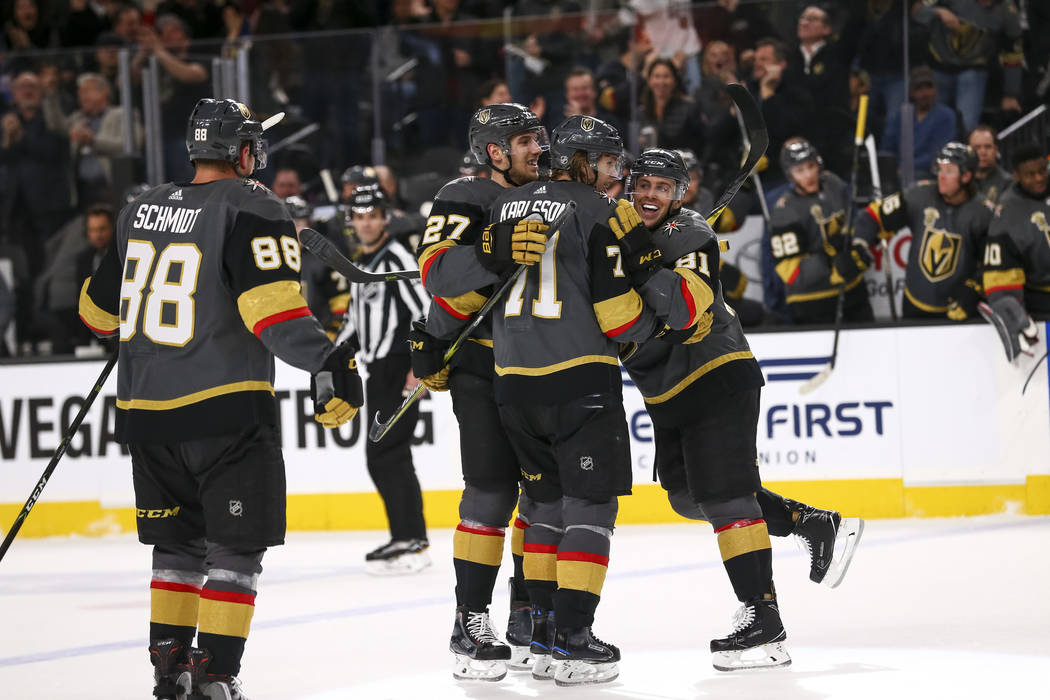 The NHL's bye week claimed another victim Saturday.
The Golden Knights had five days off and returned to the ice not as sharp as when they last left T-Mobile Arena on Jan. 7. The Edmonton Oilers took advantage, with Darnell Nurse scoring 53 seconds into overtime for a 3-2 victory over the Knights before a record crowd of 18,351 at T-Mobile Arena.
Last year, teams that were playing their first game off their bye week went 10-16-4. This is the second season the league has instituted a mandatory bye week for its teams.
"Tonight was all about having five says off," Knights coach Gerard Gallant said. "Our team played well enough to win, but we weren't as sharp as we could have been. When you have five days from your break, sometimes it's hard to get going."
Despite outshooting Edmonton 36-30 and getting strong play in goal from Marc-Andre Fleury, the Knights were unable to come away with two points and had to settle for one. It was only the third loss at home this season.
Gallant said to give the Oilers credit. "They're battling back," he said. "They're competing. They're doing the right things."
The biggest negative byproduct of the time off? The power play, which went 0 for 6 Saturday and generated few quality chances against the league's worst penalty-killing unit.
"We weren't executing very well," said Reilly Smith, who scored the first Golden Knights goal to tie the game 1-1 in the second period after Patrick Maroon had given the Oilers a 1-0 lead 1:55 before. "We were pretty sloppy from start to finish. There wasn't a whole lot of flow to the game (Saturday).
"I think having a few days off it's going to be a little taxing on your body and even mentally not being able to get back in the groove quickly."
William Karlsson broke the 1-1 tie with 6.1 seconds remaining in the second period for his team-leading 23rd. But the Oilers tied the score 3:29 into the third when Drake Caggiula took a cross-ice feed from Maroon and beat Fleury.
"It's disappointing," Fleury said of the result. "We were probably a little rusty at the start, but I thought we picked it up.
"When you're used to playing and practicing every day, you have that timing, that game feel. It takes a few minutes to get back to that."
Connor McDavid, who turned 21 Saturday, had a pair of assists, giving him 200 points for his NHL career in just his 173rd game.
"We battled hard all night," McDavid said. "The penalty kill was great, which was something that we haven't been able to say in a long time. A lot of positives there. We were able to find a way to get a win against one of the best teams in the NHL."
Oilers coach Todd McLellan was happy to see his team head into its break with consecutive wins and a good feeling about itself, even though he lost Ryan Nugent-Hopkins to an apparent shoulder injury and Milan Lucic suffered a cut on his neck.
"The resiliency from our team … It wasn't a Picasso, but playing back-to-back against a team that plays with that type of pace, the amount of energy we had to expend on the penalty kill — we'd like to clean that up, obviously — and then the number of injuries we incurred throughout the game," he said. "We were scrambling with lines and pairs and that type of stuff. It was a scramble night, and we found a way to scratch and claw our way to a win."
Contact Steve carp at scarp@reviewjournal.com or 702-387-2913. Follow @stevecarprj.
Three takeaways
1. Belly full of tough. Pierre-Edouard Bellemare took a puck to the face off the stick of Darnell Nurse in the first period. The Golden Knights center missed all of one shift after receiving three stitches. That's a tough guy. Good thing he had his visor, too. It could've been much worse.
2. McDavid was moving. Turning 21 seemed to agree with Oilers center Connor McDavid. He was flying around the rink Saturday and created a couple of quality opportunities for himself. It took some big saves from Marc-Andre Fleury to keep No. 97 from scoring. He assisted on Patrick Maroon's second-period goal and Drake Caggiula's third-period goal that tied it 2-2 as a small birthday present to himself.
3. Edmonton South. There were a ton of Oilers fans inside T-Mobile Arena. They made themselves heard from the singing of "O Canada" until the final seconds ticked down. It made for another lively atmosphere and contributed to the record attendance of 18,351.
Steve Carp Las Vegas Review-Journal