Golden Knights forge reputation as blue-collar team
November 12, 2017 - 1:43 pm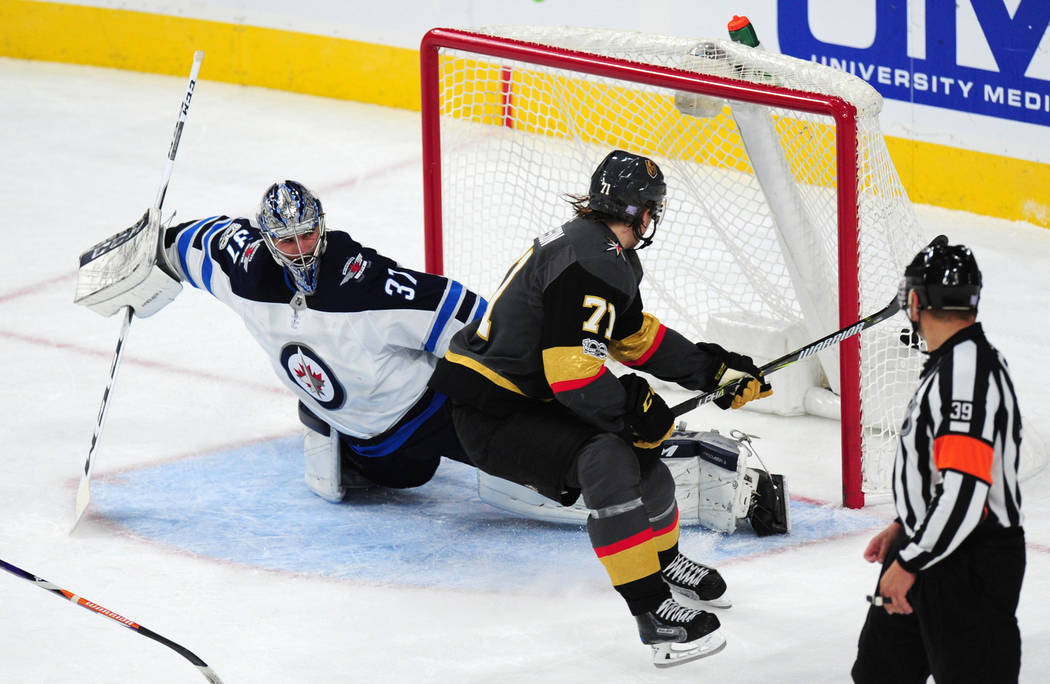 The collar on the Golden Knights' jerseys is black and steel gray. But there probably should be some blue in there, too.
Just 16 games into their inaugural season, the Knights already have forged a reputation as one of the hardest-working teams in the NHL.
"We know that if we're going to win a hockey game, we need to work hard," forward William Karlsson said. "It's just the way it is."
And if a player isn't working hard?
"There's probably going to be someone who's going to let him know, and then he's going to work his ass off," Karlsson said.
The Knights, who start a two-game road trip Tuesday at Edmonton, have adopted their blue-collar mentality largely out of necessity.
Unlike most of the top teams in the Western Conference, the Knights (10-5-1, 21 points) lack a true offensive superstar.
David Perron leads the team with 14 points on five goals and nine assists, tied for 56th in the league through Saturday's games. James Neal's nine goals are tied for 11th.
"You see our top guys are out there finishing checks and making sure they're playing the 200-foot game," defenseman Nate Schmidt said. "I think that's been our No. 1 thing. We realize we're not going to outskill teams. We've got to outwork teams in order to be successful."
Coach Gerard Gallant said the Knights aren't equipped to play a "heavy" or physical style such as Pacific Division rivals Anaheim and Los Angeles.
Rather, the Knights rely on their speed to create turnovers on the forecheck.
"We can't go in and say we're going to play a big, heavy game tonight. We don't have the personnel to do that," Gallant said. "We're not going to change, because if we do change, we're not going to be the same team."
Heavy lifting
Schmidt has emerged as the Knights leader in ice time this season, averaging 22:25 per game. That's a significant increase from his workload the past two seasons with Washington.
Schmidt averaged 15:28 per game last season in 60 games with the Capitals, and logged 18:04 per game during the 2015-16 campaign.
"It's more off ice, making sure you treat your body the correct way so when you get on the ice you have enough energy to play however many minutes you're going to play," the 26-year-old said. "That's probably the biggest change for me."
Subban skates
The Knights had the day off Sunday, but injured goaltender Malcolm Subban was on the ice at City National Arena testing his right leg.
Subban was hurt Oct. 21 against St. Louis and ruled out for four weeks, which means it's unlikely he'll play on the upcoming road trip.
The Knights return to practice at 10 a.m. Monday at City National Arena before flying to Edmonton.
Contact David Schoen at dschoen@reviewjournal.com or 702-387-5203. Follow @DavidSchoenLVRJ on Twitter.