Golden Knights GM George McPhee doesn't mind being in NHL Draft Lottery
Updated April 27, 2017 - 7:33 pm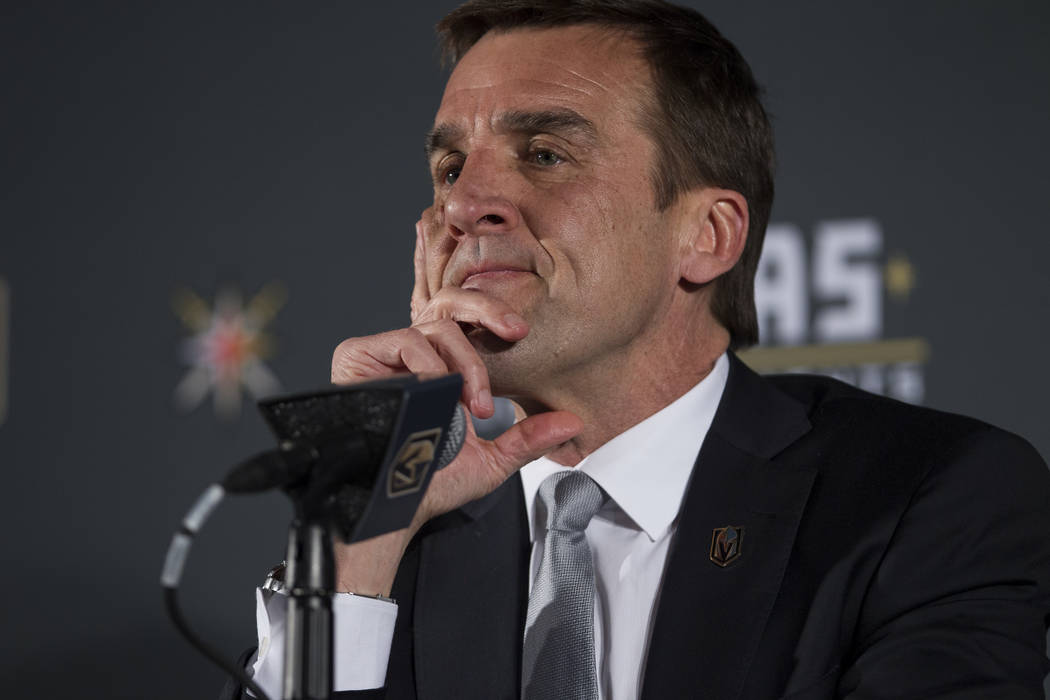 Usually, George McPhee doesn't want to be seen at the NHL Draft Lottery.
If he is there, it means his team did not play well during the season and will draft high.
But there are exceptions to rules, and Saturday will be one of them. The expansion Golden Knights will participate in the lottery in Toronto to determine where they pick in the entry draft June 23 in Chicago.
The Knights will select no lower than sixth and have a 10.3 percent chance of winning the top spot in the lottery. Colorado has the highest percentage at 18.0 percent, followed by Vancouver at 12.1 percent.
"It's a unique opportunity," McPhee said. "We'll hope for good results.
"Ultimately, it doesn't matter where you pick. Whether it's first or 31st, you have to pick a good player."
McPhee was selected by team majority owner Bill Foley to represent the Knights at the lottery. Foley will be watching from Jacksonville, Florida, where he is attending meetings related to his other businesses. But Foley confidently said if he were going to Toronto, he would come back with the No. 1 pick.
Why?
"Because I'm a lucky guy," said Foley, who added he would have a lucky West Point coin in his pocket.
McPhee still has his superstitions like any former athlete. But don't expect him to be rubbing a rabbit's foot or holding a bunch of four-leaf clovers in his pocket.
And he decided to leave Stanley the Rooster home rather than try to explain to Canadian Customs officials why the gift given to the team by the Mandarin Oriental in February during Chinese New Year should be allowed into the country as a good luck prop.
McPhee tends to take a more pragmatic approach to the lottery. He sees the numbers and knows pretty much where his team's chances figure to fall. It's more likely the Knights will pick sixth than first. But there's also a good chance they'll pick second or third since the NHL reweighs and redraws the lottery after the first pick for selections No. 2 and No. 3.
As such, expect to hear the well-worn hockey cliche from McPhee and the other top lottery teams, "We know we're going to get a good player."
"It's a very, very competitive league," McPhee said. "You want to be as prepared as much as you can, and you have to be patient."
No matter where the Knights select, McPhee can count on his fellow general managers to call to gauge his interest on trading the pick. History shows that McPhee usually keeps his first-round selections. He made few trades involving first-rounders at Washington.
One such deal was in 2008 when McPhee traded Steve Eminger, a 2002 first-round pick, as part of a deal to Philadelphia for the Flyers' No. 1. Washington took defenseman John Carlson at No. 27.
"It's easier to find elite players at the top of the draft instead of the later rounds," McPhee said. "If you did your homework, you'll have a nice piece. You do it often enough, and you'll have a nice team."
Follow all of our Golden Knights coverage online at reviewjournal.com/GoldenKnights and @HockeyInVegas on Twitter.
Contact Steve Carp at scarp@reviewjournal.com or 702-387-2913. Follow @stevecarprj on Twitter.