Golden Knights goalie Marc-Andre Fleury fan favorite in Las Vegas
Updated March 19, 2019 - 2:44 pm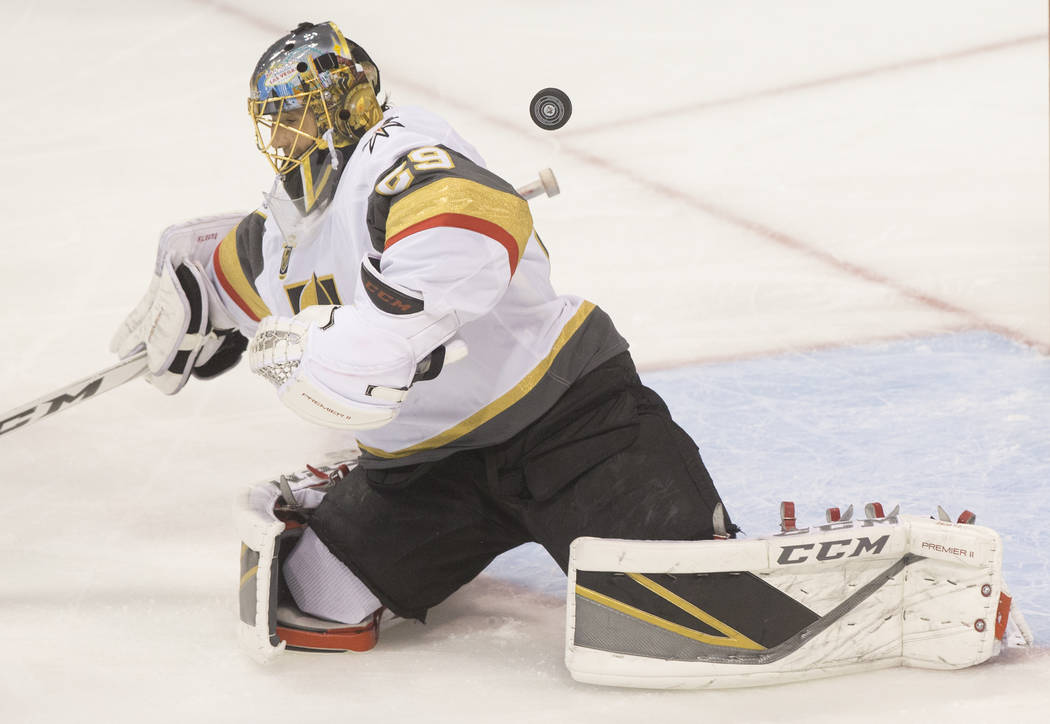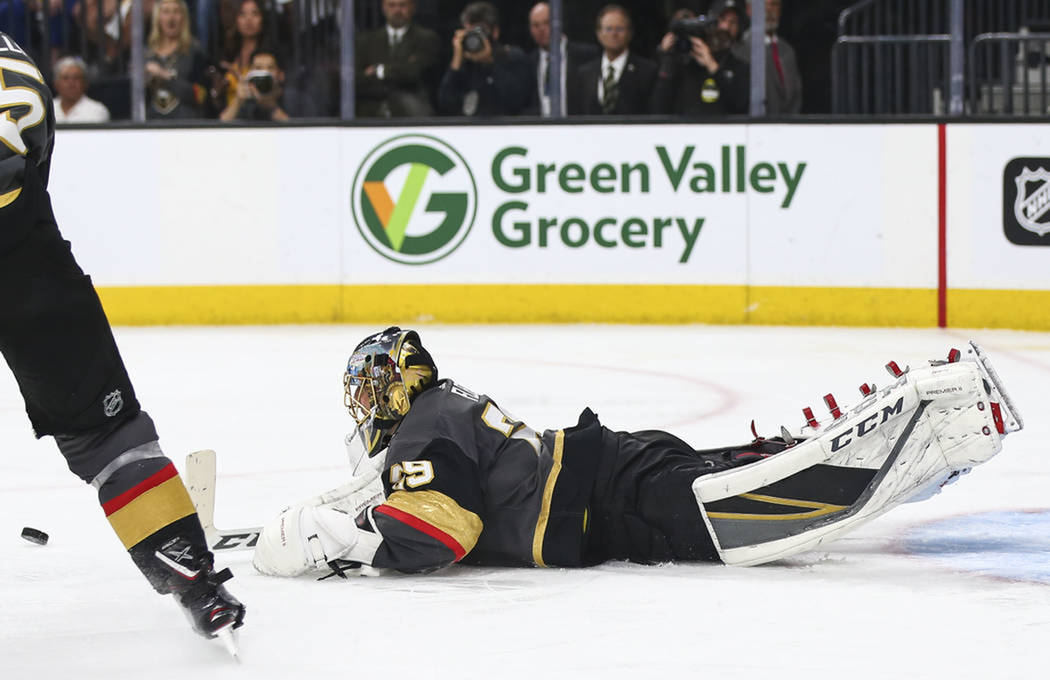 The photograph of a hockey player blocking a shot caught Marc-Andre Fleury's eye. It was taped to a door to another room in the hallway of his Buffalo, N.Y., hotel. He stopped and knocked.
Inside, Payton Francher, a hockey player at Victor (New York) High School, froze as he stared through the peephole.
"He was like, 'Oh my God, I think it's Marc-Andre Fleury at our door,' " said Victor coach Mike Ferreri, whose team happened to be in Buffalo for a state tournament two months ago and unknowingly booked rooms at the same hotel as the Golden Knights.
Francher's teammates quickly pushed him aside and flung open the door. Fleury, expecting to find a teammate, was as
surprised to see students as they were to see him.
"Next thing you know, he's in their room and they're chitchatting away," Ferreri said.
That's Flower.
"We always talk about big picture with our boys," Ferreri said, noting that Fleury beat the Buffalo Sabres 2-1 in a shootout the following afternoon. "For Marc to do that, it just kind of validates what we preach every day. Here's a guy who's a superstar, and he took the time to meet these guys and basically give them the time of day, and give back a little bit."
Fleury is the driving force behind the Knights' unprecedented run to the Stanley Cup Final, which begins at 5 p.m. Monday at T-Mobile Arena against the Washington Capitals.
But it's the hundreds of Bill Murray-stealing-your-french fries, "No one will ever believe you" stories about Fleury's generosity that have endeared him to fans in every NHL city.
"We bring these guys in to play hockey, but when you get guys that care about the community like Marc did, it's a real bonus," Pittsburgh general manager Jim Rutherford said. "He was great with people. He was great with the charitable organizations and you really couldn't get a better guy than him to do some of those extra things."
Just ask Ferreri, whose team won the state title that weekend.
"I tell my boys now, 'You've got guys in the locker room like Marc that take the time to do things like that, there's a culture that has to be going on in that locker room similar to that. And that's one of the reasons why they're so successful,'" Ferreri said. "And look at them now. They're playing for the Stanley Cup. It's incredible. It all ties together.
"The kicker is, my guys now, if they weren't Vegas fans before, they're Vegas fans now."
Pittsburgh highs and lows
Growing up in Sorel, Quebec, Fleury said he was a soft-spoken child. But at home with younger sister Marylene and at the local hockey rink, he was full of energy.
"My mom, when she would go to parent conferences, they would tell her I'm quiet and she wouldn't believe it," Fleury said. "I think the ice is where I always got a little more comfortable."
Fleury began his hockey career as a forward, but after struggling to score, he switched to goaltender.
He loved the tools of the trade — Fleury wore flamboyant yellow pads early in his NHL career with Pittsburgh — and idolized French-Canadian goaltending legends Patrick Roy and Martin Brodeur.
"I was a big hockey fan. Montreal was my team, and Patrick Roy was there for many years and I always loved watching him," Fleury said. "And Brodeur was the other guy I loved, too. He was always diving around, smiling in his mask, poke-checking guys. It was cool.
"I like to think I'm a little bit of both. I think I'm mostly butterfly (style) like Patrick Roy, but Brodeur was a guy that was so unpredictable. He could poke-check or dive or give you the two-pad-stack slides, so I like to do a little bit of both."
At age 15, and with limited ability speaking English, Fleury left home in 2000 to play for the Cape Breton (Nova Scotia) Screaming Eagles of the Quebec Major Junior Hockey League.
A little more than two years later, Allan Walsh, the goaltender's longtime agent, said the "legend of Marc-Andre Fleury" was born.
During the IIHF World Junior Championships in Halifax and Sydney, Nova Scotia, Fleury came down with a stomach flu and was unable to start the final round-robin game against Finland. But midway through the second period, Canada allowed two straight goals to see its lead cut to 4-3.
Canadian coach Marc Habcheid pulled starter David LeNeveu, and with the crowd of 10,594 chanting his name — and the country riveted to its televisions — Fleury hopped over the boards and finished off the remainder of his team's 5-3 victory.
He was named the tournament's top goaltender after leading Canada to the silver medal. The Canadians fell in the final to Russia, which featured a 17-year-old named Alexander Ovechkin, the Capitals star forward who Fleury faces again beginning Monday.
"That was the defining moment of his draft year," Walsh said.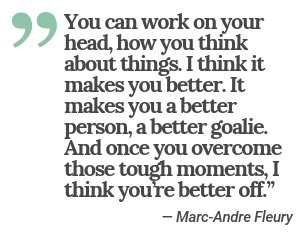 Pittsburgh traded up to select Fleury with the No. 1 overall pick in the 2003 draft, and he experienced the highest highs and lowest lows over the ensuing 14 years.
In 2004, a mistake by Fleury — his clearing attempt went off teammate Braydon Coburn and into the net for the winning goal — gave the U.S. the gold medal at the World Junior Championships. Afterward, the financially strapped Penguins returned the rookie to his junior team before he was owed $3 million in contract bonuses.
Fleury soon developed into one of the NHL's top goaltenders and led Pittsburgh to the Stanley Cup Final in 2008 before ultimately falling short against Detroit.
The following season, at age 24, he won the first of his three Stanley Cups, clinching the Penguins' Game 7 victory with a famous, last-second diving stop on Hall of Famer Nicklas Lidstrom.
Fleury then struggled during the postseason over the next five seasons and, after suffering a concussion prior to the start of the 2016 playoffs, he was replaced by rookie Matt Murray.
Murray guided the Penguins to the Cup in 2016 and took over the starting role the following season. Pittsburgh won the title again in 2017 with Murray in net, leaving Fleury expendable in the expansion draft.
But through all the ups and downs, Fleury remained a beloved figure in Pittsburgh thanks to his infectious smile and engaging personality.
"I think that's when you learn the most about what went wrong, how you can get better, what you have to work on," Fleury said. "You can work on your head, how you think about things. I think it makes you better. It makes you a better person, a better goalie. And once you overcome those tough moments, I think you're better off."
Fun-loving 'Flower'
The first time Walsh met Fleury, he noticed the teenager's drive to succeed. But there was something else that stood out.
"That mischievous twinkle in his eye," said Walsh, who's represented Fleury since he was 15.
"Flower" — the nickname is derived from the French word for flower (fleur) — loves Formula One racing, comedy movies and pulling pranks.
In Pittsburgh, Fleury was known for hanging teammates' clothes from the rafters of the arena. On the Knights' season-opening road trip, Fleury secretly messed with the plumbing in Jonathan Marchessault's hotel room, causing his toilet to leak.
"Anytime you get it done to yourself, you always laugh and you know it's him," Knights forward David Perron said. "And then you go over and he's like, 'No, I don't know what you're talking about.' "
One of Fleury's classic moves is to partially unscrew the caps on the water bottles at practice, drenching unsuspecting teammates when they go for a drink.
"He caught me with it once, and every practice now since November, I've checked the water cap and the Gatorade cap to make sure it's on," rookie forward Alex Tuch said.
Fleury relentlessly trash talks opposing players — "He likes to yell, 'Poke-check!' " defenseman Shea Theodore said — and occasionally drifts into his own comedic wonderland.
During a game in Los Angeles in late February, not long after the Winter Olympics ended, Fleury used his stick like a curling broom and swept the ice in front of a loose puck.
And in the Western Conference Final, cameras caught Fleury tickling the ear of Winnipeg captain Blake Wheeler during a Game 3 scrum near Fleury's net.
"Once you get to a place where you're able to play that loose and free, it's pretty nice," defenseman Colin Miller said. "He's earned that right, and that's what works for him. It's different for everybody, but with Flower, that's him. That's how he works. That's how he seems to live his daily life."
For Fleury, the antics are his way of staying focused during games.
"Sometimes I like to make myself smile," he said. "In my junior years, it was a little more serious hockey, and my coach, Pascal Vincent, always told me, 'Go have fun. That's when you play best.' That stuck in my mind."
Rejuvenation in Vegas
Fleury admitted he was disappointed last season with his role as the backup in Pittsburgh, but the 33-year-old enjoyed a renaissance after being selected by the Knights in the expansion draft.
He finished the regular season 29-13-4 and set career bests in goals-against average (2.24) and save percentage (.927), helping the Knights become the first modern-era expansion team from any of the four North American professional sports leagues to win its division in its inaugural season (excluding mergers and all-expansion divisions).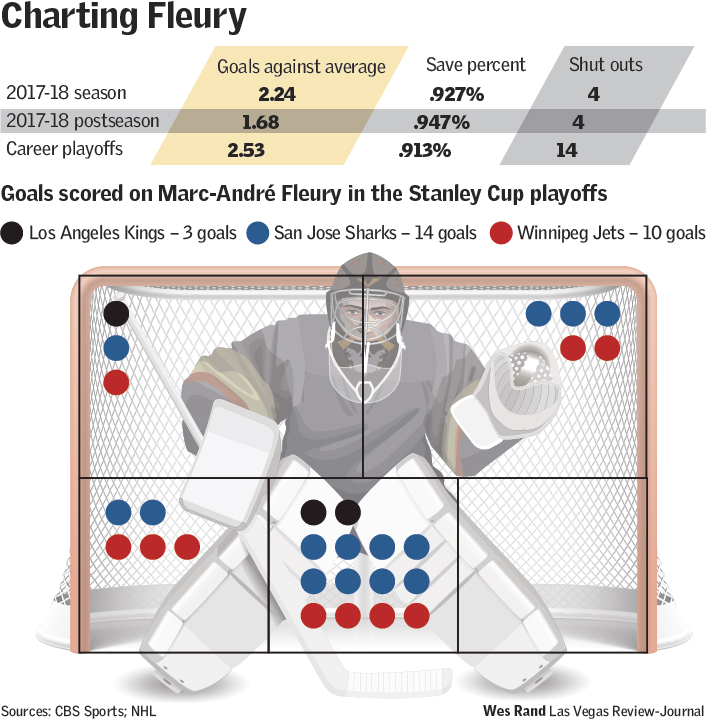 In January, Fleury was named to the All-Star Game for the third time, and on March 12 at Philadelphia he became the 13th goalie in NHL history to reach 400 career victories.
"He's been so consistent with us all year long," Knights coach Gerard Gallant said. "He comes in here every day and he's smiling, having fun. He's enjoying the crowd at the practices. You always see him, he's the first guy signing autographs all the time. He's just a true pro, and he's great for our organization."
Fleury is set to become the 19th goaltender in NHL history to represent multiple teams in the Stanley Cup Final. He would be the 11th goaltender to win the Cup at least four times, and the seventh player in league history to win with different teams in consecutive seasons.
In fact, no player has won three consecutive Stanley Cups since 1983, when the New York Islanders won their fourth straight championship.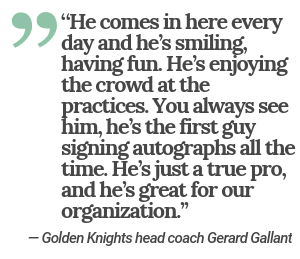 Fleury is the leading candidate for the Conn Smythe Trophy as the most valuable player of the postseason. His 1.68 goals-against average and .947 save percentage rank No. 1 among goaltenders with more than four games played.
"I think in Pittsburgh, Marc was loved by teammates, well-respected by the organization and loved by fans," Walsh said. "But in Pittsburgh, there were several elite players who received a lot of the attention. Marc was comfortable in his role and provided leadership in his own way.
"But when he came to Vegas, a lot of eyes were on him seeking leadership. He was a good student, watching other people play the key 'I'm the guy' role. … He has a much more prominent role in terms of leadership, and I think he enjoys it."
Fleury has one year remaining on his contract and is owed $5.75 million next season, the highest annual salary among the Knights players currently under contract.
Walsh declined to address his client's contract status — "the only focus is on hockey," he said — but a rejuvenated Fleury indicated he doesn't have plans to walk away anytime soon.
"I think I've maybe started thinking about it more the last couple years," Fleury said. "But then you come here and all season long has been so much fun. It seems like it went by so quick. I still have a lot of fun on the ice and playing."
Contact David Schoen at dschoen@reviewjournal.com or 702-387-5203. Follow @DavidSchoenLVRJ on Twitter.