Pittsburgh fans still have love for Knights' Marc-Andre Fleury
Updated May 25, 2018 - 6:53 pm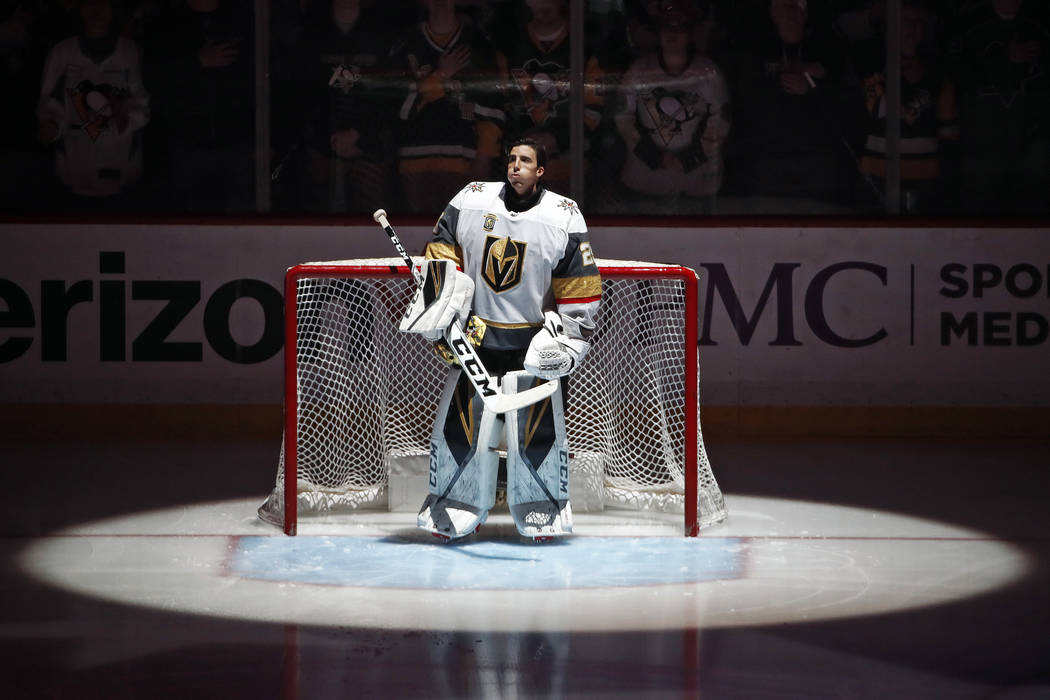 PITTSBURGH — To say the night of Feb. 6 was an emotional one for Marc-Andre Fleury would be an understatement.
It was the Golden Knights goaltender's return to the city where he was drafted 15 years ago, the first time he played at PPG Paints Arena in a visitor's jersey. The Penguins played a tribute video before the game to the goalie who helped win three Stanley Cups, and proceeded to beat Fleury and the Knights, 5-4. Fleury made 33 saves.
What Jim Rutherford remembers about that night was what happened after the game. The Penguins' general manager took his 10-year-old son James into the Vegas dressing room to meet Fleury, and the former Pittsburgh goalie spent all the time with James that Rutherford could have hoped for.
"You can always talk about people when they're on a high note and they've won five in a row and all the good things and you're the first star of the game, but this was a tough night for Marc-Andre Fleury," Rutherford said. "His demeanor and personality never changed. He took that time, and made sure that James came into the room to see him.
"I will always remember that. Of course it touches me close because it's family, but not a lot of athletes will do what he did that night."
Rutherford's admiration is echoed by the city. Fleury has not been a Penguin in nearly a year, and the Knights will enter the Stanley Cup Final on Monday representing Fleury's third consecutive trip, but first and only without a Penguins sweater.
There's no bitterness from Pittsburgh. They want him to win.
"He's made his way into the fabric of this city," Penguins and Steelers season-ticket holder Bill Diamond said.
A quick turnaround
Pittsburgh made Fleury the first-overall selection in the 2003 NHL Entry Draft. Evgeni Malkin went second overall in 2004, and Sidney Crosby went first in 2005. The Penguins finished fifth in the Atlantic Division four straight times, not remotely resembling the dynastic squads of late.
After Crosby's rookie year, the Pens have not missed the postseason in any year since, and won Stanley Cups in 2009, 2016 and 2017, with Fleury as the primary goaltender in 2009 and playing key playoff series in 2017.
That's to say, it's hard to measure the importance of those three players to Pittsburgh hockey.
"I remember when he was drafted, everybody was like this elite goaltender is going to make a change in Pittsburgh," Pittsburgh-area teacher Bill Majeski said. "Then Crosby and Malkin come in and you start seeing this turn around, and it was a quick turnaround.
"Him and (Matt) Murray are the reason why we won the Stanley Cup. Crosby and them of course, and all the additions, but if you don't have the goaltending you're not going to get it."
Pens fans had seen the writing on the wall for months and knew what would happen. Fleury had a history of concussions, he was well beyond the wrong side of 30-years-old, he had a high salary and of course they had Murray: a 24-year-old who was the primary goalie for two straight Cup wins. So when an expansion team came around, there was only one option.
Fleury was left unprotected, and on June 21 Vegas and made him its highest-profile pick in the expansion draft.
"At first it was difficult when they first decided to not protect him in the expansion draft," local high school hockey coach Louis Pessolano said. "It was a business move, it was the right move."
That doesn't make it much easier. Pessolano was in the building for Fleury's return to Pittsburgh, and it all came rushing back.
"There were definitely some watery eyes in the crowd," Pessolano said. "It was a nice send-off."
Off the ice
Of course just about every city has a star athlete to rally around on the field of play. But Fleury has made himself known around Pittsburgh for more than flashy saves.
Last June, Fleury and his wife Veronique opened and financed a new six-figure playground at a Boys & Girls Club in nearby McKees Rocks. He was involved in the process, asking ways to make it as good as it can be instead of just cutting the check.
When he was selected by Vegas, he donated 25 of his nicest suits to a veteran leadership group. One time on a long road trip he had his teammates collect the toiletries from the hotel rooms and donated them to the Ronald McDonald House.
"It was all this stuff over and above," Pittsburgh Penguins Foundation president Dave Soltesz said. "Through his tenure he was just amazing. On the ice and in the community, no doubt about that.
"He's a special individual."
Though the timing of the opening may appear as if it was a farewell gift to Pittsburgh, Soltesz stressed it was not any sort of legacy project. It had been planned years in advance, and he wanted to make sure the project was done right, regardless of if he was a Penguin or a Golden Knight.
It's the kind of thing that catches the eyes of fans.
"It was already paid for. It was already built. Nobody was going to hate him for not showing up," Pessolano said. "In a city in and a town that he no longer technically plays for. And that shows a lot about the person that he is, the genuine person that he is, not just the hockey player."
Love for Flower
The city is littered with anecdotes about its love for Fleury.
Diamond's son Andrew was a goalie as a youth player because of Fleury. A Lyft driver named Michael said he'll be watching the Final because of the man between the pipes (and to root against the Capitals). A teacher named Kelly believes the Penguins would still be in the playoffs if Fleury were in net. A software developer named Michael jokes that Vegas stole their goalie and that he keeps tabs on the Knights.
A Dick's Sporting Goods employee named Dajon said he gets asked all the time if the shop carries Knights gear. Within the last two weeks, the store has started stocking it to meet the demand, the only apparel from non-Pittsburgh teams it carries (excluding the NBA, where Pittsburgh does not have a team).
Throw in that the Knights are meeting the Capitals in the Final, the team that eliminated the Pens from the postseason, and Pittsburgh's rooting interest is clear. Residents of steel city might not be chanting "Go Knights Go," but that doesn't mean they won't feel a touch of happiness if their old goalie raises the Cup on the Strip.
"Everyone is pulling for him," Pessolano said. "He's a great person. I think a lot of the city is watching Vegas games as if they were Penguins games."
More Golden Knights: Follow all of our Golden Knights coverage online at reviewjournal.com/GoldenKnights and @HockeyinVegas on Twitter.
Contact Justin Emerson at jemerson@reviewjournal.com or (702) 387-2944. Follow @J15Emerson on Twitter.