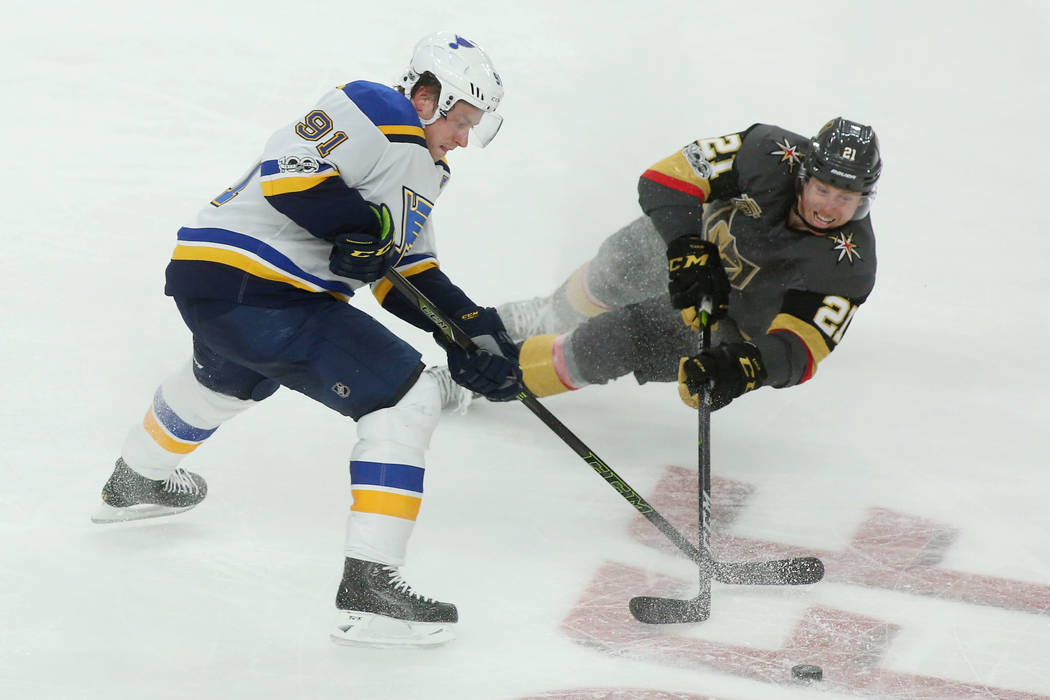 Golden Knights coach Gerard Gallant peeked at the scoreboard with less than eight minutes remaining in the second period Saturday and saw the lopsided shots-on-goal total in favor of St. Louis.
"I looked up, I think it was 28-6 at one time in the game," Gallant said. "And I didn't think it was that bad."
Actually, coach, it was only 27-6. But that's beside the point.
The Golden Knights have won four of five on their seven-game homestand heading into Tuesday's test against Chicago at 7 p.m. at T-Mobile Arena.
And they've done it despite holding the edge in shots on goal in just one of those games.
"The shots on goal don't really bother me," Gallant said. "It was (27)-6, and I think the score was 1-1, something in that area (it was 1-0 St. Louis). And I said, 'Well, that's great, you know. We're hanging in there.' But I really didn't think they should have had four or five goals, even though they had (27) shots.
"I thought (Malcolm Subban) made some good, solid saves, but it wasn't like they were dominating us. That's the feeling I had on the bench. Even though they had territorial advantage, it wasn't like they were getting grade-A scoring chances against us."
As the Golden Knights' 3-2 overtime win over St. Louis showed, the shots on goal statistic rarely tells the whole story of a game.
St. Louis finished with a 49-22 advantage in shots on goal, including 18-4 in the first period when the Blues tested Subban, often from distance.
But the Knights also had eight missed shots and two shots that were blocked in the opening 20 minutes, none of which shows up on the scoreboard.
In Gallant's opinion, the more relevant stat is scoring chances, and the Knights fared better in that category vs. the Blues until the third period and overtime.
According to NaturalStatTrick.com, the Knights had 14 scoring chances through two periods compared to 22 for St. Louis. The Blues owned a 16-7 advantage in scoring chances during the final period and OT.
"I don't worry about shots on goal, to be honest with you," Gallant said. "After the game, we look at scoring chances against, and we gave up way too many (Saturday) night.
"We fed a lot of their transition (Saturday) night by some mistakes, not getting pucks deep and not forechecking hard enough. We gave them too much respect and too much open ice."
Against Buffalo on Oct. 17, the Knights were outshot 34-31 overall, but 19 of the Sabres' shots came in the third period when they overcame a 4-1 deficit to force overtime.
But the Knights had a 43-33 edge in Corsi For (shots on goal+missed shots+blocked shots) through two periods, and the teams finished the game even in scoring chances (34-34), according to NaturalStatTrick.com.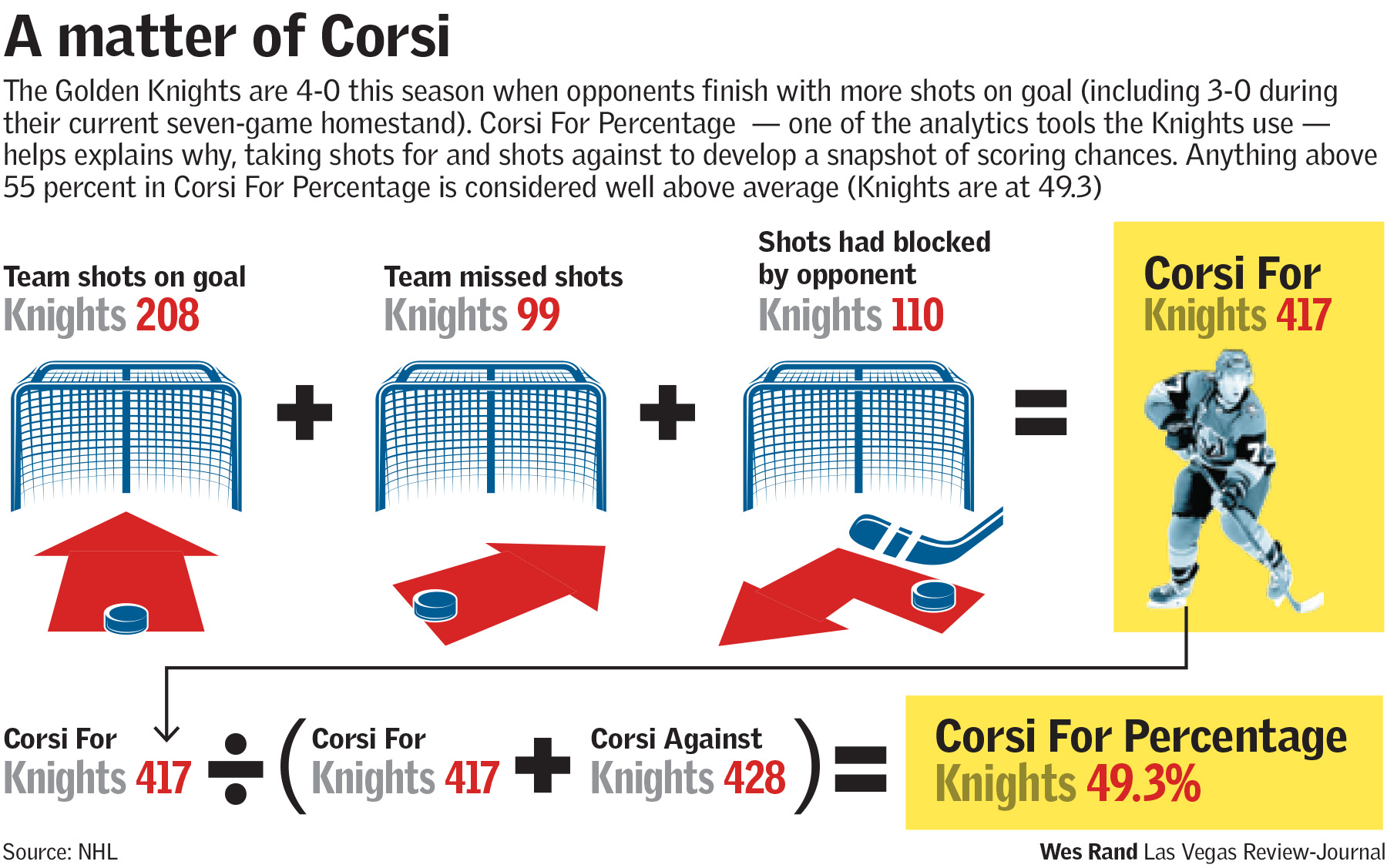 Wes Rand/Las Vegas Review-Journal
In the home-opening 5-2 win over Arizona on Oct. 10, the Knights finished with a 33-28 disadvantage in shots on goal, but only after getting outshot 18-5 in the third period.
Notice a pattern developing?
The Knights generated 19 scoring chances to Arizona's 11 and had a Corsi For percentage of 58.9 percent through the first two periods in building a 5-1 lead.
Anything above 55 percent in Corsi For Percentage — the total of adding Corsi for and against and dividing by a team's for number — is considered well above average. The Knights are at 49.3 percent so far.
Including the 2-1 win at Dallas to open the regular season, the Knights are 4-0 when their opponent finishes with more shots on goal.
The only teams the Knights have topped in shots on goal are Boston (26-22) in the 3-1 win Oct. 15 and Arizona (44-28) in a 2-1 overtime win Oct. 7.
Similarly, Chicago enters Tuesday's matchup at 5-2-2 and second in the Central Division despite producing more shots on goal than its opponent in only two of nine games this season.
One was the 10-1 victory against Pittsburgh in the season opener, and the other was a 5-2 loss to Minnesota on Oct. 12.
The normally freewheeling Blackhawks have failed to generate more shots on goal than their opponent in four straight games and have an underwhelming 48.0 Corsi For Percentage this season.
"We had a good test against St. Louis the other night and they're a team that took a lot of play to us, and we've got to make sure we're ready for that again (Tuesday) night, because they're going to be coming," Gallant said of Chicago. "We've got to make sure we're a confident group and we've got to play our game. I thought we sat back against St. Louis, even though they're a very talented team. If we're going to sit back against talented teams, they're going to pick us apart."
More Golden Knights: Follow all of our Golden Knights coverage online at reviewjournal.com/GoldenKnights and @HockeyinVegas on Twitter.
Contact David Schoen at dschoen@reviewjournal.com or 702-387-5203. Follow @DavidSchoenLVRJ on Twitter.
Blackhawks vs. Knights
When: 7 p.m. Tuesday
Where: T-Mobile Arena
TV: AT&T SportsNet (Cox 313/1313, DirecTV 684, CenturyLink 760/1760, U-verse 757/1757)
Radio: KRLV (98.9 FM, 1340 AM)
Line: Blackhawks -200; total 6, under -120