Golden Knights mailbag: Is the second line better than the first?
Updated December 4, 2018 - 5:57 pm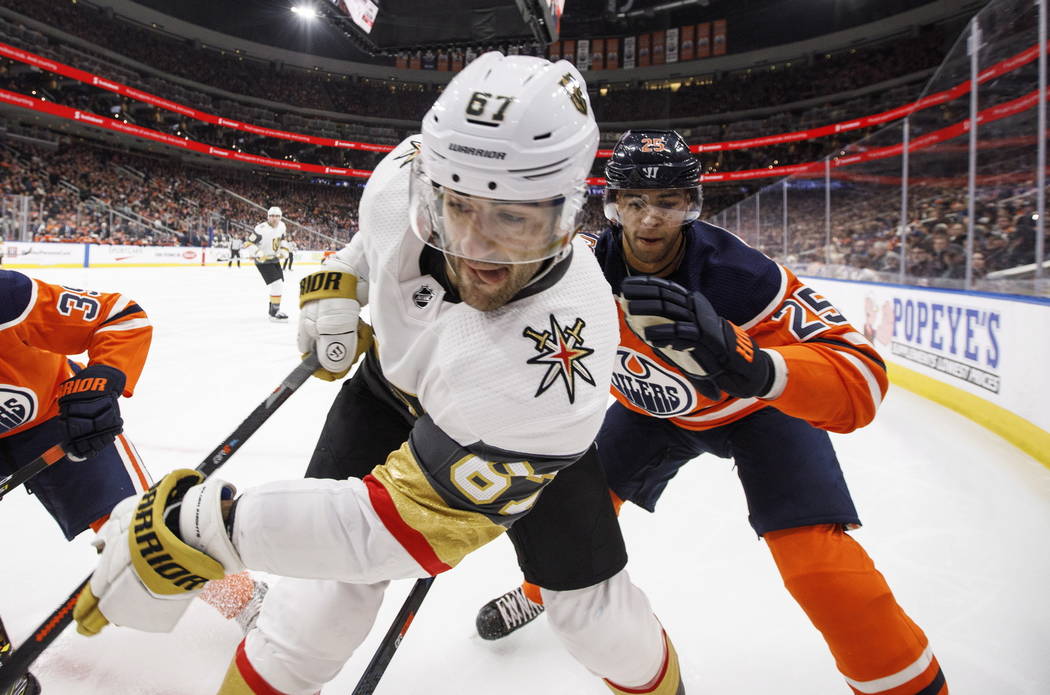 Send NHL writers Adam Hill and Ben Gotz your Golden Knights questions and hot takes. Tweet them at @AdamHillLVRJ or @BenSGotz or email at ahiill@reviewjournal.com or bgotz@reviewjournal.com.
The Golden Knights were finally able to string together some wins and are feeling much better about their place in the standings as the calendar has turned to December. Let's get right to your questions:
"Is the second line better than the first?" — Albie (Facebook)
Let's start with the requisite disclaimer that better is a very subjective term.
With that out of the way, the second line has been playing incredibly well for several weeks.
Max Pacioretty has caught fire and is giving the Knights the kind of goal-scoring production they had hoped for when they traded for him just before the season, and Alex Tuch is playing at a level that may start making his contract extension look like a steal for the organization.
Cody Eakin is the engine driving things for the unit that has combined for 33 points over the past 10 games as they have finally found cohesion after injuries wreaked havoc on their development as a group.
Still, top liners William Karlsson and Jonathan Marchessault are tied for the team lead with 21 points.
They also have the added task of matching up often with the dangerous top lines of their opponents. The additional defensive responsibilities are a challenge the Knights' top line has embraced and excelled at ever since the line was put together last season.
So it might not be fair to say the second line has surpassed the first as the team's best, but the production is impossible to ignore.
What is certain is that many teams in the league would enjoy being in a position to debate which of their two dynamic top lines is the best.
"When Paul Stastny is back, will he reclaim his spot on the second line?" — Ryan (Twitter)
That's a question only Gerard Gallant can answer, and it's not one he will even entertain until Stastny is ready to return to the lineup.
He has been back on the ice at City National Arena skating on his own the past few days.
Should Stastny be slotted back into the second-line center role he was pegged for when he was signed in the offseason?
No.
Certainly not right away.
Eakin has been fantastic and the line has really hit its stride as has already been discussed.
There just isn't any reason to mess with that success right now.
It would make a ton of sense to put Stastny at center on the third line, even if it's just for as long as it takes him to work his way back to full speed. It allows the second line to stay together and brings a needed jolt of a veteran playmaker to a third line that has struggled to get anything going all season.
Of course, as the Knights have found out several times this season, another injury can make plans change very quickly.
"Who is the best Knight on social media?" — Billy (E-mail)
Most of the players seem to spend a lot more time working on their games than building up their followers, particularly during the season.
William Karlsson's hair is a bit of an Instagram star but posts are few and far between.
The winner has to be Ryan Reaves, whose take on the efforts to ban the Rudolph story because it encourages bullying, created quite a stir this week.
He also had a video parodying a famous Conor McGregor post blow up and go viral last month. Reaves takes this one.
More Golden Knights: Follow at reviewjournal.com/GoldenKnights and @HockeyinVegas on Twitter.
Contact Adam Hill at ahill@reviewjournal.com. Follow @AdamHIllLVRJ on Twitter.