Golden Knights over/under for the 2018-19 season
October 4, 2018 - 8:00 am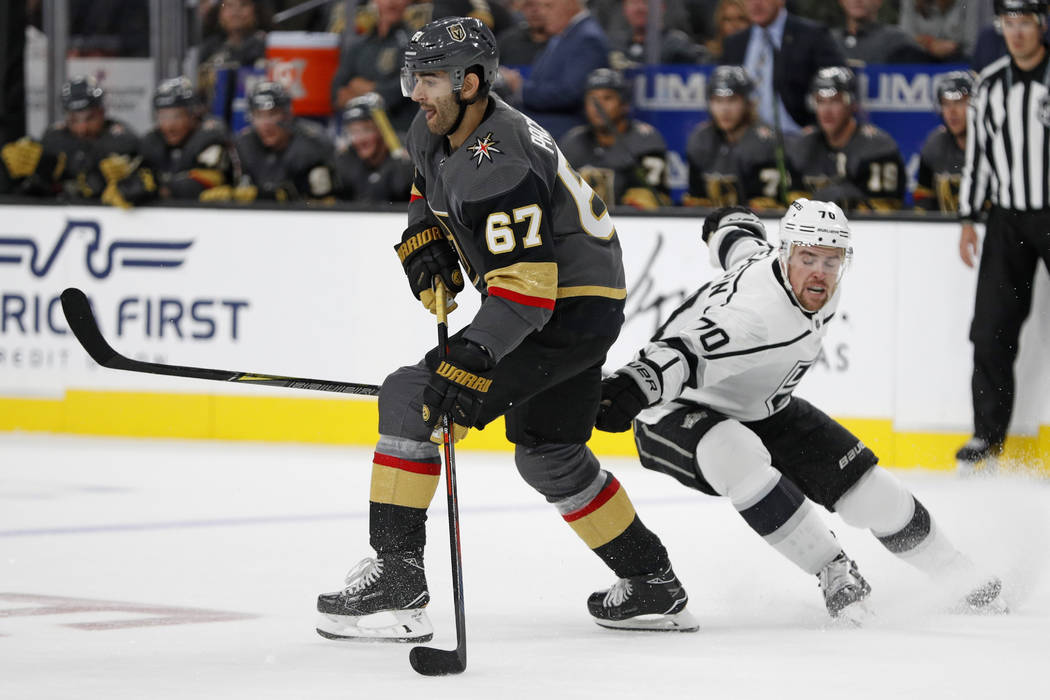 Review-Journal reporters Ed Graney, David Schoen, Adam Hill and Ben Gotz make over/under predictions on 10 Golden Knights questions for the 2018-19 season.
1. Points by Golden Knights: 99.5
Gotz, Over: The Knights have enough firepower to reach 100 for the second straight season.
Schoen, Over: If they can survive a brutal November road schedule, they look like a 100-plus-point team.
Hill, Under: It's not going to be easy to find consistent success over the long grind of a regular season after such an emotional run last season, despite what may be an upgraded roster on paper.
Graney, Under: The Knights lost three straight just three different times during the regular season last year and didn't drop four in a row until the Stanley Cup Final. That's tough to do. There won't be enough cases of the Vegas Flu for another 100-point season.
2. Goals by William Karlsson: 32.5
Gotz, Under: Karlsson will finish right at 30, which will still be enough to get him paid handsomely this offseason.
Schoen, Under: He's bound to regress from last season's incredible shooting percentage (23.4), right?
Hill, Under: He'll be playing for a massive payday this season and he looks extremely smooth in training camp, but he will draw a whole lot of extra attention.
Graney, Under: Put it this way: Forget about scoring 43 again. If the guy can get 30, Vegas needs to immediately lock him up with a long-term deal.
3. Goals by Jonathan Marchessault: 30.5
Gotz, Under: Thirty-one goals would be a career-high for Marchessault, and with linemates like Karlsson and Reilly Smith, he doesn't need to shoulder all the scoring load.
Schoen, Over: Marchessault was the setup man for Karlsson last season. Their roles will reverse in 2018-19.
Hill, Under: Marchessault's goal total actually dipped to 27 last season after posting 30 for the Panthers as he has become much more of a playmaker.
Graney, Over: I actually believe a more heightened focus on Karlsson by opponents will favor Marchessault.
4. Goal by Max Pacioretty: 30.5
Gotz, Over: Away from the pressure of Montreal and with a center like Paul Stastny, Pacioretty is poised for a career year.
Schoen, Over: Free of the pressure cooker in Montreal, "Patches" is primed for a bounce-back season.
Hill, Over: Pacioretty can't stop talking about how happy he is to be part of a winning organization again, free of the intense spotlight in Montreal. The positive vibes will be reflected on the stat sheet.
Graney, Over: I think he flies over it. Montreal was brutal last season, and he missed weeks with a knee injury. He will be on the second line in Vegas and will no longer feel the pressure of wearing a "C" on his sweater.
5. Points by Paul Stastny: 50.5
Gotz, Over: Stastny's outlook for this season completely changed once Pacioretty was brought in, because now he has a proven goal scorer next to him.
Schoen, Over: There are a lot of miles on the 32-year-old's body, but he'll benefit from playing with Pacioretty.
Hill, Over: Perhaps the best play on the board. Stastny is a playmaker who will assist on a whole lot of those Pacioretty goals, as he will almost certainly be on a line with his close friend and new teammate.
Graney, Under: The last time he scored 50 in a season, Prince George of Cambridge was born. That kid is now going on 6.
6. Points by Erik Haula: 50.5
Gotz, Under: With Stastny on the second line, Haula won't get enough ice time to reach the numbers he had last season.
Schoen, Under: Where does he fit in the lineup? It remains to be seen if a move to the wing suits Haula's game.
Hill, Under: This one is all about where he fits in the lineup. He could get there if he plays on the wing alongside Stastny and Pacioretty, but almost certainly won't if he finds himself out of the top six.
Graney, Under: If the predicted move to a third line comes true, he can't be happy — no matter what he says — and the opportunity to produce this many points likely won't present itself.
7. Points by Reilly Smith: 63.5
Gotz, Over: Smith had 60 points last year in just 67 games, so if he plays a full season he should have no problem getting to 64.
Schoen, Under: His career high in points (60) was last season. Before that, he never had more than 51 points.
Hill, Over: He may be able to find some more room to make plays with increased attention on Karlsson and should reach this number if he plays closer to 80 games.
Graney, Over: Remember — injuries limited him to 67 games last season and he still had 60 points. He also started slow, not finding his groove until the top line was settled on.
8. Points by Alex Tuch: 44.5
Gotz, Over: If Tuch gets consistent second-line minutes, the 22-year-old's numbers should definitely improve this season.
Schoen, Over: If he sticks on the second line and top power-play unit, Tuch should blow past his rookie point total (37).
Hill, Over: Another case of where he fits in the lineup likely playing a factor in the outcome. Tuch is a prime candidate for a breakout season should he play on the second line.
Graney, Under: If it was guaranteed he was skating alongside Stastny and Pacioretty on the second line all season, I would go over. But it's not.
9. Wins by Marc-Andre Fleury: 28.5
Gotz, Under: Fleury's injury history makes this one tough to predict, plus after the 33-year-old's heavy workload in the playoffs last season, the Knights might want to give Malcolm Subban more games.
Schoen, Over: Fleury had 29 wins last season and missed two months. Provided he's healthy, he'll approach 60 starts.
Hill, Under: Fleury is coming off a phenomenal season and showing very few signs of his age, but he is 33 and has an injury history. Gallant and goaltender coach Dave Prior may look to get him some rest to be fresh for what could be another long postseason run.
Graney, Over: He had 29 last season and played just 46 regular-season games due to a major concussion. But it's questionable whether his defense is as good or if Malcolm Subban can be a more reliable backup. Could be closer to the number than most believe.
10. Pacific Division finish: 2.5
Gotz, Under: The Knights will finish second behind the San Jose Sharks.
Schoen, Under: They're better than the Ducks. They're better than the Kings. And they're better than the Flames.
Hill, Over: The Knights are a playoff team, but that fate may not be sealed until very late in the season as they try to fight through inevitable complacency.
Graney, Over: San Jose is better. Anaheim might be. Edmonton is improved. So are the Kings. The Knights are probably more talented this season, and yet there is no guarantee they make the playoffs.
More Golden Knights: Follow all of our Golden Knights coverage online at reviewjournal.com/GoldenKnights and @HockeyinVegas on Twitter.