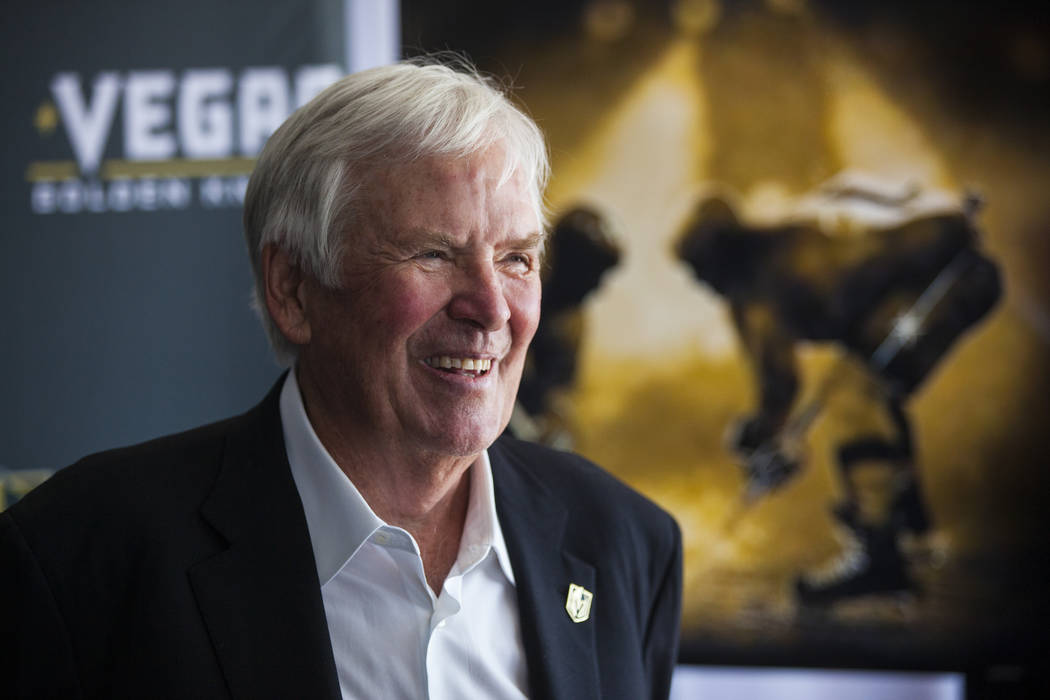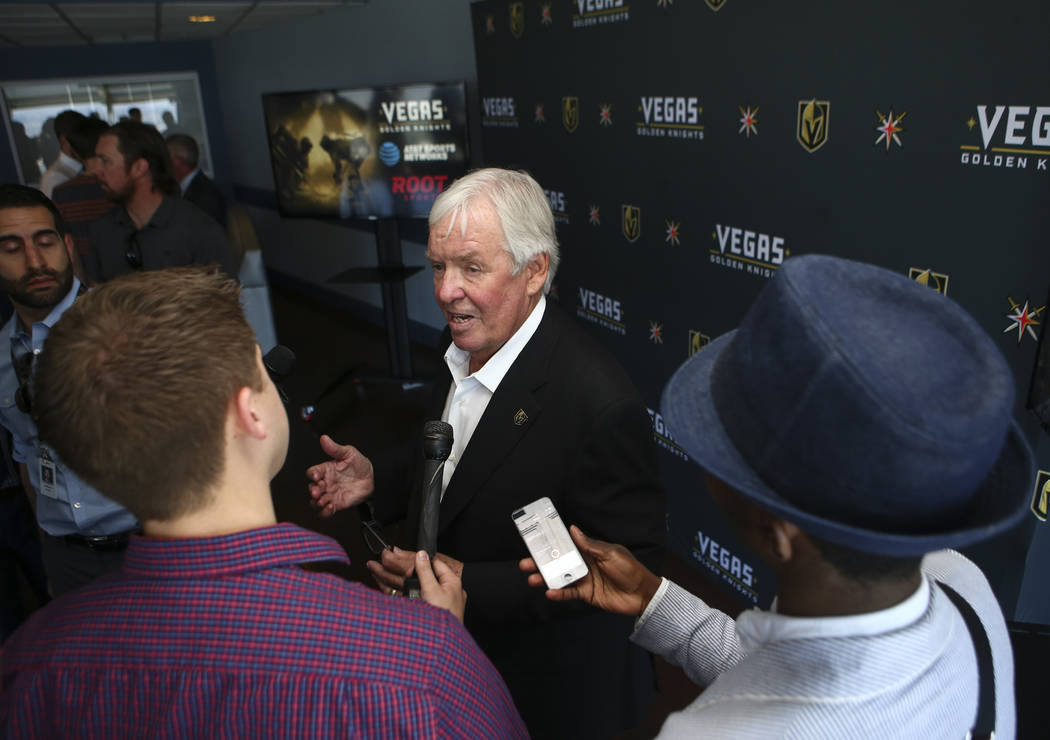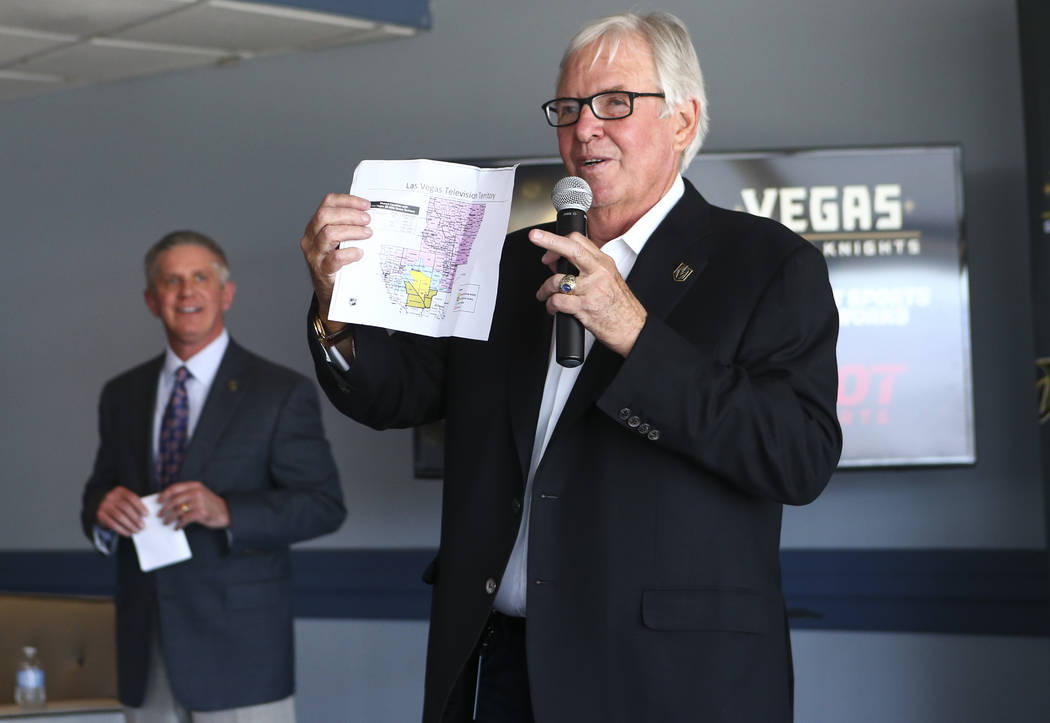 Where did the time go?
Bill Foley asks himself that question only to realize he doesn't have much time to answer it. There's too much left for the majority owner of the Golden Knights to do before his team hits the ice in October for their inaugural NHL season.
"When I look back on everything we've already accomplished, I'm amazed. I truly am," Foley said Thursday by phone from Northern California. "We hired our hockey staff. We got our business staff together. We broke ground and are building our practice facility and headquarters. We've signed some players. We have our minor league affiliates. We have our radio and television deals in place. We've sold 14,000 tickets."
Thursday will be the one-year anniversary when NHL commissioner Gary Bettman announced that Las Vegas would become the league's 31st franchise. On Wednesday at T-Mobile Arena, the team will announce the 30 players it has selected in the expansion draft. On Friday in Chicago, it will participate in the NHL Entry Draft, picking sixth in the first round.
While general manager George McPhee works the phones and the hockey operations staff sorts through trade offers before beginning the selection process, Foley will be observing. On Wednesday morning, he'll attend his first NHL Board of Governors meeting.
"I'm already exhausted," Foley said. "You can't believe what's going on the next six days."
Taking care of business
Foley said it took longer for the business side to formulate and catch up. But he's pleased with the job president Kerry Bubolz has done and said the team expects to hit its revenue numbers for its first projected budget.
"It took longer than we wanted, but we wanted to make sure we did it right," Foley said. "We wanted to get the right people in place, and that was a long, exhaustive process."
In a perfect world, the team name and uniform would have been announced June 22, 2016, to coincide with Bettman's announcement. It has cost the team several million dollars in sales, but the uniforms, designed by adidas, will be unveiled Tuesday and deposits will be taken beginning Wednesday.
"It would have been nice to have the jerseys available, but the league controlled the timetable," Foley said. "But I have no doubt it's going to be a huge hit with our fans. People already love the logo, and when they see it on the jersey, they're going to say 'Wow' and want to buy one."
Foley said he sticks by his decision to call his team "Vegas" instead of "Las Vegas," and that the Golden Knights nickname works.
"I think Golden Knights is the right name," he said. "When we're on the ice, people will chant 'Let's Go Knights!' It rolls off the tongue easier than Las Vegas Golden Knights.
"Look, you're not going to please everyone. But this was a decision we made, and this is who we are."
Focus on hockey, not football
The presence of the NFL in Las Vegas doesn't concern Foley. The Raiders' move is three years away, and he's focusing on his team.
"We think of ourselves as Las Vegas' team," Foley said. "We were the first team here. We have our fan base established, and we're growing it. We're working hard with the business community in terms of corporate sponsorships.
"You look at the deal with the D (hotel) that we announced Tuesday. We're close to finalizing some deals that are similar and bigger in some cases."
It's one of many things the organization is focused on as the clock ticks away toward the first season. The team's in-game presentation for home games is being developed. Announcers for TV and radio need to be hired. The practice facility will open in mid-August. And there's still tickets available for those who want to sit close to the glass.
"We never stop selling," Foley said.
Yes, the first year flew by for Foley. And in less than four months, his team will take the ice. A team he hopes one day will compete for a Stanley Cup.
"I'm not a patient person, but I think I have to learn to be patient," he said. "One thing I've learned from being around George and his staff is that it takes time to build a winning franchise, and he wants to do it the right way, through the entry draft and with good players from the expansion draft and the right free agents.
"My focus is to give our fans the best hockey team possible. I feel we're building from the ground up, and I'm pretty proud of what we've accomplished in such a short period of time."
More Golden Knights: Follow all of our Golden Knights coverage online at reviewjournal.com/GoldenKnights and @HockeyinVegas on Twitter.
Contact Steve Carp at scarp@reviewjournal.com or 702-387-913. Follow @stevecarprj on Twitter.
Looking back on a year's work
Highlights of the past year since Bill Foley was granted an NHL expansion team for Las Vegas on June 22, 2016:
July 13 — Former Washington Capitals general manager George McPhee hired as team's general manager.
Oct. 3 — Kerry Bubolz hired as team president to oversee business operations.
Oct. 5 — Ground is broken for team's $24 million practice facility and headquarters in Summerlin.
Oct. 7 — First hockey game in T-Mobile Arena, where Los Angeles loses to Dallas 6-3.
Nov. 22 — Team announces it will be called the Vegas Golden Knights.
March 1 — Foley makes final of three payments to NHL, completing $500 million transaction. Golden Knights are officially welcomed as the NHL's 31st team and eligible to do business with other 30 clubs immediately.
March 6 — Brandon Wheat Kings center Reid Duke becomes first player to sign with Golden Knights, getting a three-year entry-level contract.
April 7 — About 12,500 full season tickets are sold. Forty-two of 43 suites are sold.
April 11 — Team announces that Fox Sports Radio will be the radio home for Golden Knights.
April 13 — Former Florida Panthers coach Gerard Gallant hired as team's first coach.
April 29 — Golden Knights to pick sixth in the June 23 NHL Entry Draft after failing to win the Draft Lottery.
May 4 — Center Vadim Shipachyov of the Kontinental Hockey League signs two-year deal to become second player on roster.
May 16 — Team announces it will be primary affiliate for the Chicago Wolves of the American Hockey League.
May 23 — Team announces it has an agreement with ROOT Sports to televise its games.
June 1 — Czech Republic forward Tomas Hyka signs two-year deal and becomes third player under contract. Team announces multiyear deal for Quad City Mallards to serve as Golden Knights' ECHL affiliate.
And looking ahead …
Saturday — Thirty NHL teams must submit their lists of who is exposed for the expansion draft.
Sunday — NHL makes public lists of available players to the Golden Knights. The 72-hour window for Knights to pursue free agents begins.
Tuesday — NHL and adidas unveil the official team jersey at Wynn Las Vegas.
Wednesday — Golden Knights turn in their list of 30 players selected for expansion draft. The list is revealed at 5 p.m. during the NHL Awards Show.
Friday — NHL Entry Draft in Chicago. Golden Knights have the No. 6 overall pick.
June 23 — Second day of the NHL Entry Draft (rounds 2-7). Golden Knights have No. 3 pick in each round.
June 27-July 1 — Inaugural development camp at Las Vegas Ice Center.
Aug. 15 — Tentative completion of practice facility and headquarters.
Sept. 7 — Rookies report to training camp.
Sept. 14 — Veterans report to training camp.
Sept. 17 — First preseason game at Vancouver Canucks.
Sept. 26 — First home preseason game at T-Mobile Arena vs. Los Angeles Kings.
Oct. 10 — Inaugural home opener. Opponent TBA.