Golden Knights search for consistency against Blues
Updated October 31, 2018 - 8:54 pm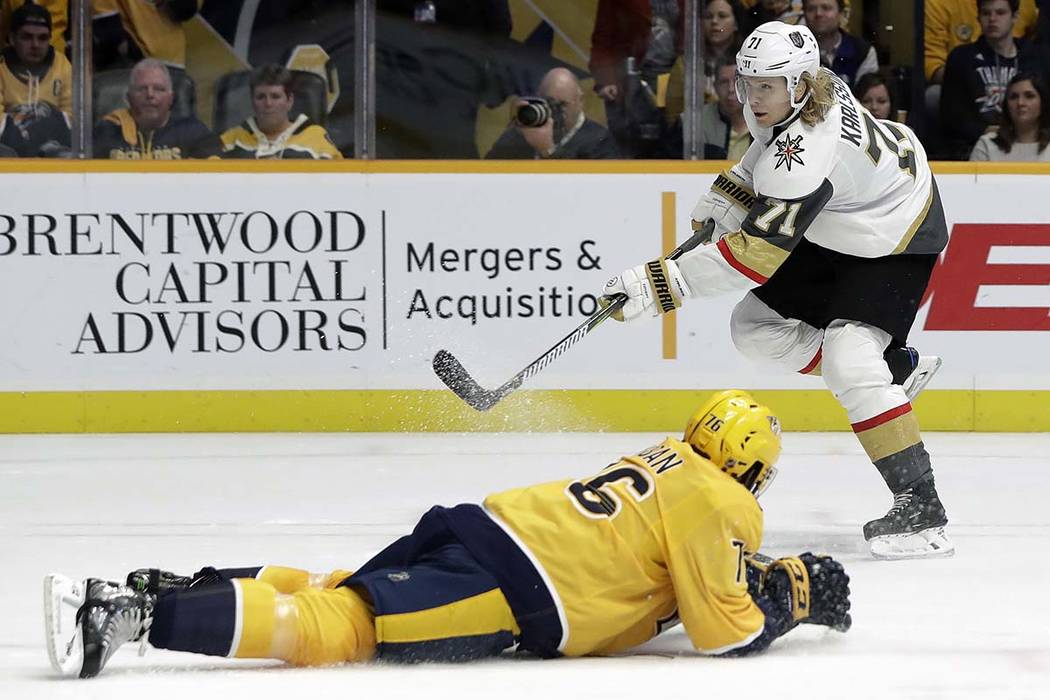 ST. LOUIS — The box of chocolates simile from the movie "Forrest Gump" is the best way to describe the Golden Knights' play so far this season.
You never know what you're going to get.
"We've been up and down," center Erik Haula acknowledged Wednesday.
The Knights have struggled to put together a 60-minute effort, with one good period often followed by a clunker or two, as was the case Tuesday night in Nashville.
They know what needs to happen to get back on track but enter Thursday's game against St. Louis at Enterprise Center still searching for consistency.
Who's got a VGK pumpkin as spoooooky as this one? 🎃 pic.twitter.com/DuABsloTRv

— Vegas Golden Knights (@GoldenKnights) November 1, 2018
"We're kind of going back and forth right now," forward Ryan Reaves said. "We put a good game or two together, put a couple periods together, and we seem to find a way to have a couple bad games. We've got to string together three good periods, a couple good games and then roll from there."
After splitting their first two games, the Knights' results have been wildly inconsistent: three losses, followed by three wins, followed by two losses, followed by a win and a loss.
They appeared to get on track following a 1-0 victory at Philadelphia on Oct. 13 that snapped a three-game losing skid.
A 4-1 win over Buffalo to open a five-game homestand was followed by arguably their best performance so far in a 3-1 win over Anaheim on Oct. 20 in a game that wasn't nearly as close as the score indicated.
But they couldn't sustain the momentum, and that three-game winning streak was followed by a lethargic effort for two periods against Vancouver on Oct. 24, which cost the Knights a point in a 3-2 shootout loss.
Two days later, they badly outplayed Tampa Bay in the third period, but only after falling behind the Lightning by two goals.
"Our players know. They know the game that we want to play, and they're upset about it, too," coach Gerard Gallant said. "You talk about those things and try to get better. 'Let's stay focused. Let's get ready to play our game.' That's what we have to do.
"It's not going great for us right now. Last year everything seemed to go great for us. We've got to fight hard and battle hard and work every day to get better."
The Knights built off their third-period effort against Tampa Bay with a strong showing against Ottawa on Sunday, firing a franchise-record 53 shots on goal in the 4-3 overtime victory.
Haula believed that effort would carry over to the road trip, and it did for one period in Nashville.
The Knights outshot the Predators 13-5 and had the lead after 20 minutes before the Predators took control and claimed a 4-1 victory.
"Individually, we just have to mentally be ready to play the same way, and we've just got to know what makes us successful," Haula said. "I think we do know, I just think we need to be a little bit sharper. Obviously, it's hard right now. And if we don't play 60 minutes, it's going to be tough to win."
Part of the issue stems from the lack of offense. The Knights rank 30th in goals (2.17) and have one goal from their defensemen.
The top line of William Karlsson, Jonathan Marchessault and Reilly Smith has accounted for 12 of the team's 27 goals and 25 of 57 points.
As a result, the Knights (5-6-1) entered Wednesday's action 24th overall with 11 points, and their minus-7 goal differential ranks second-to-last in the Western Conference.
"Obviously, it's just making sure you're doing all the little things right and doing them every shift," Reaves said. "I think when you start doing the little things on a consistent basis, the consistency in your game starts to creep in and you start stringing wins together."
More Golden Knights: Follow all of our Golden Knights coverage online at reviewjournal.com/GoldenKnights and @HockeyinVegas on Twitter.
Contact David Schoen at dschoen@reviewjournal.com or 702-387-5203. Follow @DavidSchoenLVRJ on Twitter.
Game day
■ Who: Golden Knights at Blues
■ When: 5 p.m. Thursday
■ Where: Enterprise Center, St. Louis
■ TV: AT&T SportsNet (Cox 313/1313, DirecTV 684, CenturyLink 760/1760, U-verse 757/1757, DISH 414/5414)
■ Radio: KRLV (98.9 FM, 1340 AM)
■ Line: Off
Three takeaways
1. Finish strong. The Golden Knights were unable to claim any points in Nashville on Tuesday but need to come away with something against a Blues team that is 3-4-3 and leaking goals. Two points to close out a two-game road trip would make the plane ride home much better.
2. Mentally sharp. Mistakes proved costly against Nashville, which capitalized on multiple odd-man rushes caused by the Knights' overaggressiveness. Defensemen Jon Merrill and Shea Theodore noticeably struggled and need a bounce-back performance.
3. Old friend. The Knights will see a familiar face in Blues winger David Perron, who signed with St. Louis as a free agent this summer. Perron is second on the team with 10 points (five goals, five assists) in 10 games.