Golden Knights search for formula to prevent breakaways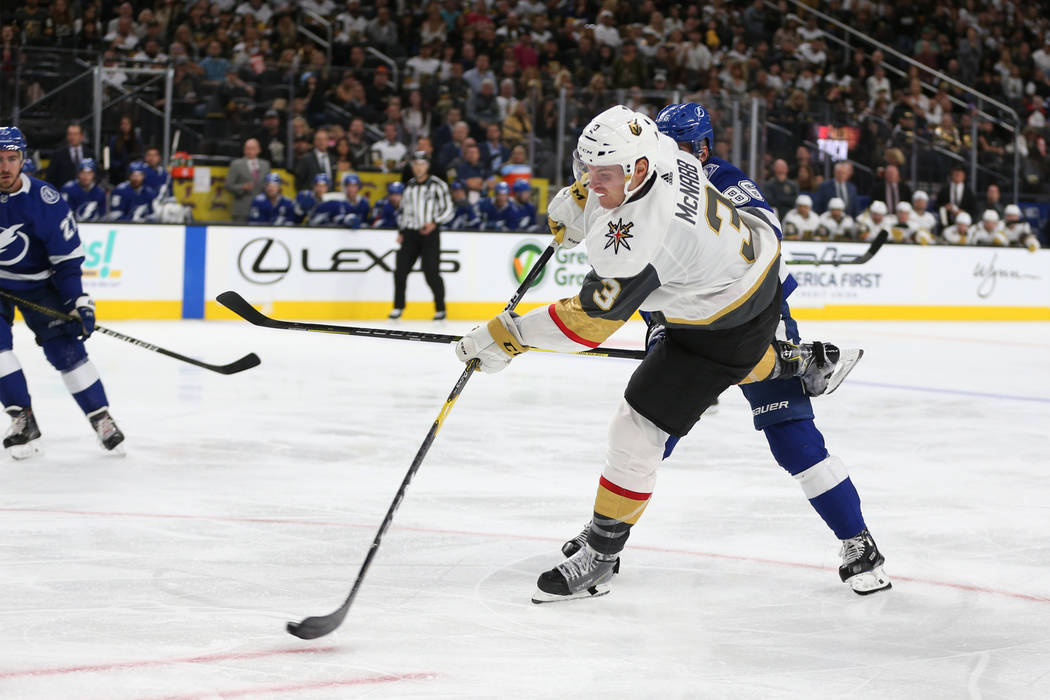 Think of it as hockey's version of Newton's Third Law.
The Golden Knights defensemen are at their best when they play aggressively, pinching in to help create a five-man forecheck.
That's the action.
The equal and opposite reaction from opposing teams is to stretch the Knights vertically, with a forward leaking out of the defensive zone.
That adjustment has led to an inordinate number of breakaways allowed by the Knights after 10 games.
"A lot of teams now, they always have a guy going. I think a lot of teams are playing that way," Brayden McNabb said. "As defensemen, one guy's got to be able to stay back and read that when they're going and make sure you're safe. You've got to be above your coverage and be smart when (defensemen) are going or helping on offense."
The NHL does not officially track breakaways, but entering Sunday's game against Ottawa, the Knights allowed a breakaway in their past two outings.
Vancouver's Loui Eriksson got behind Shea Theodore and Jon Merrill during a power play in the second period of the Knights' 3-2 shootout loss Wednesday and was stopped by goaltender Marc-Andre Fleury.
In Friday's 3-2 loss to Tampa Bay, Lightning forward Cedric Paquette was alone with Fleury after Merrill was unable to glove down a pop fly about five minutes into the third period. Fortunately for the Knights, Paquette fired his shot over the net.
"I watch games around the league every night and it happens in every game. It's not just us," coach Gerard Gallant said. "It's happened too much to us. (Friday) night was a lucky breakaway. He flips the puck to center ice, Jon Merrill went to bat it down, he missed it totally. It's not like it's a pattern."
Regardless of Gallant's assertion, allowing breakaways has been a season-long issue for the Knights.
In the season opener against Philadelphia, a 2-on-1 turned into a partial breakaway for Oskar Lindblom, whose shot bounced off Nick Holden's skate for the Flyers' first goal.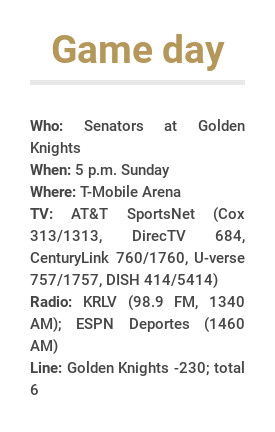 Pittsburgh winger Phil Kessel burned McNabb and defense partner Colin Miller on two clean breakaways to complete his natural hat trick on Oct. 11.
Two days later, Philadelphia's Scott Laughton and Claude Giroux were denied by Fleury on 1-on-0 chances in the second period of the Knights' victory.
"I definitely think it's a mix of not communicating well enough, and sometimes a guy's pinching in and they're flying the zone and there's a quick turnover and a good pass leads to that," Theodore said. "I think when we're communicating and aware of our situation, we should be able to snuff those out."
The NHL implemented several rule changes in recent seasons to increase offense, and more teams are trying to take advantage of the extra time and space with home run passes.
Despite the large number of 1-on-0s they've given up, don't expect the Knights to change their style.
"If we give up chances because we're being aggressive, I think we can live with that, where we're doing the right things and the intentions are the right things," McNabb said. "We don't want to give (breakaways) up, but we really liked how we played in the third period (Friday). If we play like that, we'll have a lot of chances to win, for sure."
More Golden Knights: Follow all of our Golden Knights coverage online at reviewjournal.com/GoldenKnights and @HockeyinVegas on Twitter.
Contact David Schoen at dschoen@reviewjournal.com or 702-387-5203. Follow @DavidSchoenLVRJ on Twitter.
Three storylines
1. Close it out. The Golden Knights are 2-1-1 on their season-long, five-game homestand, and a victory over Ottawa would provide good vibes before they embark on a two-game trip to Nashville and St. Louis. For that to happen, they'll need to play three solid periods, not one.
2. Who steps up? The second line continues to be plagued by injuries, with left wing Max Pacioretty (upper body) the latest to be sidelined. The onus falls on center Erik Haula and right wing Alex Tuch to develop chemistry and boost the Knights' struggling offense.
3. Struggling Senators. Ottawa (4-4-1) has dropped two straight, including Friday's 6-3 setback at Colorado. Coach Guy Boucher loaded up his No. 1 line with Matt Duchene, Mark Stone and Ryan Dzingel during Saturday's practice in hopes of neutralizing the Knights' top line.
David Schoen Review-Journal