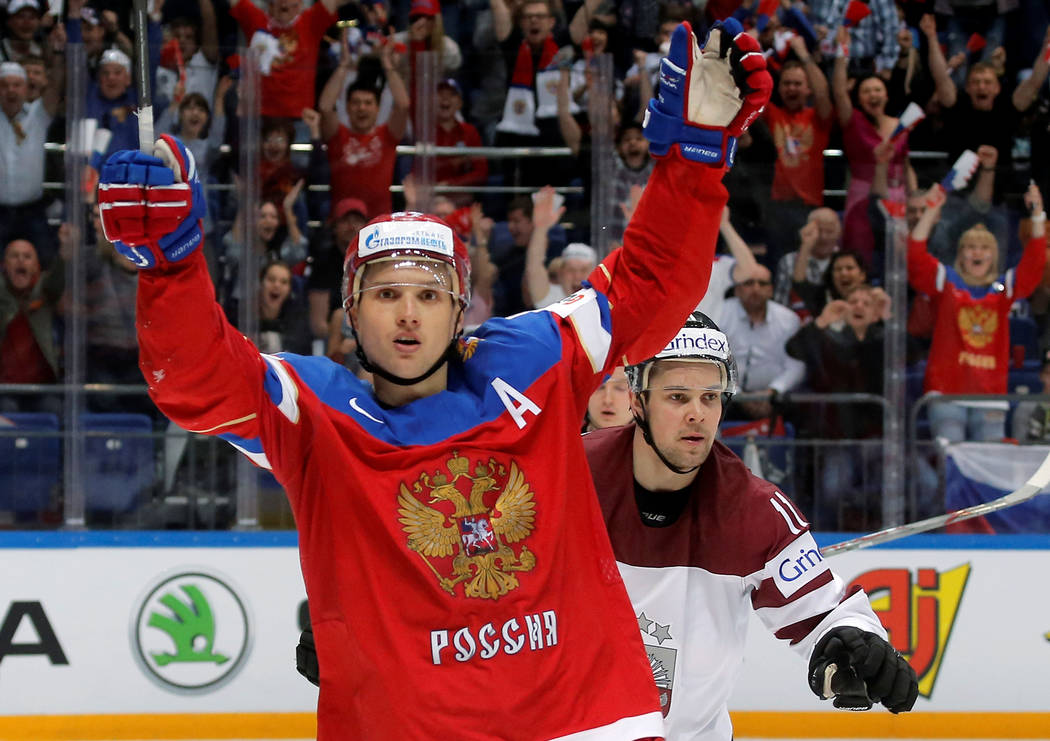 The Golden Knights have signed their first professional free agent.
Vadim Shipachyov, who was third in Russia's Kontinental Hockey League in scoring this season, has agreed to a two-year, $9 million deal with the Las Vegas NHL expansion franchise. He joins former Canadian junior player Reid Duke as the team's only players under contract.
Shipachyov, a 6-foot-1-inch, 190-pound center, led SKA St. Petersburg to the 2017 KHL championship with 26 goals, 50 assists and 76 points. He also won a title with St. Petersburg in 2015.
"He's a skilled playmaker who we think can help us on the power play," Golden Knights general manager George McPhee said Thursday. "He has been successful from a team standpoint, and individually, and our pro scouts had watched him throughout the year and he played well."
Shipachyov, 30, is playing for Russia at the IIHF World Championships in Cologne, Germany. During the KHL playoffs, he had four goals and 15 assists in his team's title run.
In his KHL career, playing for St. Petersburg and earlier for his hometown team, the Severstal Cherepovets, Shipachyov has 137 goals and 412 points. He also played for Russia at the 2016 World Cup of Hockey in September.
McPhee said several NHL teams were trying to sign Shipachyov. The GM added that the opportunity to immediately play meaningful minutes and to live in Las Vegas were the main factors in Shipachyov's decision to sign with the Golden Knights.
The question is, will Shipachyov's KHL success transfer to the NHL?
"When you look at what (Chicago's Artemi) Panarin and (Montreal's Alexander) Radulov have done in the NHL, we believe Vadim can do for us," McPhee said.
Panarin was second on the Blackhawks this season in scoring with 31 goals and 74 points. Radulov was second on the Canadiens in scoring with 18 goals and 54 points.
McPhee said there's always a risk with a free-agent signing, especially one who has not played in the NHL. But he is trusting his scouts that Shipachyov will have a successful run with the Golden Knights.
"These are the kind of gambles you take when you're building a team," McPhee said. "It's a two-year contract, so it's not like we're on the hook long term if it doesn't work out. But we're confident we are bringing in a very talented player who will help our club right away."
Contact Steve Carp at scarp@reviewjournal.com or 702-387-2913. Follow @stevecarprj on Twitter.
The Shipachyov file
Who: Vadim Shipachyov
Position: Center
Age: 30
Hometown: Cherepovets, Russia
Height: 6 feet 1 inch
Weight: 190 pounds
Pro experience: SKA Saint Petersburg (KHL); Severstal Cherepovets (KHL)
Career stats: 445 games played, 137 goals, 275 assists, 412 points