Here's a timeline for Las Vegas' pursuit of an NHL expansion franchise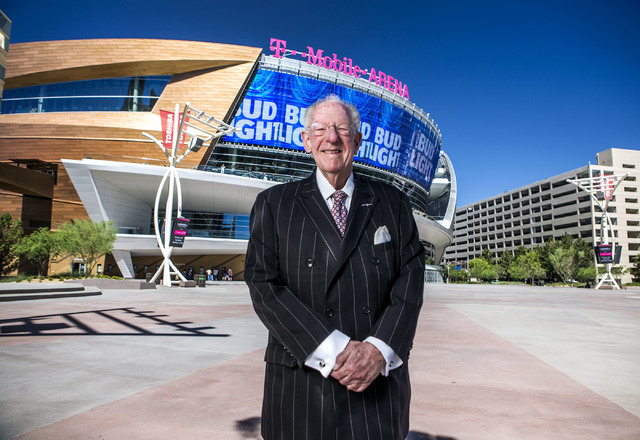 Key dates in Las Vegas' pursuit of an NHL franchise:
▶ Sept. 28, 1999: Then-Mayor Oscar Goodman meets with NHL commissioner Gary Bettman at league headquarters in New York to discuss Las Vegas one day joining the NHL.
▶ November 2013: Former NBA team owners Gavin and Joe Maloof meet with Bettman to discuss the possibility of buying a team and having it play in Las Vegas. Bettman suggests they talk to Bill Foley, who also has expressed interest in owning an NHL team.
▶ March 2014: The Maloofs and Foley agree to partner on ownership group to bring an NHL team to Las Vegas. Foley will be the majority shareholder at 85 percent.
▶ May 1, 2014: MGM and Anschutz Entertainment Group break ground on a $375 million privately financed arena between Monte Carlo and New York-New York. The arena will be built with hockey in mind and will seat 17,500.
▶ Nov. 12, 2014: The NHL recognizes Foley as the lead investor for a potential Las Vegas franchise.
▶ Dec. 8, 2014: Foley gets permission from the NHL to test fan interest for a team in Las Vegas. He plans a season-ticket drive.
▶ Jan. 15, 2015: A group of local businessmen, politicians and celebrities form the Las Vegas Founding 50 and pledge to sell 100 season tickets apiece. The group quickly grows to 75, then 90.
▶ Feb. 10, 2015: With Bettman in attendance, Foley launches the Vegas Wants Hockey season-ticket drive at the MGM Grand with a goal of 10,000 season tickets sold. About 5,000 deposits are secured the first day.
▶ March 23, 2015: The Vegas Wants Hockey ticket drive meets its goal with 10,000 deposits secured.
▶ June 24, 2015: At the NHL Awards Show, Bettman announces the NHL will accept applications for expansion for the first time since 2000. The cost is expected to be $500 million, a record for the league for a first-year team.
▶ July 20, 2015: The NHL receives expansion applications from Las Vegas and Quebec City, each with a nonrefundable deposit of $2 million.
▶ Sept. 29, 2015: Foley meets with the NHL's Executive Committee in New York. He spends an hour answering questions on his application from the nine-member panel.
▶ Dec. 7, 2015: The NHL Board of Governors meets in Pebble Beach, California. Expansion is discussed, but no decision is made.
▶ Jan. 7: T-Mobile buys naming rights to the MGM-AEG arena.
▶ Jan. 30: Bettman says at the NHL All-Star Game in Nashville, Tennessee, that the expansion process is ongoing and any decision to expand for the 2017-18 season would have to be made by June.
▶ Feb. 8: Deposits on season tickets for a Las Vegas NHL team reach 14,000.
March 16: Rules for a potential expansion draft are presented to general managers at a meeting in Boca Raton, Florida.
▶ April 6: T-Mobile Arena opens.
▶ April 29: The NHL Players Association approves rules for an expansion draft.
▶ June 7: The NHL Executive Committee meets in New York and recommends expansion to Las Vegas for the 2017-18 season. Quebec City is put on hold.
▶ June 22: The Board of Governors approves expansion. Las Vegas becomes the NHL's 31st team effective 2017-18.
Steve Carp/Las Vegas Review-Journal
NHL in Vegas
Complete coverage of hockey in Las Vegas