Homestand proves Golden so far behind Knights' balanced effort
October 19, 2017 - 1:02 pm
Updated October 19, 2017 - 6:43 pm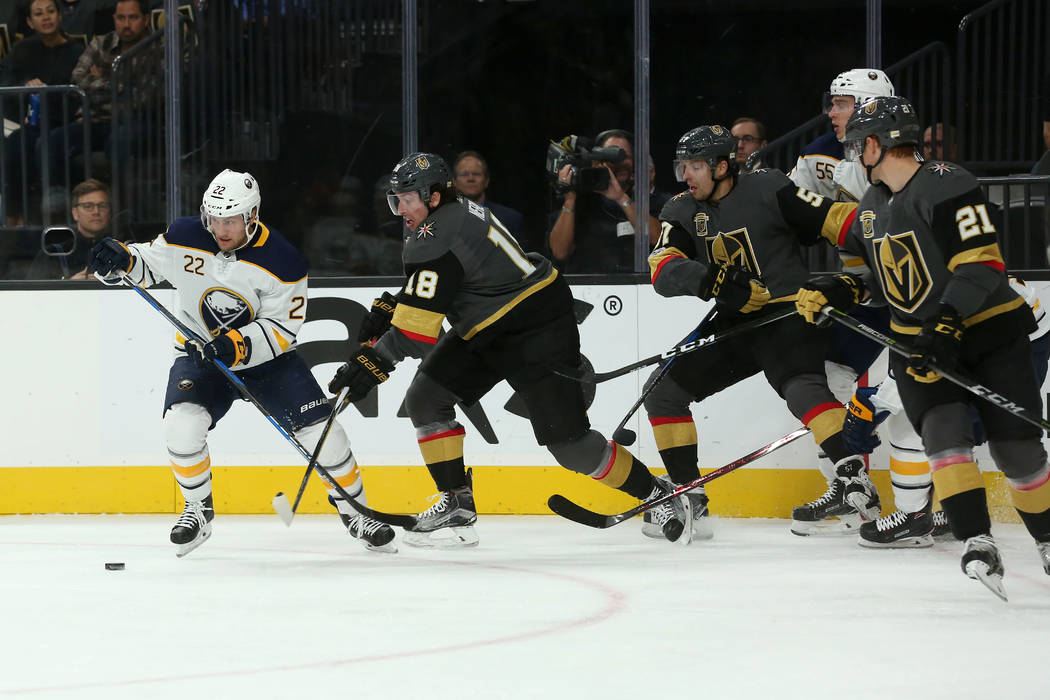 So far, the Golden Knights' first homestand has been a mixed bag.
There was a blowout 5-2 win in the home opener against Arizona. There was the 3-2 lead against Detroit, which resulted in a 6-3 loss following a third-period collapse. There was as close to a complete game as the team has played in defeating Boston 3-1. And there was the third-period parade to the penalty box against Buffalo, which rallied from a 4-1 deficit to force overtime only to have David Perron's goal bail out the Knights.
The bottom line? The Knights are off to a 5-1 start overall, 3-1 on the homestand and in second place in the Pacific Division heading into Saturday's game against St. Louis at T-Mobile Arena. There were 14 possible points available when the seven-game homestand began. So far, Gerard Gallant's team has six points with three games to play.
"I think the guys are hungry," Gallant said. "They're ready to play every game. Like I said, we've had some tough third periods, but for the most part we come out ready to play and we're hungry."
How have the Knights been so successful so early? How were they able to make hockey history by being the first expansion team to start 3-0 and the first team since the 1917-18 Montreal Canadiens to start their first season 5-1? It breaks down like this:
Offense
At first, it appeared veteran forward James Neal would have to score for the Knights to have a chance. But Neal, who has a team-high six goals, has not scored in the past two games. Instead, others are getting on the score sheet, including Perron, who scored twice Tuesday, Reilly Smith, who got his first of the year against Buffalo, and Alex Tuch, who has scored in each of the two games he has played since being recalled from the Chicago Wolves of the American Hockey League.
Brendan Leipsic, who had to battle to make the team out of training camp, shares the team lead in assists with four. Everyone on the roster who has played at least one game has at least one point except defenseman Jon Merrill and forward Will Carrier.
"Like I talk about every time we win a game, we're not going to be able to win if we rely on one line," Gallant said. "The guys are working hard and chipping in, and we've got some good hockey players scoring goals."
Defense
Gallant has been juggling nine guys in six spots, and it has been working. But Deryk Engelland has been rock-solid on the blue line every night, and Luca Sbisa appears to have found a comfort zone. He has four assists, tying Leipsic for the team lead. Nate Schmidt is getting better with each game, and Colin Miller is playing with more responsibility in his own end while looking to contribute offensively.
Goaltending
With Marc-Andre Fleury sidelined with a concussion and his return unknown, Malcolm Subban has made the most of his chance to show he can play in the NHL.
He had great support winning his debut Sunday against Boston. Tuesday, he was the victim of a couple of quirky goals. But for the most part, Subban has played well, and his teammates have confidence in him.
"It's unreal," Perron said. "He is battling hard for us, and he has been doing that since day one that he got here. He has been working extremely hard. We are happy to have him, and he is going to keep getting better as well, himself, and we will too."
Special teams
Going into Tuesday, the Knights were third in the NHL in killing penalties. The Sabres went 3 for 5 on the power play, and the Knights are 18th. In their defense there were goals that Buffalo scored when it had a two-man advantage, once on a five-on-three and once when the Sabres pulled their goalie, creating a six-on-four advantage.
But for the most part, the penalty kill has been solid. The power play? It remains a work in progress though they scored Tuesday while a man up when Smith scored in the second period. The Knights are two of 26 on the power play this season and rank tied for 27th in the NHL. Only Columbus, Anaheim and the New York Islanders are worse.
Yet the Knights are in second place, one point behind Los Angeles, and not many were predicting that when the season opened Oct. 6. Sabres coach Phil Housley said the Knights should not be overlooked.
"That's a very good team over there," Housley said after the Sabres' 5-4 overtime loss. "I don't think you can underestimate them. They're 5-1 now. … They're doing some things right, and I think that if you take them for granted, this is the kind of result you're going to get."
The players know plenty of battles remain before anyone can accept a pat on the back.
"It's fun so far," Perron said. "We have to keep going day by day, and that's my view. There are so many games left and so many things can happen.
"We saw what happened last week with three injuries in the same game. And we found a way to win two games, but the adversity is only going to get higher every game and we have to keep finding ways to get better in practice and play smarter."
Contact Steve Carp at scarp@reviewjournal.com or 702-387-2913. Follow @stevecarprj on Twitter.
A Golden homestand so far
Oct. 10 defeated Arizona 5-2
Oct. 13 lost to Detroit 6-3
Oct. 15 defeated Boston 3-1
Oct. 17 defeated Buffalo 5-4 (OT)
Saturday vs. St. Louis, 7:30 p.m.
Tuesday vs. Chicago, 7 p.m.
Oct. 27 vs. Colorado, 3 p.m.