If hockey stars align, Victor Hedman makes sense on Las Vegas blue line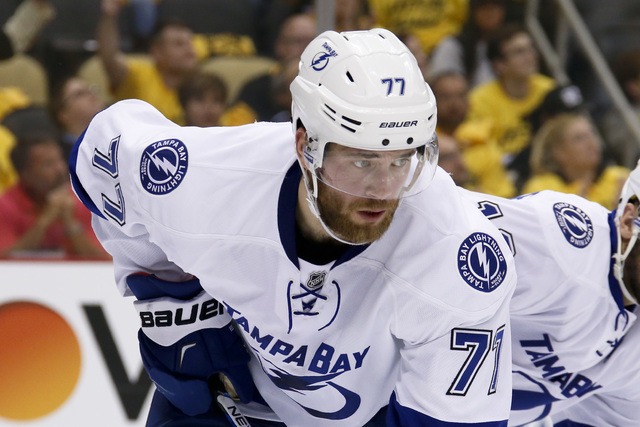 Of all the moves that took place in Wednesday's NHL dealing frenzy, one in particular should have caught the attention of the Las Vegas expansion franchise.
And it wasn't the hometown kid Jason Zucker's two-year extension with the Minnesota Wild.
Steven Stamkos' decision to remain with Tampa Bay potentially opens the door for Victor Hedman, the Lightning's fine young defenseman from Sweden, to possibly consider coming to Southern Nevada in 2017.
Free agency begins Friday for the NHL. A year from now, Las Vegas can make a run at unrestricted free agents, and team owner Bill Foley's general manager probably will have a big circle around Hedman's name, as he will be one of the most coveted potential UFAs.
In fact, the Lightning's re-signing of Stamkos to an eight-year, $68 million deal is a prime example of the trickle-down that could help Las Vegas' cause next June.
If Hedman wants to stay in Tampa, he's unlikely to make as much money as he would on the open market. Why? Because Stamkos, the Lightning's captain, is going to make an average of $8.5 million a year during his eight-year deal. It's hard to imagine anyone making more than Stamkos in Tampa.
Hedman will make $4.25 million this season. He is one of three key unrestricted free agents that Tampa Bay general manager Steve Yzerman will have to negotiate with for 2017-18, along with goaltender Ben Bishop and center Brian Boyle. The Lightning, who were just under the NHL's ceiling of $73 million on the salary cap for 2016-17 at $72.6 million, might not have the room for Hedman.
If the team really wants to keep Hedman, it could trade Bishop, who will make $5.95 million in 2016-17, and play Andrei Vasilevskiy at goalie. By trading Bishop, Yzerman would create cap space and not risk exposing one of his goalies to Las Vegas in the expansion draft, scheduled for June 20. Teams will be allowed to protect one goaltender.
Would Hedman be willing to accept playing for about $6 million a year in Florida when he could command more in Las Vegas? Foley's team will have far more flexibility with the cap because it starts from zero. Even after it spends the required $48.3 million on the 30 players it will choose in the expansion draft, there's plenty of room to reach the midlevel ceiling of $63 million by spending on free agents and whomever it selects in the 2017 NHL Entry Draft.
So why pursue Hedman?
Defensemen are a prized commodity. Hedman, the No. 2 overall pick in the 2009 NHL Entry Draft who will be 26 at this time next year, does everything well. The 6-foot-6-inch, 223-pound left-handed blueliner was a plus-21 and scored 10 goals and had 47 points in 78 games last season for Tampa Bay, which lost to eventual Stanley Cup champion Pittsburgh in the Eastern Conference finals.
Hedman would be a star Las Vegas could build around and market. His best years would be spent in Southern Nevada.
If winning immediately isn't Hedman's first priority, Las Vegas is an attractive alternative. Like Florida, Nevada does not have a state income tax. Like Tampa Bay, Las Vegas' weather is warm during the NHL season. The proposed practice facility for Foley's team will be state of the art, and T-Mobile Arena will be only one year old.
But Las Vegas would have lots of competition if Hedman went on the open market. The team's general manager would need to be a really good salesman to land one of the marquee names in the free-agent class.
Contact Steve Carp at scarp@reviewjournal.com or 702-387-2913. Follow on Twitter: @stevecarprj

NHL in Vegas
Complete coverage of hockey in Las Vegas