Knights enforce ticket policies to crack down on resellers
Updated September 26, 2018 - 8:09 pm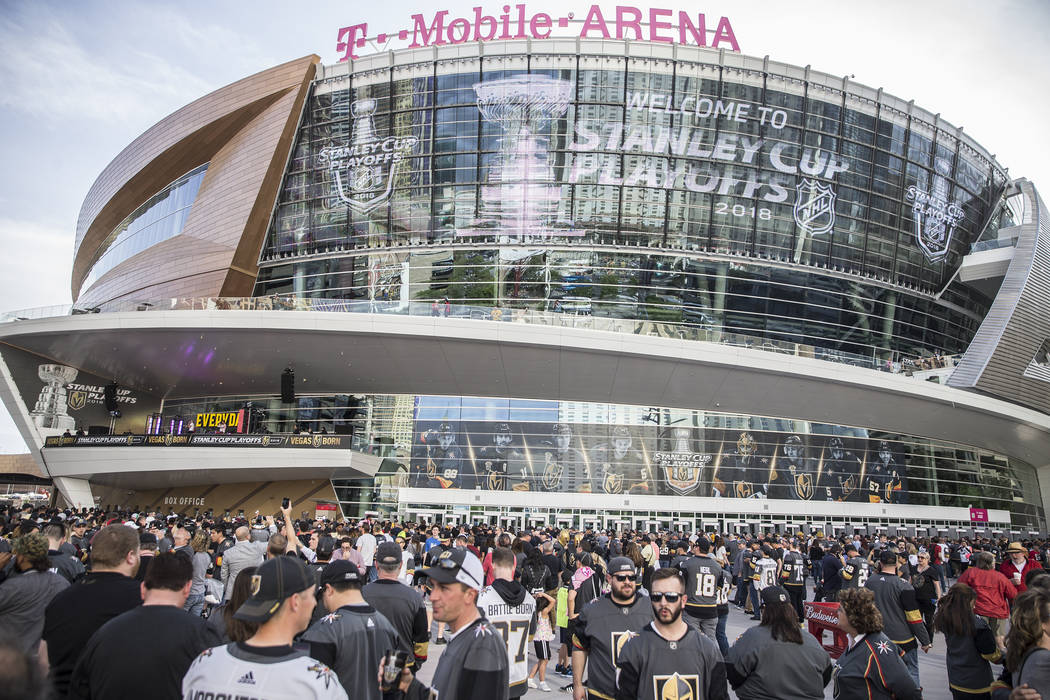 Eric Ruggiero always has been a fan of hockey and the city of Las Vegas, even though he lives in Maryland and had no allegiances to any particular team.
That changed when the NHL awarded the city he calls his second home an expansion franchise.
"My wife and I's first trip to Vegas was in 2004 and we've been there 53 times since and hockey is my life," the semi-retired 53-year-old said by phone on Wednesday. "When they put those two things together, I was all in. I wanted to be a part of it from the ground floor."
He put down a $1,000 deposit and committed to a three-year season ticket plan and said he attended seven to 10 games at T-Mobile Arena in the Golden Knights inaugural season.
The rest of his tickets were sold on StubHub, which was the team's preferred ticket reseller last season, or through connections he made at games he attended.
Ruggiero's tickets in Section 10, Row G now belong to someone else.
According to Ruggiero, he received notice that his membership was canceled by the team and his seats resold. He did receive a $1,000 deposit back that would have been applied to the purchase of tickets in the final year of his ticket plan.
It's not an isolated incident. Similar reports have been made public through both traditional and social media, though the team declined to confirm a number other than to say the process is ongoing.
The organization similarly can't get into details of specific customers, but insists the policy is far from arbitrary.
"Our team does a significant amount of research on the account activity before making any decisions," the team said through a spokesperson. "Furthermore, we are in contact with members during the process to explain and talk through our membership policies. Generally speaking, continually posting tickets for sale on non-authorized sites — clearly for profit — is grounds for cancellation."
Ruggiero said he did not make money during the regular season and insisted he had been upfront with his account representative about how many games he would attend. Knights tickets became big business on the secondary market as the team continued its historic season. The Stanley Cup playoffs brought even greater demand and soaring prices.
Interest in the team coming off a Western Conference championship has driven the average asking price of a ticket on the secondary market for the 2018-19 season to $271, which ranks behind just the Toronto Maple Leafs ($332) for tops in the league.
According to the Knights, a membership agreement was signed by all of their season ticket holders that includes safeguards against purchasing tickets for the sole intent of profiting off resales. The current policy states ticket holders "acknowledge that the spirit of being a season ticket member is to support the team and not generate financial gain." They also must "acknowledge and agree that my ticket resale and/or trade activity may be monitored and tracked by the Vegas Golden Knights."
Reports of season ticket revocations have sparked anxiety among fans who aren't sure what they can do with their seats when they can't attend a game.
The team insists there isn't much to worry about as long as the season ticket holder doesn't violate the "excessive resale" threshold and doesn't utilize "non-authorized" resale sites. The Knights declined to say how many resales they consider excessive.
"Our policy and membership parameters were created to protect our members and help create a true home ice advantage," the spokesperson said. "Memberships are never arbitrarily revoked. We are fully supportive of members who share their tickets with friends and family and allow new fans to experience a Golden Knights game, so fans are very much encouraged to do so.
"Again, we do not arbitrarily revoke memberships. If we do identify potential issues, we address them directly with the members to clearly explain our policies and offer alternatives. In these discussions we may offer fan-friendly alternatives for such accounts with regards to a ticket plan."
The Knights are not alone in attempting to curb tickets from being resold for profit. Similar policies are common among teams across professional sports.
Ruggiero remains undeterred despite having his tickets revoked and said he'll still try to attend games when he's in town.
"I can't not love this team," he said. "But I'm torn. I feel like I can't love them as much as I used to. I absolutely understand what they're trying to do. They told me the fans around me don't want to sit next to fans of the opposing team, but I'm like the East Coast ambassador for this freaking team. I live 35 minutes from the Capitals' facility, and I have Vegas Golden Knights stickers all over my truck. Do you know what that's like to endure?
"I feel like the uncle who got in an argument with the family and was never invited back to Thanksgiving."
The Knights host Calgary the day after Thanksgiving. They are off on Christmas.
More Golden Knights: Follow all of our Golden Knights coverage online at reviewjournal.com/GoldenKnights and @HockeyinVegas on Twitter.
Contact Adam Hill at ahill@reviewjournal.com or 702-277-8028. Follow @AdamHillLVRJ on Twitter.
Related
Revoking tickets proves byproduct of Golden Knights success