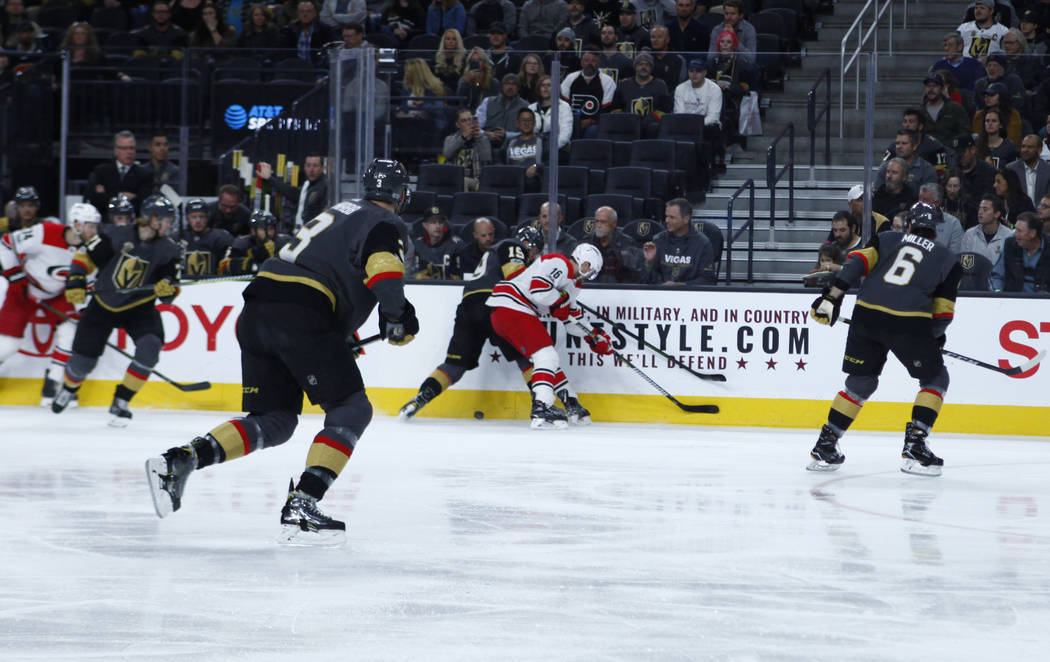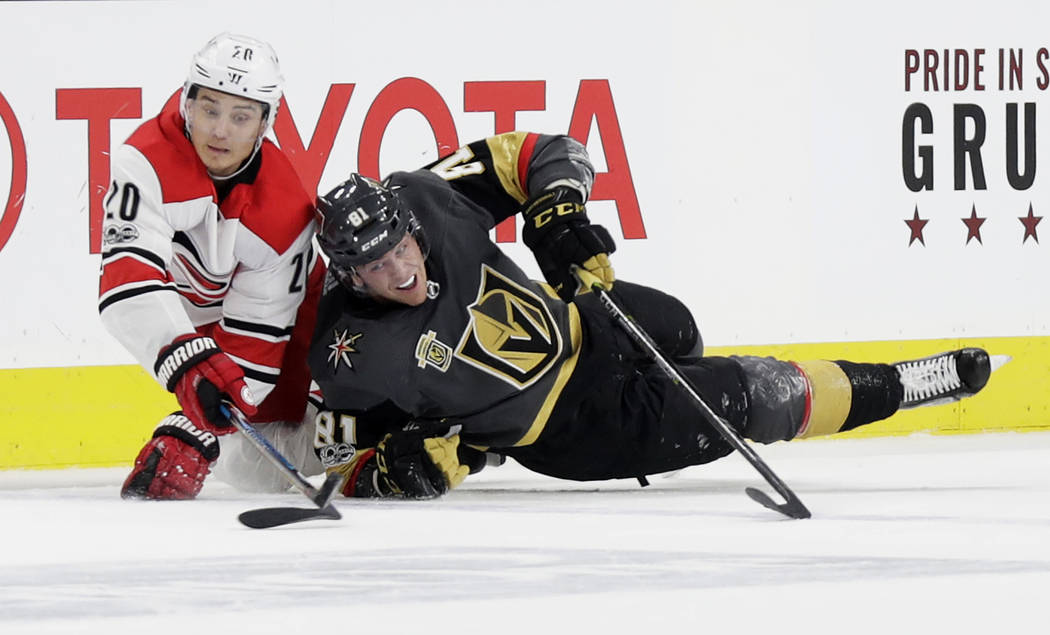 Reilly Smith and Jonathan Marchessault weren't happy to see Gerard Gallant lose his job 13 months ago. But they agree with their former Florida Panthers coach and now their coach with the Golden Knights — it's about the present, not the past.
The Knights host the Panthers at 5 p.m. Sunday at T-Mobile Arena, and Gallant will be the focus of attention, though he wishes he wasn't. He wants his players to focus on picking up two points.
"It's the bigger picture," Smith said. "We want to make the most of this homestand."
Marchessault said: "I've been with five organizations, so I've played against former teams before. It's about keeping things going and staying on the winning track."
Both players said Gallant's firing was uncomfortable for them.
"It was a terrible experience, and it wasn't fun to be part of that," Marchessault said. "Obviously as players it was our fault because we weren't winning as much as the organization wanted. It was unfortunate, and there's not a lot of good memories of it."
Smith said: "That happened in Carolina last year, and you don't see things like that happen too often. It was disappointing what happened."
Gallant is downplaying the game, but expect the Knights to give a little extra effort Sunday for their coach.
"Everyone had goosebumps and butterflies for Flower," said Marchessault, referring to Marc-Andre Fleury and Thursday's emotional win over Pittsburgh, Fleury's former team. "I think you'll see the same thing for Turk."
Bjugstad's anniversary
Saturday was the three-year anniversary of the longest shootout in NHL history, and Gallant was part of it as coach of the Panthers, who needed 20 rounds to defeat Washington on Dec. 16, 2014. Center Nick Bjugstad had the game winner in his second go-round.
"Every time they scored, one of our guys would score," Gallant said. "Guys we didn't expect to score scored. I was ready to leave the bench three or four times. Then Bjugstad scored a beautiful goal to win it."
Bjugstad, who is with the Panthers for Sunday's game, said it was a bizarre game.
"You saw guys who had never gone scoring and keeping it going." he said. "For me, it was about the guys who scored in the 14th, 15th round to keep us going. It was no big deal for me to end it. "
Bjugstad said he got lucky on his winning shot.
"The ice wasn't very good at that point; a lot of pucks bouncing," he said.
Carrier update
Will Carrier practiced Saturday, and though he was still in a red noncontact jersey, he was moving well and took part in all the drills. The forward suffered an upper-body injury Nov. 25 and has missed the past nine games.
"He looked really good," Gallant said. "I don't think he's that far away, but I don't want to say when he'll be back."
More Golden Knights: Follow all of our Golden Knights coverage online at reviewjournal.com/GoldenKnights and @HockeyinVegas on Twitter.
Contact Steve Carp at scarp@reviewjournal.com or 702-387-2913. Follow @stevecarprj on Twitter.
Game day
Who: Panthers vs. Golden Knights
When: 5 p.m. Sunday
Where: T-Mobile Arena
TV: AT&T SportsNet (Cox 313/1313, DirecTV 684, CenturyLink 760/1760, U-verse 757/1757)
Radio: KRLV (98.9 FM, 1340 AM)
Line: Off
Three storylines
1. Gallant's revenge? This is Golden Knights coach Gerard Gallant's first opportunity to face his former employer since the Panthers fired Gallant on Nov. 26, 2016. Gallant has taken the high road and not put his previous team's ownership on blast. But you can bet his players will want to win this one for him and assistant coach Mike Kelly, who also was fired by Florida.
2. Struggling Panthers. Florida has lost six of its past eight, though the Panthers have been involved in one-goal games in six of those eight.
3. More Merrill. Knights defenseman Jon Merrill will remain in the lineup, as Luca Sbisa deals with a lower-body injury. After Merrill scored the winning goal Thursday against Pittsburgh, Gallant wants to keep Merrill's confidence high.
Florida Panthers
5 p.m. Sunday, T-Mobile Arena
— The Skinny: The Panthers remain in recovery mode after firing Gerard Gallant in November 2016. Florida has lost six of its past eight and is sixth in the Atlantic Division with a 12-15-5 record. The Panthers are without starting goaltender Roberto Luongo, who suffered a lower-body injury Dec. 4 and is expected to miss six to eight weeks.
— Top scorers: Center Jonathan Huberdeau and center Vincent Trocheck lead the Panthers with 32 points apiece. Trocheck has a team-high 13 goals and 19 assists, and Huberdeau has nine goals and a team-leading 23 assists.
— Goaltender: James Reimer, 6-8-4, 3.48 goals-against average, .896 save percentage.
— Coach: Bob Boughner, first season, 12-15-5
— Founded: 1993
— Last Stanley Cup: None (Lost in 1996 Stanley Cup Finals)
— Did you know: Since playing for the Stanley Cup in 1996, the Panthers have made the playoffs only four times, never advancing beyond the first round.
Steve Carp Review-Journal