Knights' Kolesar draws lofty comparisons for skill, toughness
Updated September 9, 2018 - 5:45 pm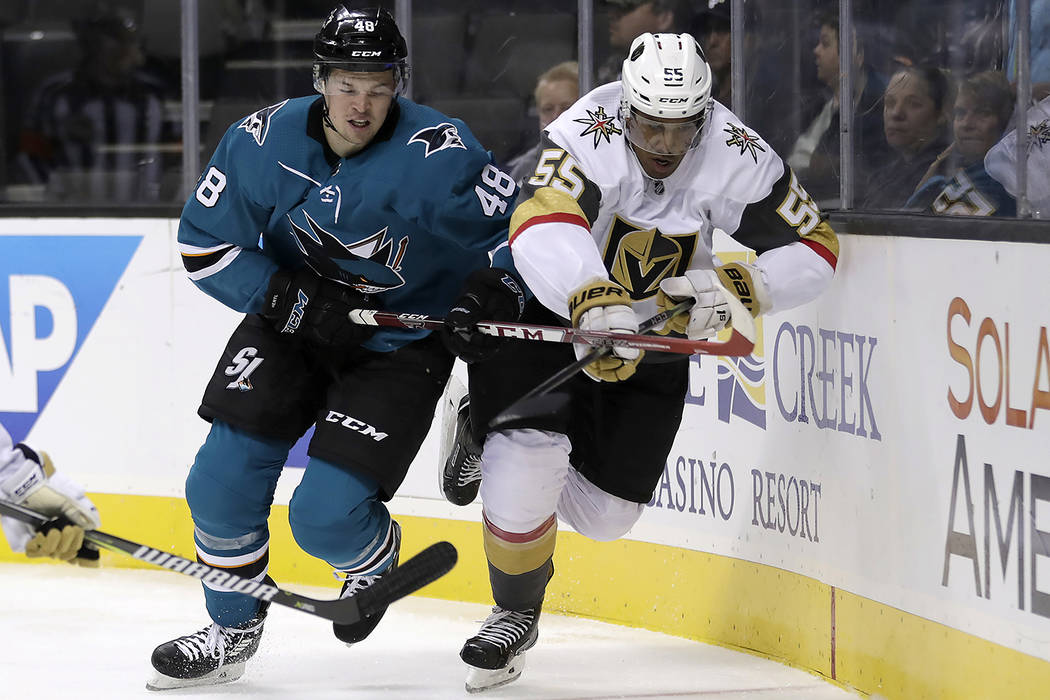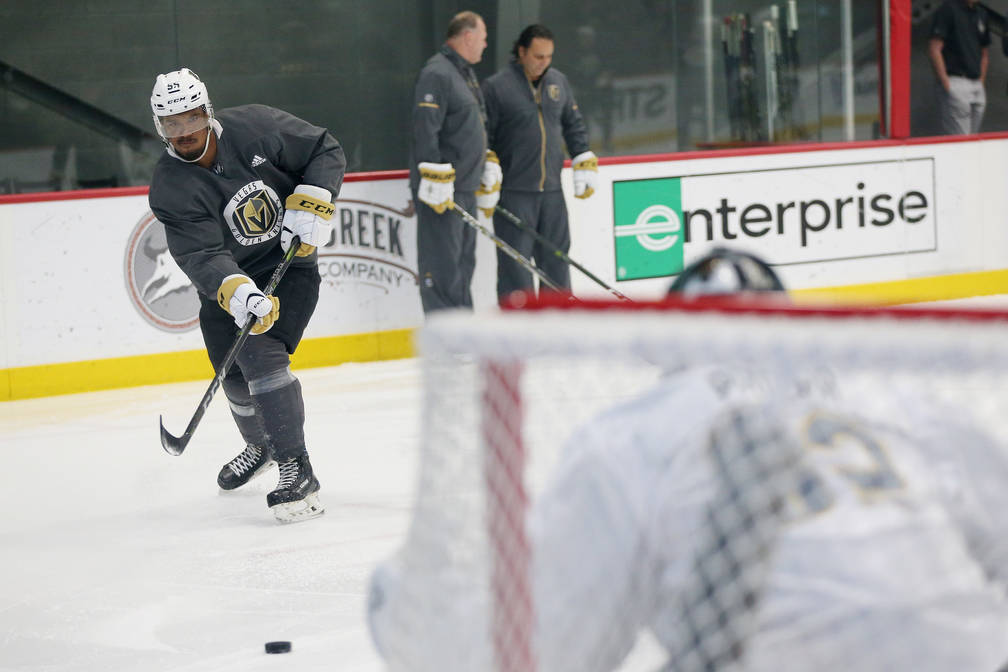 The mere mention of the name Tom Wilson is enough to agitate most of the Golden Knights' fanbase.
Rocky Thompson, who coaches the Knights' AHL affiliate in Chicago and is on the bench for the Vegas Rookie Faceoff, wasn't trying to stir up those emotions when he compared Keegan Kolesar to the polarizing Washington Capitals' winger.
Kolesar is a big, imposing forward who can offer protection to his more finesse-oriented teammates while also possessing enough skill to be a factor offensively.
Thompson believes he can grow into similar player as Wilson, though he acknowledges it's a lofty standard.
"Tom Wilson is extremely talented and fast, but he's a guy who can play in all areas of your lineup and that's what I can do with Keegan right now," said Thompson, who coached Kolesar with the Wolves last year. "He's made that step at the AHL level where I can move him up to our top line.
"He just needs to pick up the pace of his game and continue to get faster in order to make that jump at the next level."
Now in his fourth rookie camp and second with the Knights, Kolesar hopes the strides he has made over the last year are enough. He understands roster spots are limited, but plans to make his case once training camp opens next week.
The 21-year-old Winnipeg, Manitoba native, who is 6-foot-2-inches and 230 pounds, started making his case with a goal in the Knights' 7-6 win over the Avalanche in the first game of the event on Saturday night.
He knows a major part of his job will be to serve as a physical presence. That point was driven home when he was placed on the first line alongside top prospects Cody Glass and Nick Suzuki on Saturday night.
Kolesar wants to make clear he's not just an enforcer, however. He cut down his penalty minutes to 56 in 64 combined games between the ECHL and AHL last year after averaging 104 minutes in his last two seasons in the WHL.
He added 29 total points.
"I think to be an NHL player, you have to be a jack of all trades," said Kolesar, who was acquired in a draft day trade with Columbus in 2017. "If one thing stands out more than others, it's awesome. I think I have a nice arsenal of skills and abilities that can get me to where I need to be in my career."
Glass is certainly excited about the chance to play with his fellow Winnipeg native.
"He's a big guy," the 2017 first-round pick said. "So not only does he add some skill, but he gives you that size for me and (Suzuki) to have more space to play. It's a lot of fun playing with him. I have a good time with him.
"We don't really talk about the future, but I think it's obviously in the back of our heads. It's awesome that we're both in Vegas and a part of a great organization. Being able to play with a guy like that helps a lot. I'm looking forward to the future here."
As for the Wilson comparison, Kolesar believes it makes sense.
"It's funny because I was just looking at some videos of Tom Wilson and I watched him closely in the playoffs," Kolesar said. "He's a real presence on the ice playing with the two of the most talented players in the world and he fits right in.
"I see myself as a power forward. I want to crash and bang and make a presence with my physicality, plus I think I have a pretty good shot so I want to shoot it as much as I can and get to the net and create havoc as much as I can."
That would certainly help punch his ticket to Las Vegas.
More Golden Knights: Follow all of our Golden Knights coverage online at reviewjournal.com/GoldenKnights and @HockeyinVegas on Twitter.
Contact Adam Hill at ahill@reviewjournal.com or 702-277-8028. Follow @AdamHillLVRJ on Twitter.