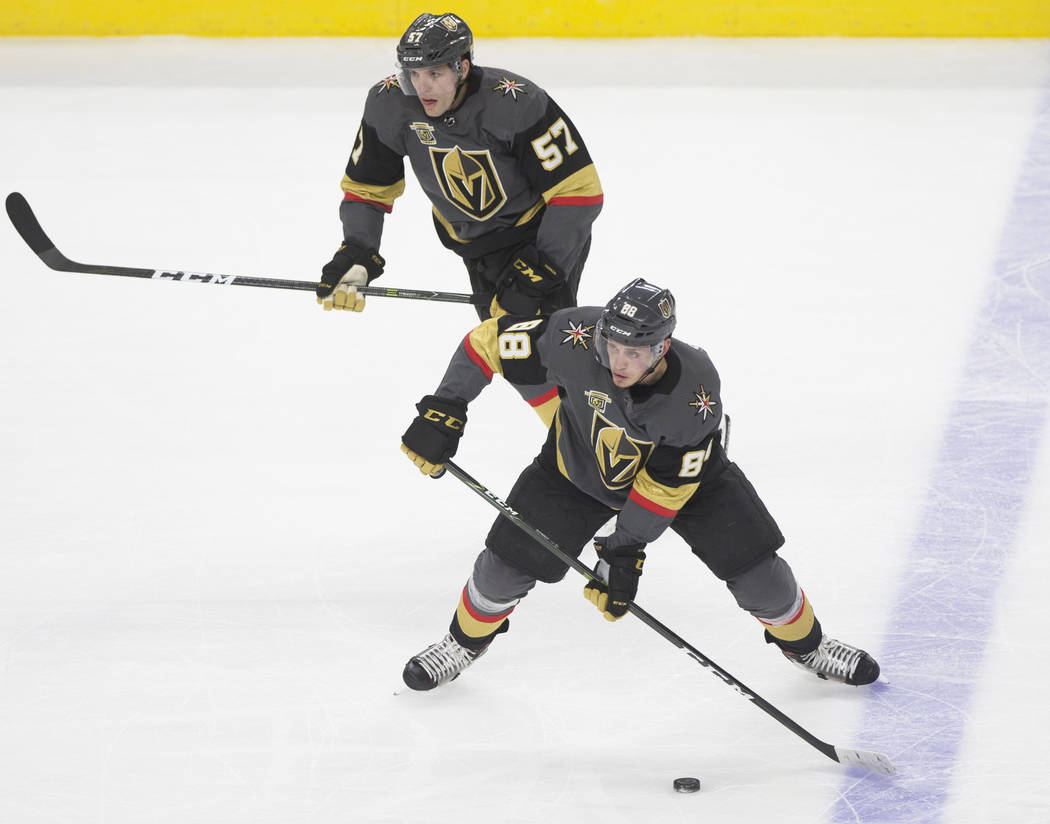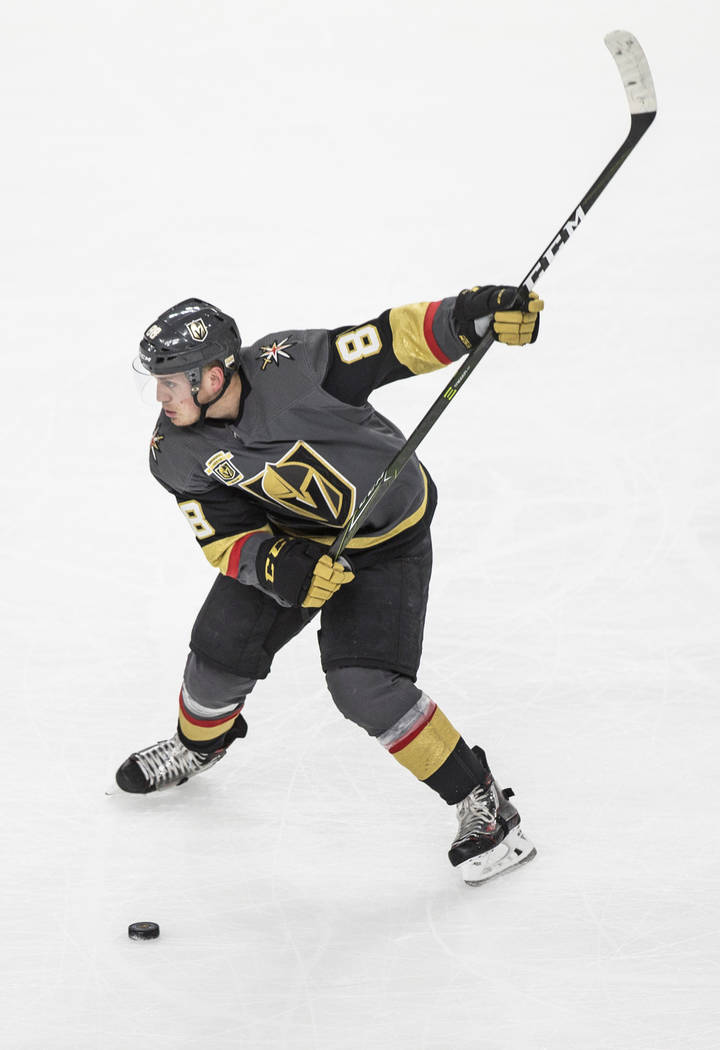 LOS ANGELES — Somehow, playing almost two full periods of hockey didn't leave Nate Schmidt looking exhausted, though he certainly felt the part.
The Golden Knights' defenseman is used to logging heavy minutes, as he leads the team in average time on ice with 22 minutes, 14 seconds a game. But with the Knights locked in a close game against the Los Angeles Kings on Friday night in Game 2 of their Western Conference quarterfinal matchup at T-Mobile Arena, Schmidt kept going over the boards, taking shift after shift after shift.
He was ready to go back out again when Erik Haula ended the marathon with his winning goal with 4:37 left in the second overtime for a 2-1 victory and 2-0 lead in the best-of-seven series.
"I was just getting my legs under me in the second overtime," Schmidt said with a laugh after he logged a team-high 37:19. "You're trying not to think about being tired. You're just trying to push through."
Hydration became as important as anything else.
"You just wanted to make sure you were getting the proper fluids, getting your legs rubbed down and make sure you don't cramp up, because that's the biggest problem," Schmidt said. "Each guy played more minutes than ever had before, and I think it comes down to managing it, guys getting extra fluids, extra Gatorade, eating something to keep their energy level up."
Schmidt said he also used a cold wrap on his back between periods.
Mentally, the pressure got ratcheted up with each passing minute, as the players knew any mistake could cost them the game. So how did Schmidt handle that part?
"You know what, it's more about the physical part," he said. "Your body just kinda takes over, and you're relying on your teammates, trusting them and they trust you.
"It's playoff hockey. It seemed like any shot could go in. The forwards did a great job. I think we spent a lot of time in their end the second half of the game and most of the two overtimes, and I think we just wore them down."
Knights coach Gerard Gallant gave those who played in Game 2 the day off Saturday. It gave Schmidt a chance to rest, refuel and reboot for Game 3 at 7:30 p.m. Sunday at Staples Center.
"You want to get a good night's rest and get your body ready," Schmidt said. "They're not going to be waiting around for us, so you want to make sure you're ready for the next one."
Someone asked Schmidt if he had a message for Haula, the Game 2 hero.
"Yeah, thank you. I really appreciate it," he said.
He had played enough hockey for one night.
More Golden Knights: Follow all of our Golden Knights coverage online at reviewjournal.com/GoldenKnights and @HockeyinVegas on Twitter.
Contact Steve Carp at scarp@reviewjournal.com or 702-387-2913. Follow @stevecarprj on Twitter.
Working double OT
The list of players who logged the most ice time in Friday's Game 2 of the Western Conference quarterfinals between the Golden Knights and Los Angeles Kings:
1. Alec Martinez, Kings, 44:43
2. Oscar Fantenberg, Kings, 41:03
3. Anze Kopitar, Kings, 38:54
4. Nate Schmidt, Golden Knights, 37:19
5. William Karlsson, Golden Knights, 35:28