Las Vegas could be attractive destination for NHL free agents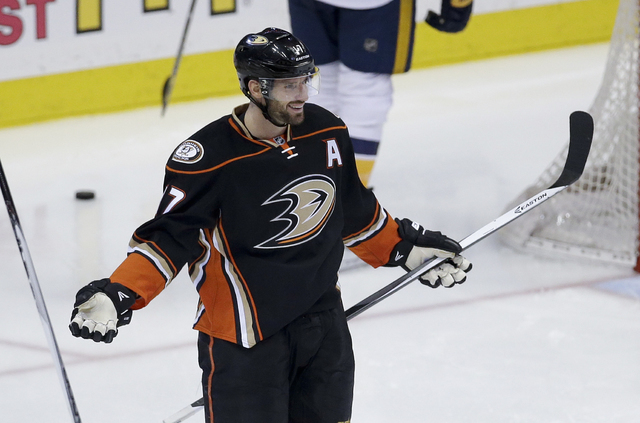 More than 40 million people visit Las Vegas each year.
But what if you were planning to stay? What if your occupation was professional hockey player? What if you could go anywhere in the NHL to continue your career?
For an unrestricted free agent in 2017, Las Vegas suddenly becomes an option. From Dallas' Travis Morin, who will make $550,000 next season, to Stars teammate Jamie Benn ($5,250,000), to San Jose veterans Joe Thornton ($6,750,000) and Patrick Marleau ($6,666,668), there will be 131 unrestricted free agents in 2017.
Of those 131, how many would consider playing in Las Vegas?
Neil Sheehy, an agent from Minneapolis who represents rookie forward Cory Ward, a Las Vegas native, said free agents consider several factors when deciding where to sign.
"First and foremost, everything depends on who's running the organization," Sheehy said. "That's a key element.
"What's the philosophy? Who's the coach? How do they play? All of those things have to be factored in when a player is making a decision on going to another team. Some guys want to go to a place where they have a chance to win the Stanley Cup. Other guys are looking for a place where they can get ice time."
Anaheim Ducks center Ryan Kesler won't be a free agent in 2017; he's signed through 2022. But Kesler said all free agents have their own priorities.
"I'm married with three kids," Kesler said. "So the things I'm looking for may be totally different from someone who is single.
"In my case, I'm interested in what kind of school system there is. What kind of neighborhoods are there? What's the health care like? If my kid gets sick, is there a good doctor who I can trust to take care of them?
"Where you play and where you practice is important. You spend a lot of time at the rink. So I want to know how the practice facility is. How far is it from the airport to the arena? Things like that."
Las Vegas owner Bill Foley is planning a $17 million to $20 million practice facility adjacent to Downtown Summerlin that is expected to be ready for the team's inaugural 2017-18 season. T-Mobile Arena, the 17,500-seat home to the Las Vegas franchise, will host its first hockey games in October in the preseason when the Los Angeles Kings play Dallas on Oct. 7 and Colorado on Oct. 8.
Benn, the Stars' leading scorer last season, can get a sneak peek of Las Vegas then. Perhaps he falls in love with the arena and the city, and likes the incoming general manager and coach. Imagine the impact a superstar such as Benn could have on the first-year franchise.
Two other factors — no state income tax and the weather — could work in the team's favor in its courtship of free agents.
"It's a viable city," Sheehy said. "If they do things right, free agents may be more inclined to look at Las Vegas."
Contact Steve Carp at scarp@reviewjournal.com or 702-387-2913. Follow on Twitter: @stevecarprj
NHL in Vegas
Complete coverage of hockey in Las Vegas