Las Vegas NHL team hires Wynn executive as No. 2 in business operations
November 7, 2016 - 12:11 pm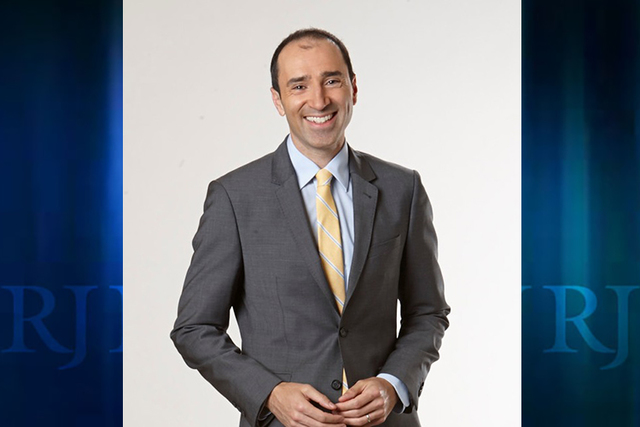 When it comes to sheer numbers, the business side of the Las Vegas NHL franchise has some catching up to do to match the hockey operations side, which currently has 30 people employed. The same can be said for the quality and talent level.
But the team announced an important hire Monday. Nehme E. Abouzeid, who had spent the last three years handling the marketing and international branding efforts for Wynn Las Vegas, joins Kerry Bubolz's staff as the team's senior vice president and chief marketing officer.
Prior to his time at Wynn, Abouzeid, 40, spent nine years at Las Vegas Sands Corp. working in various positions, including international marketing.
"I was looking to parlay my skills from the casino industry into pro sports," said Abouzeid, who was a finalist for the Chief Marketing Officer position with the Arizona Coyotes two years ago. "I thought my diverse skills would make me a good fit."
Bubolz has talked about bringing people with high energy levels on to his staff. In Abouzeid, he has someone who will work hard and with enthusiasm.
"He has a great knowledge of sports," Bubolz said of Abouzeid, who was raised in Weymouth, Massachusetts and received his M.B.A. from Babson College (he also has a B.A. in Journalism from George Washington University). "He also worked at Wynn, a world class brand."
The hiring of Abouzeid hits on two critical issues. One, his ability to sell and build brands internationally. It is high on owner Bill Foley's agenda. Foley wants to see hockey fans around the world adopt Las Vegas as their NHL team and wear the team's sweater and other gear.
The other important component is Abouzeid knows Las Vegas. He has been in town for 13 years and he said he understands the biorhythms of the community, especially when it comes to spending their discretionary income. Abouzeid is the first significant hire on either side of the team's operation to be from Las Vegas.
"It is one of our most important hires," Bubolz said.
It is also a versatile hire. Abouzeid understands the media and its importance in getting the word out when it comes to branding and product visibility. He learned early on when he worked for the Sands Corp. and was the first graduate of the company's M.I.C.E. program (Meetings, Incentives, Conferences, Exhibitions).
"When I met Mr. Foley and saw all of his different businesses, I thought I could connect with him because he is diversified," Abouzeid said. "I think we hit it off well and it's exciting to be part of this at the very beginning."
Abouzeid said he believes the city is excited to have major league sports. His goal is to convert the casual or non-fan into a rabid hockey fan.
"The die-hard hockey fans are there," he said, pointing to the 16,000 season tickets which were sold. "But there's a lot of casual fans we need to convert."
Contact Steve Carp at scarp@reviewjournal.com or 702-387-2913. Follow @stevecarprj on Twitter.
THE ABOUZEID FILE
Name: Nehme E. Abouzeid
Title: Senior vice president and chief marketing officer, Las Vegas NHL expansion franchise
Age: 40
Home: Las Vegas
Business experience: Executive director of brand marketing and entertainment marketing, Wynn Las Vegas 2013-2016; Operations and business development and marketing strategies, Las Vegas Sands Corp., 2005-2013
Education: BA Journalism, George Washington University; MBA Babson College
Family: Wife Dr. Nina Mirzayan; Daughters Celine and Layla
Like Vegas Sports News on Facebook: