Las Vegas NHL team introduces George McPhee as GM — VIDEO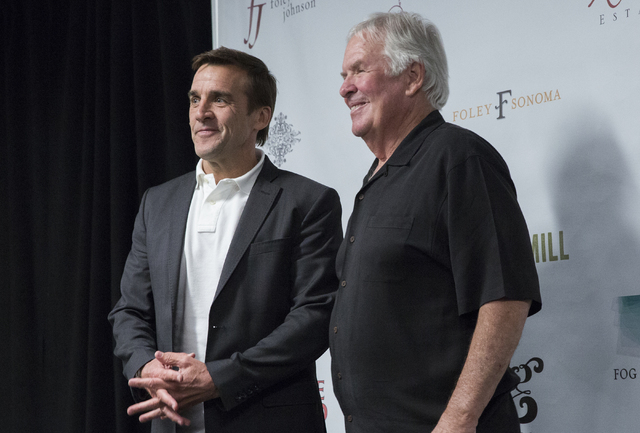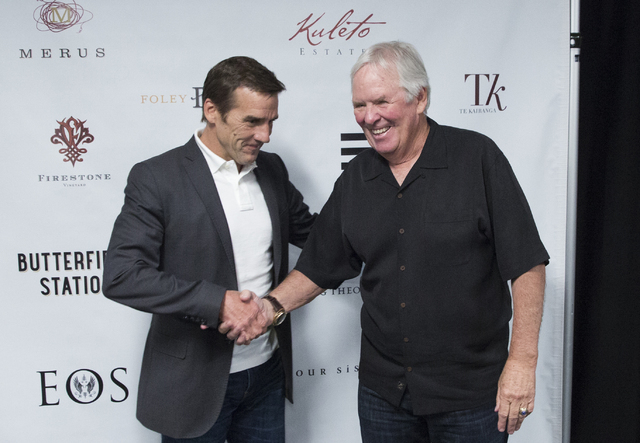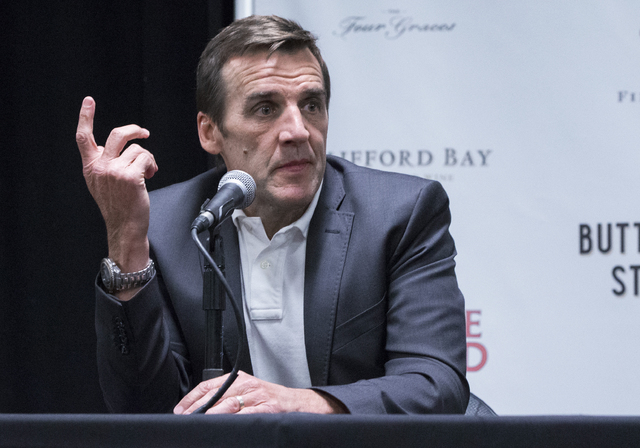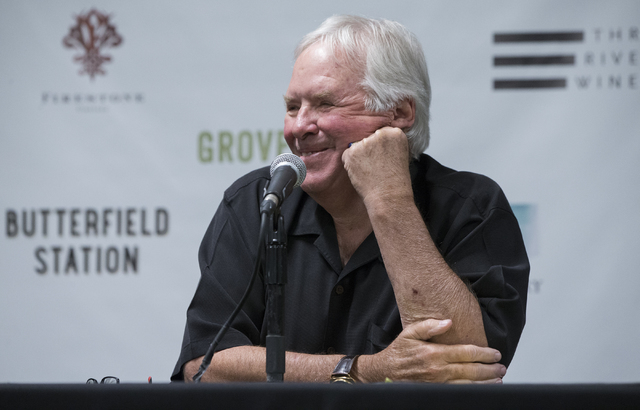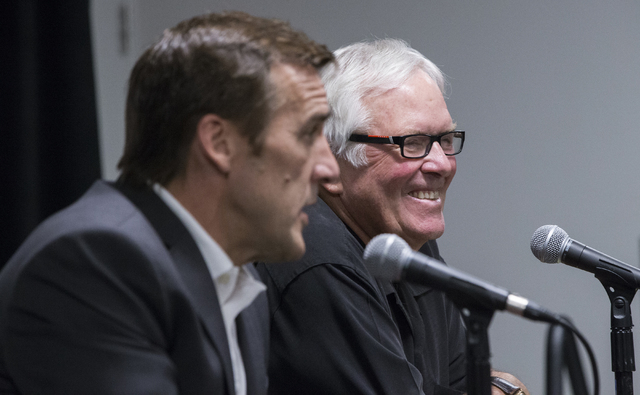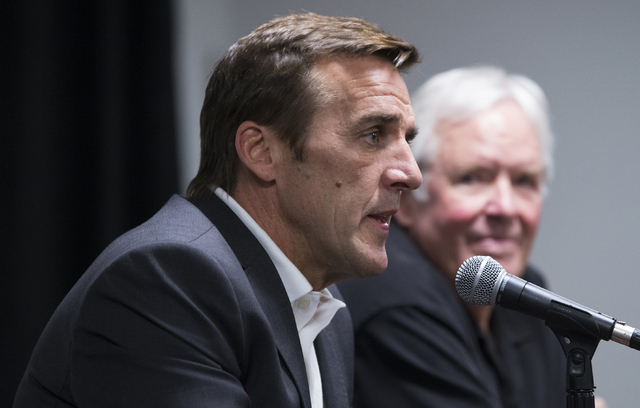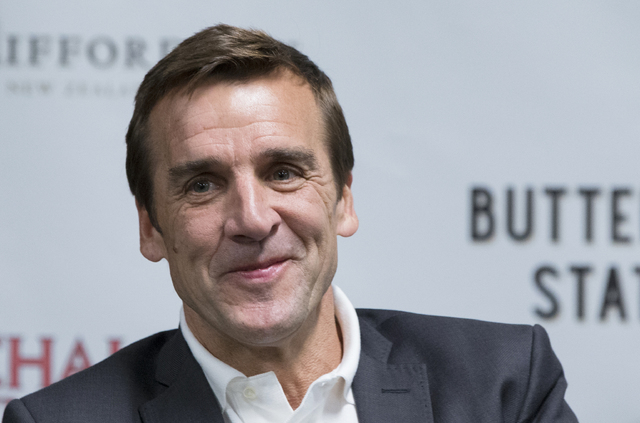 Think of George McPhee as an artist who has a blank canvas to paint anything he wants. Or a contractor who has an empty lot and can build any home he desires.
That's the kind of faith Bill Foley has in the new general manager for his Las Vegas NHL expansion team, which begins play in the 2017-18 season. McPhee, who spent 17 years building the Washington Capitals into a Stanley Cup contender, was officially introduced at a news conference Wednesday at T-Mobile Arena.
"Every general manager dreams of having this kind of opportunity, to build a team from the very beginning," McPhee said. "I'm grateful and excited to be here, and we will put a product on the ice that Las Vegas can be proud of and win a Stanley Cup."
Terms of McPhee's contract were not disclosed. But Foley said McPhee will be with the organization for a long time.
The 58-year-old is a native of Guelph, Ontario, Canada, who played seven seasons as a forward in the NHL. He has been in management since 1992, when he was vice president of hockey operations in Vancouver.
"I have complete faith in George," Foley said. "I knew right away after talking to him for the first time that he was the one I wanted to lead our franchise."
Foley interviewed seven candidates for the position.
"I was looking for guy who was going to be as focused, dedicated, have a take-no-prisoners attitude and who was as committed to winning," Foley said. "But more important, someone I could identify with, have a symbiotic relationship with, and that we could have a respectful relationship where we can talk freely and honestly. I found that person, and I'm really thrilled."
McPhee is not going to waste any time. He's going to spend the upcoming days hiring a scouting staff and others for the organization, on the hockey side and business side. He's going to be on the road watching games as early as next month, and he said he knows what kind of team he wants to build.
"Speed comes to the rink every night," he said. "You can't hit a home run every night. You can't score three goals every night. But if you've got speed on the basepaths or speed on the ice, you have that every night. If you can move, you can move.
"I want to build a wildly entertaining team that can do it all. One that plays physical, scores goals and plays with speed."
Like Foley, McPhee said he's not in a rush to hire a coach.
"We have time on our side," he said. "Right now, we have higher priorities."
After the Capitals fired him in 2014, McPhee stayed in the game. He worked with Team Canada, helping it win gold medals at three tournaments — the 2015 and 2016 world championships and the 2015 Spengler Cup, an international event. He also spent the past season with the New York Islanders as a special assistant to general manager Garth Snow.
"We got down to the 5-yard-line, and I wish I could have been there to see it through," McPhee said of losing his job in Washington. "But that's life.
"When you have a good team, the margins of improvement are hard to see. They're there, but you're not sure you're seeing them. So sometimes you wonder if you're doing the right things. My experience with Team Canada, the three tournaments we won, that really meant something. It restored my confidence."
His time with the Islanders proved beneficial, as it gave him a different point of view.
"It was like picking up intelligence," he said. "You share some of your ideas with them. You take some of their ideas, and you become a better (general) manager. The nice thing is there are different ways to win. There are other models."
McPhee's stint with the Capitals didn't end well, but he said he's ready to get back to running an NHL organization, one with no burdens of bad contracts or aging players.
"We built some terrific teams in Washington. Then they took the canvas and the paint brushes away," he said. "Now they're giving me something which is brand new, and I get the chance to start fresh."
Contact Steve Carp at scarp@reviewjournal.com or 702-387-2913. Follow on Twitter: @stevecarprj
THE MCPHEE FILE
Who: George McPhee
Title: General manager, Las Vegas NHL expansion franchise
Age: 58
Birthplace: Guelph, Ontario, Canada
Management experience: Vice president, director of hockey operations, Vancouver Canucks, 1992-1997; general manager, Washington Capitals, 1997-2014; co-general manager, Team Canada, 2015-16
Playing experience: Forward, New York Rangers, 1982-87; Forward, New Jersey Devils, 1987-89
Family: Wife, Leah; children, Grayson, Graham
Did you know?: McPhee won the Hobey Baker Award, which goes to college hockey's top player, in 1982 as a senior forward at Bowling Green State University.

NHL in Vegas
Complete coverage of hockey in Las Vegas