Maple Leafs fever has tight grip on Toronto area
Updated November 5, 2018 - 5:28 pm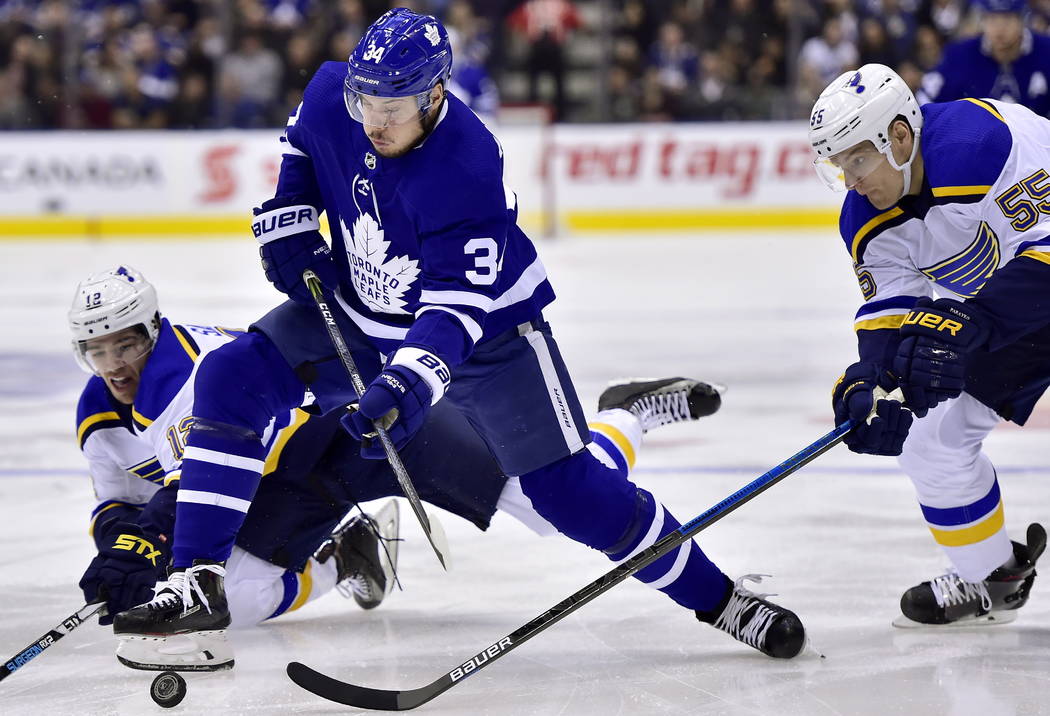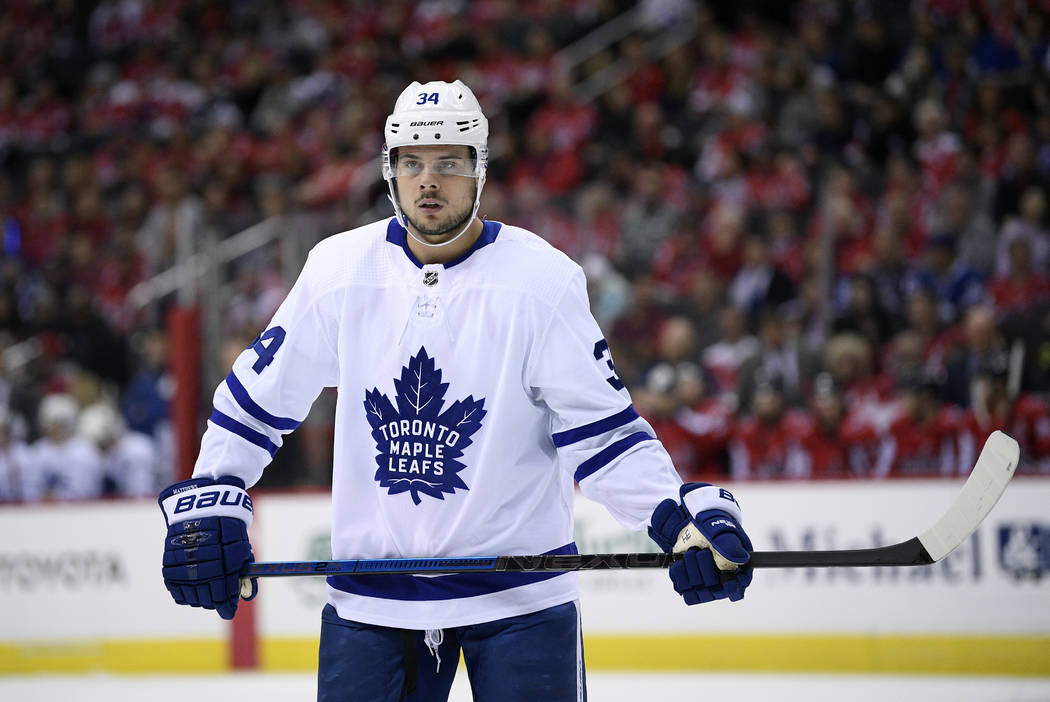 TORONTO — Hockey obsession is not obvious to the eye here. It's subtle. Modest. Sophisticated.
For instance, the top of the CN Tower hasn't been turned into a neon stick, as a certain noob hockey city might be wont to do.
There are no giant billboards featuring Maple Leafs stars Auston Matthews or John Tavares in vibrant Yonge-Dundas Square.
The subway headed west features advertisements for a sale on winter clothing and several local colleges. Morgan Rielly, who led all NHL defensemen with 18 points entering Monday's schedule, is not in any of them.
"Everybody knows hockey here, that's probably the biggest difference," said Maple Leafs forward Patrick Marleau, who spent 19 seasons in San Jose before signing as a free agent in 2017.
"In other areas, hockey fans are hockey fans. But everybody seems to know what's going on with the team here, whether they're die-hard fans or just from the Toronto area. They're aware of it."
The excitement surrounding the Maple Leafs always is high.
With the club in second place in the Atlantic Division entering Tuesday's game against the Golden Knights at Scotiabank Arena, it's gripped the GTA (Greater Toronto Area) even tighter this season.
"Any Canadian city, obviously, has an escalated fan base for hockey, and Toronto and Montreal are probably two of the bigger ones," said Knights forward Reilly Smith, who hails from Mimico, located in the southwest of Toronto. "I think especially now, you're seeing lot younger kids spending more time around the rink. I think that's just going to elevate the level of play and make the league better."
By the time the green line ends at Kipling Station, a couple of kilometers from where the club's practice facility is located in Etobicoke, an occasional blue Maple Leafs hat and/or sweatshirt appears on the train.
And a conversation between two riders about 21-year-old standout forward Mitchell Marner continues outside the doors.
The scene in this Original Six city contrasts with the league's newest town, where bumper stickers are on every other car and the Strip is decked out with Knights gear.
Unlike City National Arena, security at MasterCard Centre for Hockey Excellence where the Maple Leafs practice was tight Monday. It's part of the job requirement to help prevent what would otherwise be an overflow crowd.
"With the excitement comes a lot of added pressure, but you want that," Marleau said. "You want to be in that position to have a chance to win. But you don't win without putting in the work. We realize what we need to do, now it's just a matter of us going out and doing it."
Knights fans think they had it tough with their team's slow start? Not even close.
When the Maple Leafs totaled 10 goals during a six-game stretch from Oct. 18 to Nov. 1, the fickle fans and media here wondered whether the Stanley Cup contenders will recover from their scoring slump.
The team was 8-5 at the time, then blanked Pittsburgh 5-0 on the road Saturday.
"Expectations are in every organization to win, but in a Canadian market, everybody knows you have to answer the questions about those expectations every day," said Knights forward Max Pacioretty, who spent 10 seasons in Montreal. "That's the biggest difference I've seen, and it leads to a lot of positivity.
"You don't sit up front every day and answer questions about how bad you are. It's completely different in that sense, but at the same time, expectations on any team is Stanley Cup or bust. Whether you answer questions about it or not, that should be the expectation for every team in the league."
More Golden Knights: Follow all of our Golden Knights coverage online at reviewjournal.com/GoldenKnights and @HockeyinVegas on Twitter.
Contact David Schoen at dschoen@reviewjournal.com or 702-387-5203. Follow @DavidSchoenLVRJ on Twitter.
Game day
■ Who: Golden Knights at Maple Leafs
■ When: 4 p.m. Tuesday
■ Where: Scotiabank Arena, Toronto
■ TV: AT&T SportsNet (Cox 313/1313, DirecTV 684, CenturyLink 760/1760, U-verse 757/1757, DISH 414/5414)
■ Radio: KRLV (98.9 FM, 1340 AM)
■ Line: Maple Leafs -138; total 5½