Nate Schmidt energized as he leads Golden Knights in ice time
November 26, 2017 - 4:20 pm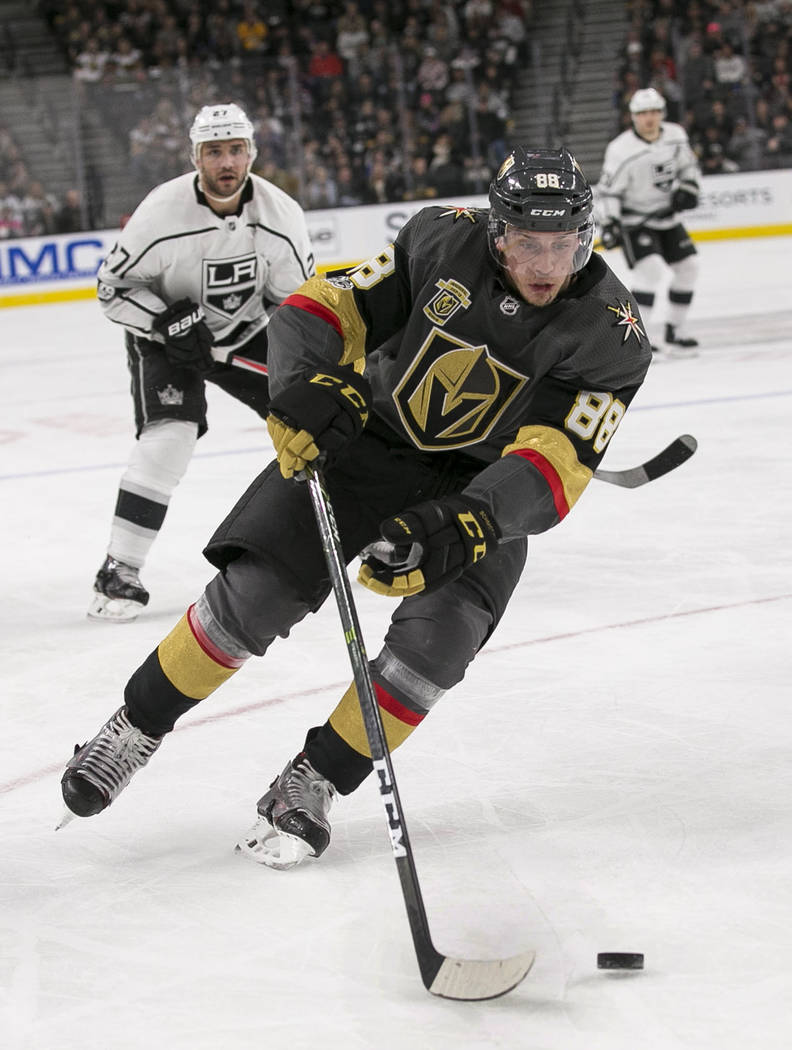 If there was anyone on the Golden Knights who could have used a day off Sunday, it was Nate Schmidt.
The defenseman has logged some heavy minutes. He leads the team in ice time at 22:11, and with the Knights coming off three victories in four nights, Schmidt gladly gave his stick and skates a rest.
"I'm having a blast," he said prior to Saturday's 4-2 win at Arizona, which extended the Knights' winning streak to five heading into Tuesday's game against Dallas. "Coming here last June, I looked at it as an opportunity to play more and do more things. It's worked out great for me."
He's a big part of the Knights' early-season success. Schmidt, 26, has been paired with Luca Sbisa, with Brad Hunt, and now, Brayden McNabb, while playing in front of five different goaltenders.
But none of that fazes Schmidt. He makes his adjustments, concentrates on his job and just goes out and plays.
"It's about making smart plays, simple plays and staying within the team's framework," he said.
Schmidt's improved play has earned coach Gerard Gallant's trust.
"He's been terrific for us," Gallant said of Schmidt, who has appeared in all 22 games and has a goal and nine assists. "He's playing a real solid defensive game right now. He moves the puck real well and he jumps into the rush real well.
"I think he's taken pride in his defensive game, killing penalties and battling hard. He and Sbisa were working real well together until Sbisa got hurt. Now we have him with McNabb, and he's still playing a real solid game."
Schmidt doesn't see as much time on the Knights' power play as earlier in the season. But with Shea Theodore, Colin Miller and Brad Hunt rotating at the point, it gives Schmidt a chance to rest his legs.
"It's definitely a different role for me, but it's one I'm embracing and I'm excited to play," he said.
Schmidt, who bought a home in Summerlin, said he has really enjoyed living in Las Vegas and all it has to offer.
"It's been awesome," he said. "It's a beautiful place. The city's been really receptive toward us and it's helped us get involved in the community."
One thing Schmidt hasn't changed is a hilarious pregame ritual that he works with massage therapist Raul Dorantes.
Schmidt will skate over to the bench during warmups to where Dorantes has three bottles lined up — one with water and two with Gatorade that he covers with a towel.
Schmidt will do an abracadabra motion with his hands, Dorantes will pull the towel away, Schmidt will take a swig from all three bottles, and wrap it up by going through an elaborate handshake with Dorantes.
"It started in college, screwing around with water bottles a little bit," Schmidt said of his "Magic trick" ritual. "It's kind of evolved over time, and then last year it kind of ironed itself out to where it is to be now during the playoff stretch with Washington.
"I just kind of stuck to it. We were playing well last year. We've been playing well this year. So hey, don't change things up if they're working."
Schmidt said the Knights don't want to change the things that have helped them surge to the top of the Pacific Division with a 15-6-1 record and 31 points.
"It has taken a little belief in our locker room," he said. "It's something I don't think we had at the beginning of the year. As a group, you didn't know how long it would take for us to gel together.
"But over the last couple weeks is when you started to understand this group can do something. We're a team that's still learning each other and we've got to continue to work the same way. There's still a long ways to go."
More Golden Knights: Follow all of our Golden Knights coverage online at reviewjournal.com/GoldenKnights and @HockeyinVegas on Twitter.
Contact Steve Carp at scarp@reviewjournal.com or 702-387-2913. Follow @stevecarprj on Twitter.
Nate Schmidt file
Position: Defenseman
Age: 26
Height/Weight: 6-1, 194 pounds
Hometown: St. Cloud, Minnesota
College: University of Minnesota
Draft status: Signed with Washington Capitals as undrafted free agent in 2013.
2017-18 statistics: one goal, nine assists, 10 points, plus-4, 22:11 TOI.