NHL prospect Michael Rasmussen not worried about broken wrist hurting draft status
Updated June 2, 2017 - 9:26 pm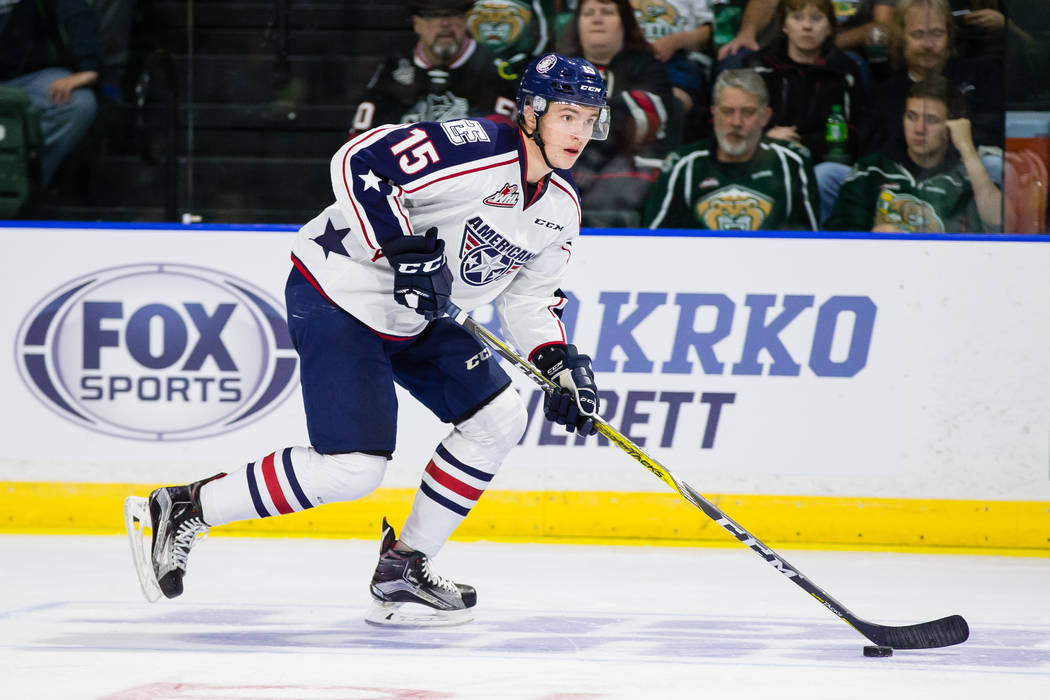 BUFFALO, N.Y. — A big black cast covered Michael Rasmussen's left wrist, which could be a big red flag for NHL teams looking at him for the league's Entry Draft on June 23.
Because the 31 teams have scouted Rasmussen extensively before he broke his wrist Jan. 10 playing for the Tri-City Americans, there isn't much concern whether the 6-foot-5-inch center has the ability to play in the NHL.
So teams focused on the interview portion of the NHL Scouting Combine, which concludes its weeklong run Saturday at the Harborcenter adjacent to KeyBank Arena. Rasmussen said Friday he had visited with 20 NHL teams, including the Golden Knights, who have the No. 6 overall pick.
"I was a little nervous at first, but overall I thought it went well," Rasmussen said. "I didn't get asked anything really out there. It was more of a getting to know you kind of interview.
"I tried to be prepared for some of the things I'd be asked. Obviously, everyone wants to know about my wrist. But I just tried to be myself and enjoy the experience."
Rasmussen, 18, said he will wear the cast for six more weeks. But he has been skating to stay in shape and said he has no doubt he'll be ready when training camp begins in September.
"My focus this summer will be to work hard and get myself ready and be in the best shape possible," he said.
Rasmussen said the Golden Knights didn't pull any surprises when he met with them.
"The interview with Vegas was similar to most of the others," he said. "They didn't really ask me anything about being able to handle living in Las Vegas or anything like that. They were pretty straightforward and fine to deal with. I liked them, and I hope they liked meeting me.
"I've been to Vegas before. I played in a tournament there a few years ago. It's a very nice city and nice weather. The people were very friendly, and it was a good experience."
Knights assistant general manager Kelly McCrimmon said team officials didn't ask any of the approximately 75 players they interviewed about living in Las Vegas.
Because of his injury, Rasmussen was not cleared to participate in Saturday's fitness testing, the final leg of the combine. But he doesn't think it will hurt his draft status.
"I think teams know what I can do on the ice," he said. "But I have no control over the situation. Wherever I'm taken, I'll be happy."
Rasmussen had 32 goals and 23 assists in 50 games for the Americans. The NHL's Central Scouting Bureau, which oversees the combine, rated him No. 5 overall among North American skaters after he had been sixth midway through the year.
His size and ability to shoot the puck are his strengths, along with a high hockey IQ. Critics say his skating needs work and he has to improve his production in 5-on-5 situations as well as playing in tight space.
Some mock draft boards have him going as high as fifth or sixth. Some have him 12th to 14th, and a few have him going late in the first round. All think he is headed back to juniors.
Rasmussen said he doesn't pay attention to the boards and that he'll go wherever he's assigned.
Does he think he's ready to play in the NHL?
"That's hard to say," Rasmussen said. "I want to get healthy, get stronger, work out over the summer and see where I'm at."
While Rasmussen talked to the Knights, one player who didn't was Nolan Patrick, the projected No. 1 overall pick. Patrick, who played for the Brandon Wheat Kings, who are owned by McCrimmon, said he didn't need a sit-down with his former coach.
"I think they know me pretty well," Patrick said.
More Golden Knights: Follow all of our Golden Knights coverage online at reviewjournal.com/GoldenKnights and @HockeyinVegas on Twitter.
Contact Steve Carp at scarp@reviewjournal.com or 702-387-2913. Follow @stevecarprj on Twitter.