NHL wants Seattle, but at what price?
October 29, 2016 - 11:37 pm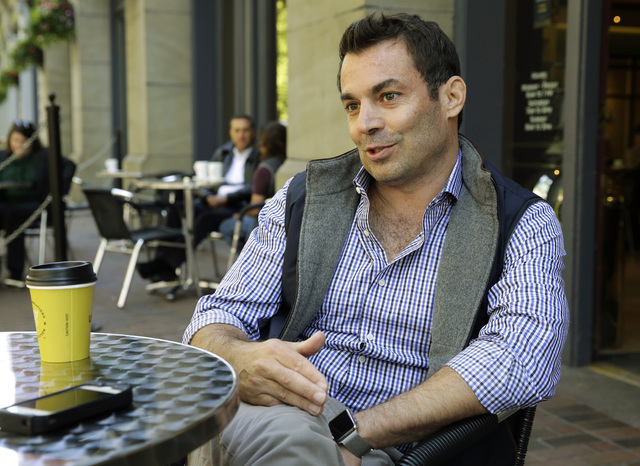 Tuesday's story that investor Chris Hansen was going to build a privately funded arena in Seattle's Sodo District made national news. And not just in basketball, as fans of the departed SuperSonics are dreaming of the return of the NBA after the Sonics bolted for Oklahoma City in 2008.
Hockey fans also were euphoric. But their enthusiasm might have to be tempered.
In Hansen's letter to Seattle Mayor Ed Murray and King County Executive Dow Constantine, it specifically states the NBA and basketball in his plans to fully privatize the construction of the Sodo arena. Nowhere does it mention hockey.
Victor Coleman, who initially was going to partner with Hansen on an arena project, was bullish on hockey and the NHL. He saw a Seattle NHL team as the perfect fit with Vancouver in the Northwest and also balancing out the conferences, something the NHL's owners want badly.
On Thursday, Tim Leiweke told the Seattle Times he was looking into the possibility of renovating Key Arena and bringing the NHL and NBA to that location. Perhaps Leiweke, the former president of the Toronto Maple Leafs and of Anschutz Entertainment Group, which owns the Los Angeles Kings, could be the answer to the NHL.
Still, it begs the question: Is Chris Hansen all about basketball and the NBA only?
Assuming he gets the OK from the city and assuming the NBA decides to expand in the next couple of years and Seattle returns to the league, the reborn Sonics will be the prime tenant and would control all the lucrative dates. Any NHL team would be second in the pecking order.
And as much as NHL commissioner Gary Bettman and the owners want to be in the Seattle market to balance out the conferences at 16 teams apiece, they need to ask themselves at what price would they be willing to do so while meeting their own established criteria for expansion.
First, they would have to find an ownership group that could afford to pay the $500 million (or more?) expansion fee. Would Coleman be that person? Or Leiweke?
Next, would the arena be suitable for hockey? There's an obvious pause for concern if Hansen's proposed arena is built strictly for basketball. If Leiweke were able to transform Key Arena into a suitable NHL facility, perhaps it would satisfy the league's mandate on a proper and modern facility.
Finally, would the Seattle market support the NHL? Probably, but not before the NBA. And with major pro sports teams in the NFL and Major League Baseball as well as arguably Major League Soccer's best-supported franchise, would hockey be able to economically sustain itself?
As much as the owners might want to have a 16th Western Conference team to join the Las Vegas expansion franchise and pick up another half a billion dollars, it's hard to imagine them doing so unless they know there's a sound financial plan.
VEGAS FREE AGENCY
Las Vegas owner Bill Foley confirmed Friday what ESPN.com first reported last week that Las Vegas will get an early opportunity to court unrestricted free agents before the June 20 expansion draft and the traditional July 1 start of free agency.
"We're going to look very hard at that," Foley said of pursuing unrestricted free agents as well as restricted free agents. "If we were to do so, it would be a long-term contract."
If Las Vegas signed an unrestricted free agent or restricted free agent and that team didn't match the RFA's deal, that player would satisfy his former team's loss of a player in the expansion draft. If Las Vegas doesn't sign anyone prior, it would have a second opportunity July 1.
"It will be like getting a second bite of the apple," Foley said. "But it's going to be interesting over the next six, seven months, and we'll be talking to the league to follow up with some of the legal questions and make sure we're in compliance with the rules."
Foley said the team's next mock expansion draft will be in late January just before NHL All-Star Weekend in Los Angeles.
ETC. …
The Penguins presented Jaromir Jagr with a plaque made from the roof of the old Civic Arena. Jagr, 45, played for Pittsburgh from 1990 to 2001. … The St. Louis Blues will see the name of their arena change from Scottrade Center to TD Ameritrade Center after the discount brokerage was purchased for $4 billion. … Anaheim signed restricted free-agent defenseman Hampus Lindholm to a six-year, $31.5 million deal.
Steve Carp's weekly NHL notebook appears Sundays. Contact him at scarp@reviewjournal.com or 702-387-2913. Follow @stevecarprj on Twitter.
WEEK'S THREE STARS
1. Sidney Crosby, Pittsburgh. He returned to action after a concussion to help the Penguins with goals in back-to-back wins.
2. Shea Weber, Montreal. He had multiple-point games in wins over the Flyers and Islanders to keep the Canadiens at the top.
3. Cam Talbot, Edmonton. He owns the Oilers' net right now. Impressive in win over Washington with 34 saves.