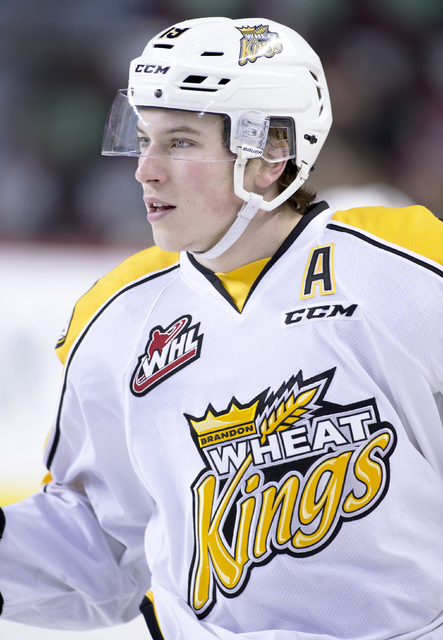 BUFFALO, N.Y. — The debate continues on whether Nolan Patrick or Nico Hischier will be taken by the New Jersey Devils with the No. 1 pick at the NHL Entry Draft on June 23 in Chicago.
Both interviewed this past week at the NHL Scouting Combine in KeyBank Arena with the Devils and Philadelphia Flyers, who have the No. 2 pick. Both participated in the combine's fitness testing Saturday at the Harborcenter.
For Patrick, who suffered through an injury-plagued season with the Brandon Wheat Kings, it was particularly important that he got medical clearance.
"I think I need to be out there and show that I'm physically OK," he said Friday.
Patrick said at the combine that he had two sports hernia issues, but only the one on his right side was treated. Doctors didn't catch the one on his left side until after the fact. He missed almost three months of the season.
The two centers have different styles. Patrick is probably the more physical player, and Hischier is the better skater. The two went head-to-head in Quebec City at the Prospects Game in January, and while Patrick's team won, Hischier might have had the better performance.
Hischier, who is from Switzerland and played for the Halifax Mooseheads of the Quebec Major Junior Hockey League this season, said he's not concerned about where he gets selected. He probably will become the highest-drafted Swiss-born player. Nino Neiderriter was taken No. 5 in the 2010 draft by the New York Islanders and now plays for the Minnesota Wild.
"My dream is to play in the NHL, so if I'm picked first or second, it doesn't matter," he said.
Neither is regarded by scouts as generational players. They're not Sidney Crosby, Connor McDavid or Auston Matthews. But they appear to remain at the top of the draft list.
"The media's done a good job with pumping us down, saying we're not going to have the immediate impact or anything like that," Patrick said. "I guess that's good for us and not as much pressure."
Transaction moratorium
The NHL announced last week that there will be a moratorium on any transaction activity among the 30 current members beginning at noon (PDT) on June 17 and concluding at 7 a.m. June 22. The Golden Knights are exempt and will be allowed to pursue free agents during the 72-hour window that runs from June 18 to June 21.
Other dates to note:
June 12: Teams have until 2 p.m. (PDT) to ask players with no-move or no-trade clauses to waive their clause.
June 15: First buyout period begins.
June 16: Final day to place players on waivers before expansion draft trade-waiver freeze, 9 a.m.; deadline for players to agree to waive their no-move or no-trade clause, 2 p.m..
Capitals' conundrum
As teams do business before the June 21 expansion draft, no team probably has as many issues as the Washington Capitals.
They have 11 unrestricted and restricted free agents and only $22.8 million in salary cap space. General manager Brian MacLellan might have to lose some key pieces from this year's President's Trophy club.
There's speculation the Caps might look to move their captain and franchise player, Alex Ovechkin. But that might be difficult given Ovechkin's no-trade clause and his contract — $9.5 million a year and signed through 2021.
Zuckers' expecting
Scott Zucker is going to be one busy grandfather. His three sons are expecting babies, and all three will be boys.
Minnesota Wild left wing Jason Zucker and his wife, Carly, are expecting their first child together in late October. Evan Zucker, the coach of the Junior Golden Knights under-14 AAA team, and his wife, Mandy, are expecting their first child in early October. And Adam Zucker, who is assisting Evan with the Junior Golden Knights, and his wife, Lauren, are expecting their first child in mid-August.
"We were very excited when we got the news," Scott Zucker said. "There's no question they'll all be holding a hockey stick in their hands."
Steve Carp's weekly NHL notebook appears Sundays. Contact him at scarp@reviewjournal.com or 702-387-2913. Follow @stevecarprj on Twitter.
Week's three stars
1. Jake Guentzel, Pittsburgh. He's had five game-winning goals in the playoffs and had the winner in the Penguins' first two wins of the Stanley Cup Final.
2. Matt Murray, Pittsburgh. He delivered in Game 2 and has been the better goalie.
3. Chris Kunitz, Pittsburgh. The puck is finding him, and he's taking advantage. He had four assists in the first two games.