Outdoor hockey suits NHL, players and fans just fine
January 2, 2017 - 12:24 am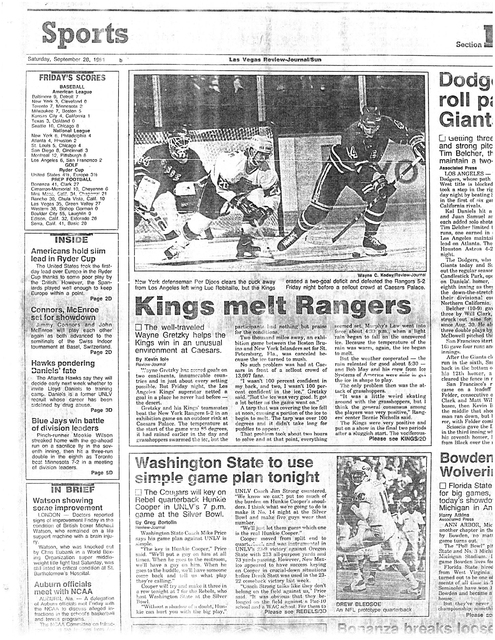 TORONTO — To the NHL, New Year's Day means more than a flip of the calendar. It's a day for hockey to be played outside, almost like kicking off the season a second time.
On Sunday, in front of 40,148 at BMO Field, the Toronto Maple Leafs and Detroit Red Wings faced off in what was billed as the NHL Centennial Classic as the league began celebrating its 100-year anniversary.
It did so in dramatic fashion as Auston Matthews won the game in overtime for Toronto 5-4, after a wild third period that saw seven goals scored, including Detroit's Anthony Mantha banging home a tying rebound with 1.1 seconds remaining to rally the Red Wings from a 4-1 deficit.
"These outdoor games are the greatest gift," Maple Leafs coach Mike Babcock said. "It was a great win for our team, our fans and our city."
For Matthews, who grew up in Scottsdale, Arizona, and had never played a hockey game outdoors, Sunday was special.
"It was a blast," he said after taking advantage of an oppoortunistic carom off the backboard and wristing the puck past Detroit goalie Jared Coreau for the game-winner. "It was a lot of fun. And it was great to get the two points on a national stage and experience the whole thing."
Sunday's wild finish will be tough to top when the NHL's Winter Classic is played Monday in St. Louis at Busch Stadium with the Blues hosting the Chicago Blackhawks. It will be the third of four scheduled outdoor regular-season games this year. In October, Winnipeg and Edmonton met in the Heritage Classic. Next month, the Pittsburgh Penguins will host the Philadelphia Flyers in the Stadium Series.
Some hockey purists point to the number of games outdoors and cry "overkill." NHL commissioner Gary Bettman sees it more as a supply-and-demand situation. Just about every NHL team wants to host an outdoor game, even in warm-weather climates.
"The fans enjoy it and the players enjoy it," Bettman said, adding that three games are currently planned for next year, regardless of whether the NHL participates in the 2018 Winter Olympics in South Korea.
The fans certainly enjoyed Sunday's game with its seven third-period goals, a fight between heavyweights Matt Martin of Toronto and Steve Ott of Detroit and the Leafs building a 4-1 lead only to see the Red Wings come back to tie.
And to have Matthews, the No. 1 overall pick, win it with his second goal of the game, and 20th of the season, in OT, the two points Toronto picked up was the best news of all for the Leafs.
Hall of Famer Wayne Gretzky, who is serving as ambassador for the NHL's 100th season, remembered playing outside in Las Vegas at Caesars Palace on Sept. 27, 1991, with the Los Angeles Kings. He said that night was a jump-start for what has become today's tradition for the NHL.
"The greatest thing about these outdoor games is it takes you back to being a kid, going outside to play," Gretzky said. "Over the years, these games have become special. Who'd have thought the Kings and the Ducks could sell out Dodger Stadium?
"It just shows that hockey is made to be played anywhere, both indoors and outside. Whether it's Vegas, in Dallas, in Southern California, in Arizona, people are attracted to hockey. I think the people of Las Vegas are going to be excited to watch their team but also the other NHL teams."
The previous 19 outdoor games the NHL has staged has attracted an average of 55,489 fans. The record is 105,491 at Michigan Stadium in 2014 when the Maple Leafs beat the Red Wings 3-2 in a shootout.
For the teams, participation in an outdoor game is helpful mentally in breaking up the routine of a long season. But it helps more when you win.
"It changes up your routine which is a good thing because guys sometimes get in a rut," Red Wings coach Jeff Blashill said. "Whenever you have an opportunity to be involved in one of these games, you should embrace it.
"It's great we came back but it was disappointing we didn't get two points."
Contact Steve Carp at scarp@reviewjournal.com or 702-387-2913. Follow @stevecarprj on Twitter.