Reno fans greet Golden Knights at start of four-city road trip
Updated August 6, 2018 - 8:36 pm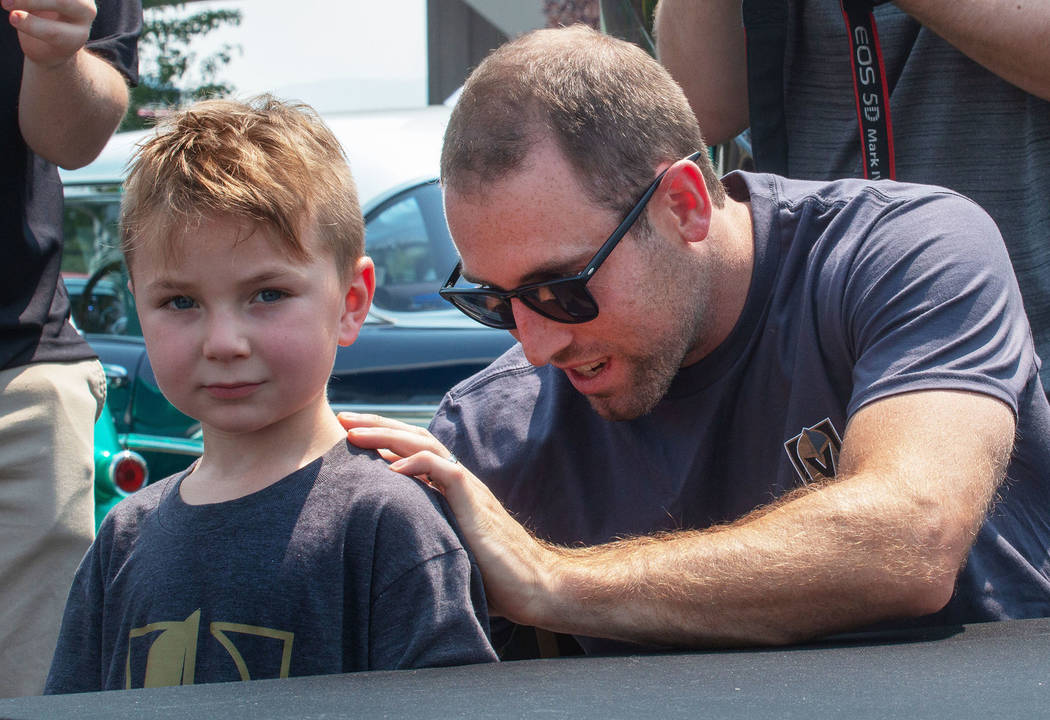 RENO — Everett Friedlander has been a Golden Knights fan for almost half his life.
For Everett, the nearly 450 miles that separated him from the team's home ice mattered little. Once the Knights hit the ice for their inaugural season, the 5-year-old from South Lake Tahoe was hooked.
"As soon as they showed up, he got a jersey and a hat. He started wearing them everyday and wouldn't take them off," said Everett's father, 41-year-old Eric Friedlander.
And that's why Monday was so special for Everett. Those hundreds of miles between him and his favorite team disappeared as the second annual Golden Knights' Mountain West road trip made its way through Reno on Monday.
Everett and his dad were among a few hundred Northern Nevadans in line outside a Reno resort in the rising afternoon temperatures to join the festivities, as well as get an autograph from Knights defenseman Brad Hunt.
Hunt also happens to be one of Everett's two favorite players (the other being goalie Marc-André Fluery).
Everett's father has lived in South Lake Tahoe for more than two decades, and grew up a fan of the Los Angeles Kings and San Jose Sharks. But like so many others who were captivated by the team's record-setting journey to the Stanley Cup Final, the elder Friedlander found that he couldn't pull himself away whenever the Knights and their fast-paced style were on television.
"It's really hard to not be a fan." Friedlander said.
Knights fever didn't hit Reno nearly as hard as it did down south, but Friedlander said he "definitely noticed a buzz."
"A lot of people up here are Sharks fans just because they were the local team, the closest team by far. But now we got a team in Nevada, and everybody's jumping on that band wagon," he added.
That's precisely what the team hopes to capitalize on with the four-state road trip, said Kim Frank, vice president of marketing and community relations for the Knights.
"We know we have fans in our extended market and we wanted to show everybody the love, and this is a fun way to do it," Frank said. "We are a few hours away, but that doesn't mean we're not part of their community as well."
From Reno, the team heads to Boise, Idaho, before going to Jackson Hole, Wyoming, and then to Salt Lake City for the last stop. The four cities are within the Knights' TV distribution area with AT&T Sportsnet.
Hunt credited the fans in Las Vegas as well as those like the Friedlanders throughout the Rocky Mountain region in supporting the expansion underdogs throughout their improbable season and playoff run.
"They're cheering us on. So we can go and say 'Hi' every once in a while," Hunt said.
And Friedlander said that's all their looking for as fans in the north.
Las Vegas to Reno is about twice the distance as that from San Jose to Reno, so its not surprising that a strong contingent of Sharks fans live in the area. But the Sharks have done little in terms of fan outreach across the state line, Friedlander said.
So doing little things like offseason autograph signings and clinics at local ice rinks could go a long way in uniting those in the Silver State under a single Knights banner, he added.
"It's there for the taking if the Knights want it."
More Golden Knights: Follow all of our Golden Knights coverage online at reviewjournal.com/GoldenKnights and @HockeyinVegas on Twitter.
Contact Colton Lochhead at clochhead@reviewjournal.com or 775-461-3820. Follow @ColtonLochhead on Twitter.