Season-ticket holders for Las Vegas NHL franchise will be able to select seats soon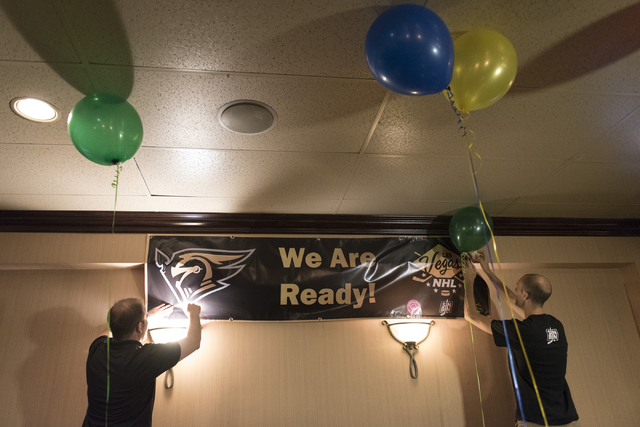 You put your deposit down months ago, not knowing what was going to happen.
You waited. You tried to be patient. You listened to NHL commissioner Gary Bettman's rhetoric, and all it did was make you antsy. You tried to follow prospective team owner Bill Foley's lead and stay optimistic.
After months of waiting, you finally got what you paid for. You're a season-ticket holder to Las Vegas' first major league professional sports team after the NHL announced Wednesday it was awarding Foley an expansion team to begin play in the 2017-18 season at T-Mobile Arena.
So what happens now?
You don't need to get out your checkbook just yet. According to Todd Pollock, the team's vice president of ticketing and sales, anyone who put down a deposit will be contacted before late July when an open house will be at T-Mobile Arena. All season-ticket holders will be allowed to tour the venue and see the location they've selected.
By then, the exact number of seats and ticketing system will be in place. Near the start of the 2016-17 season, the actual seat selection process will be made. Fans will go online and select where they will sit. Once that's done, 20 percent of the bill will be due when the seats are secured. The balance will be paid on a nine-month schedule interest free.
Priority will go to those who have purchased the longest plans — 10 years — then five years, three years and one year.
"We want to be fair to everybody," Pollock said. "We're adding a dozen salespeople to the staff and make sure we have the best customer service."
If you put down a deposit and moved out of town, lost your job or simply had second thoughts, you can get your deposit refunded. But once you commit to selecting seats, there's no turning back.
"We've maybe had a couple hundred ask for a refund," Pollock said. "But we know we're going to sell out. We've been really busy the last few days after word got out that we were joining the NHL."
The team changed its "VegasWantsHockey.com" website name to "VegasIsHockey.com" and, according to Pollock, the number of deposits was close to 15,000 after Wednesday's announcement.
"We're looking to cap the number of season tickets," he said. "I'm not sure what the final number is going to be. But we will have tickets for individual games on sale next summer. It may be 500 or a few more, but they're going to go quickly."
Foley, who sent a personal email to all season-ticket holders Wednesday thanking them for their patience and support, said: "I am convinced we are going to be full every night."
Pollock, who worked in hockey as a sales executive and manager of ticket sales and services for the Los Angeles Kings from 2006 to 2009, said he'll never forget Wednesday.
"It was a very rewarding day for those of us behind the scenes, but also for the more than 14,000 who believed and are excited to be part of this," he said.
Contact Steve Carp at scarp@reviewjournal.com or 702-387-2913. Follow on Twitter: @stevecarprj
NHL in Vegas
Complete coverage of hockey in Las Vegas