Sled hockey brings ice sport to disabled at City National Arena
Updated August 9, 2018 - 7:12 pm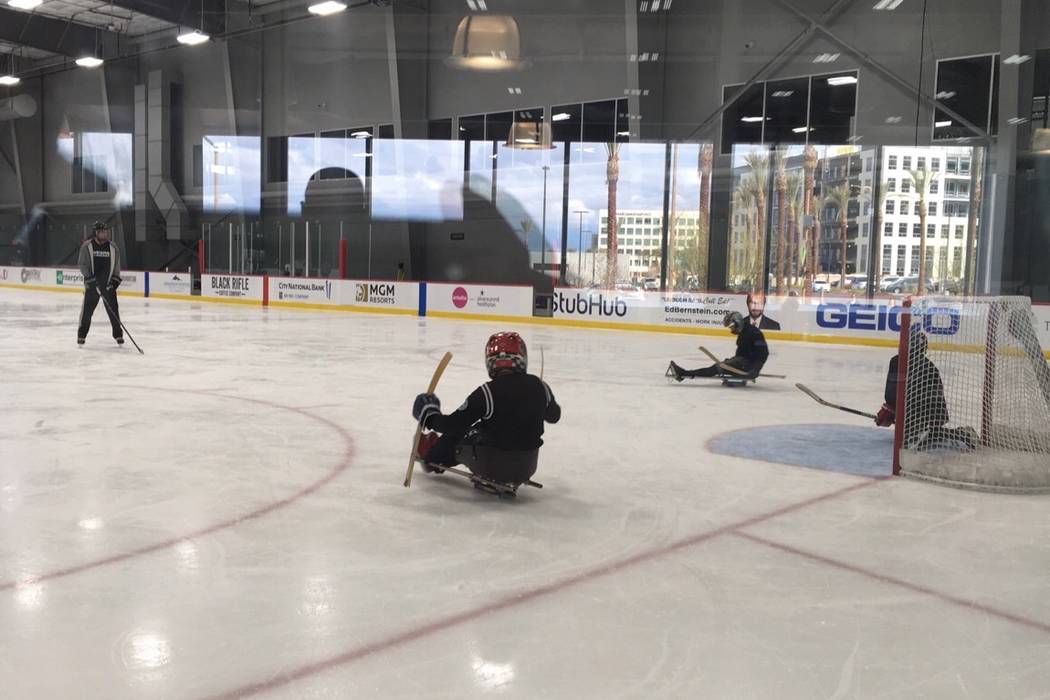 At the Golden Knights' practice facility, a brand of hockey previously unknown to valley is blooming. It's not new, and the United States recently brought home a gold medal in it.
It's sled hockey. And participants can try it for free at City National Arena on Sept. 9.
"It's a form of hockey that allows people with mental and physical disabilities to compete comfortably," Golden Knights Foundation President John Coogan said.
The Golden Knights Foundation recently partnered with the Jake Kieb Foundation, an organization promoting the growth of youth hockey in Southern Nevada, to start playing sled hockey for disabled persons who see what the NHL team is doing, and want in on the action.
The Golden Knights Foundation recently purchased 12 sleds, and the program that began in February plays on Sundays at City National Arena. While the focus is on young players, the foundation also wants a competitive adult team.
Coogan said that the adult team, while providing opportunities to older players who wouldn't otherwise have them, also gives younger players a role model.
"It serves as an example for the young kids to show them where they can aspire to," Coogan said.
Sal Karimzada is that example.
Karimzada is double amputee and has been playing for years. He played for Team USA in 2004, as well as NHL-affiliated teams across the country. After getting cut from the national team, he started coaching and has taken up that mantle in Las Vegas.
He's part of the adult team trying to grow the game, and while he's coaching now, he'd rather more people come out so he can focus on playing.
"This definitely motivates me to stay active and stay healthy," Karimzada said. "It's bigger than the picture of playing hockey. I think it's just a way for people who are disabled to get healthy here and live a lifestyle where they're actually going to be moving around."
More Golden Knights: Follow all of our Golden Knights coverage online at reviewjournal.com/GoldenKnights and @HockeyinVegas on Twitter.
Justin Emerson can be reached at jemerson@reviewjournal.com.