Stars, Kings get Vegas ice age underway at T-Mobile Arena
October 7, 2016 - 10:47 pm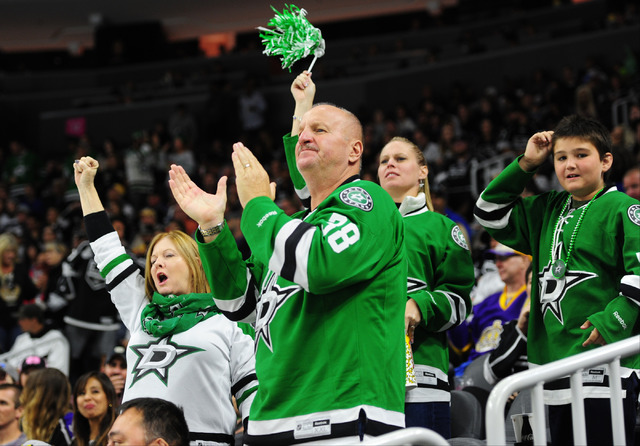 The Los Angeles Kings probably wished they still were playing across the street at the MGM Grand Garden.
As much as T-Mobile Arena got rave reviews from the players, it wasn't exactly home sweet home for the Kings, who were beaten 6-3 Friday night by the Dallas Stars in 6-month-old T-Mobile's first NHL game before an announced crowd of 15,181.
Despite outshooting the Stars 42-28, the Kings couldn't make the most of their opportunities and fell to 3-4 in the preseason. Dallas, which took control with second-period goals 33 seconds apart by Johnny Oduya and Radek Faska, improved to 4-3.
The Kings, who have been coming to Las Vegas since the mid-1990s and were 14-4-3 in Las Vegas before Friday's game, will end their Frozen Fury run Saturday when they play Colorado at 7 p.m. Next year, when they come to Las Vegas to play the expansion "Whatever" Knights, they will be the enemy.
Players from both teams gave the quality of the ice a thumbs-up, which was a big relief to George Salami, the arena's ice maker.
"It's good," Kings defenseman Drew Doughty said. "The boards have a little bounce to them, but it's a beautiful arena and it's bright, which I like."
Dallas center Jason Spezza noticed the same thing about the lively boards, saying: "The boards are real quick. The puck is humming around."
Spezza also thought the ice will get better the more it is played on.
"It probably needs to be broken in a little," he said. "But it's the first time, and it was fine."
Said Kings goalie Jonathan Quick, who had Friday off with Jeff Zatkoff in the net: "I think it's on par with most of the rinks we play on."
The Kings started quickly, scoring 3:52 into the game on a deflection of Tyler Toffoli's wrist shot by Michael Mersch for the arena's first goal. But the Stars kept working and were rewarded by taking leads of 2-1 and 3-2, then 4-2 through two periods.
Both teams thought Las Vegas will be a popular destination for their fans.
"It's a little different city," Oduya said. "But there's a lot of support here. I think it's going to be exciting. It's not that far for our fans to travel from Dallas."
Kings fans are used to making the trip to Las Vegas. Doughty expects that to continue next year.
"I think it has the makings of a really good rivalry because Vegas is so close to L.A.," he said. "It'll be fun coming to Vegas and being the enemy."
Stars coach Lindy Ruff said Friday was a good trial run for his team.
"I hate to think any trip to Vegas is a routine trip," Ruff said. "But I think it's going to be business as usual for our guys when we come here. There's obviously a lot to do here and experience. They can experience it all they want, just as long as they're in by 11 (p.m.)."
Contact Steve Carp at scarp@reviewjournal.com or 702-387-2913. Follow on Twitter: @stevecarprj