Team Gray evens score in Golden Knights scrimmage
Updated June 30, 2017 - 8:20 pm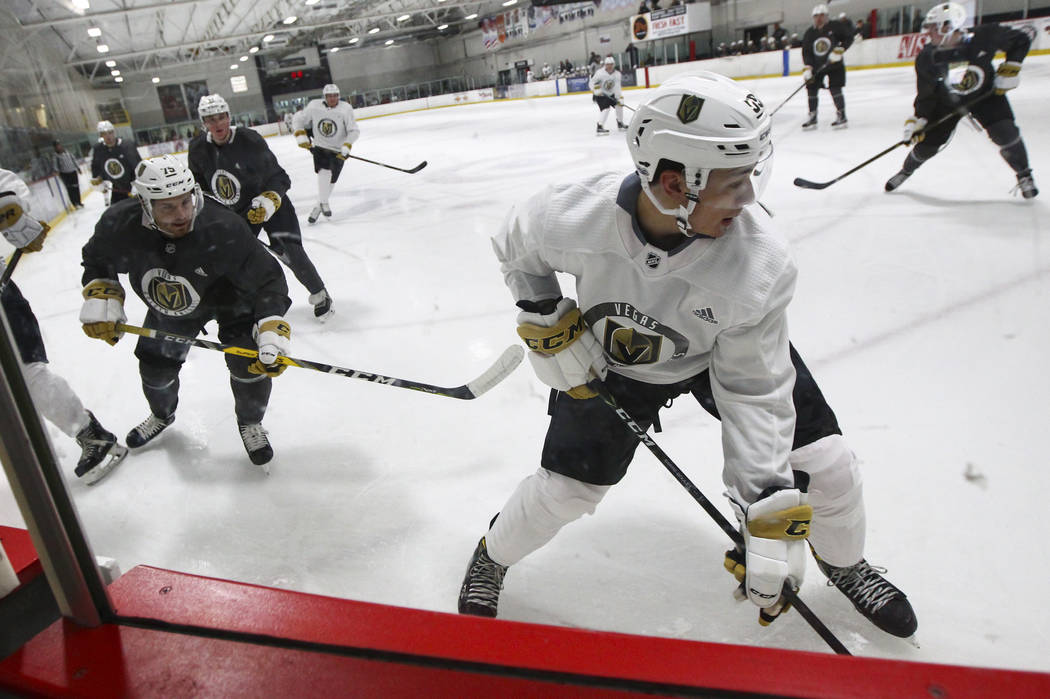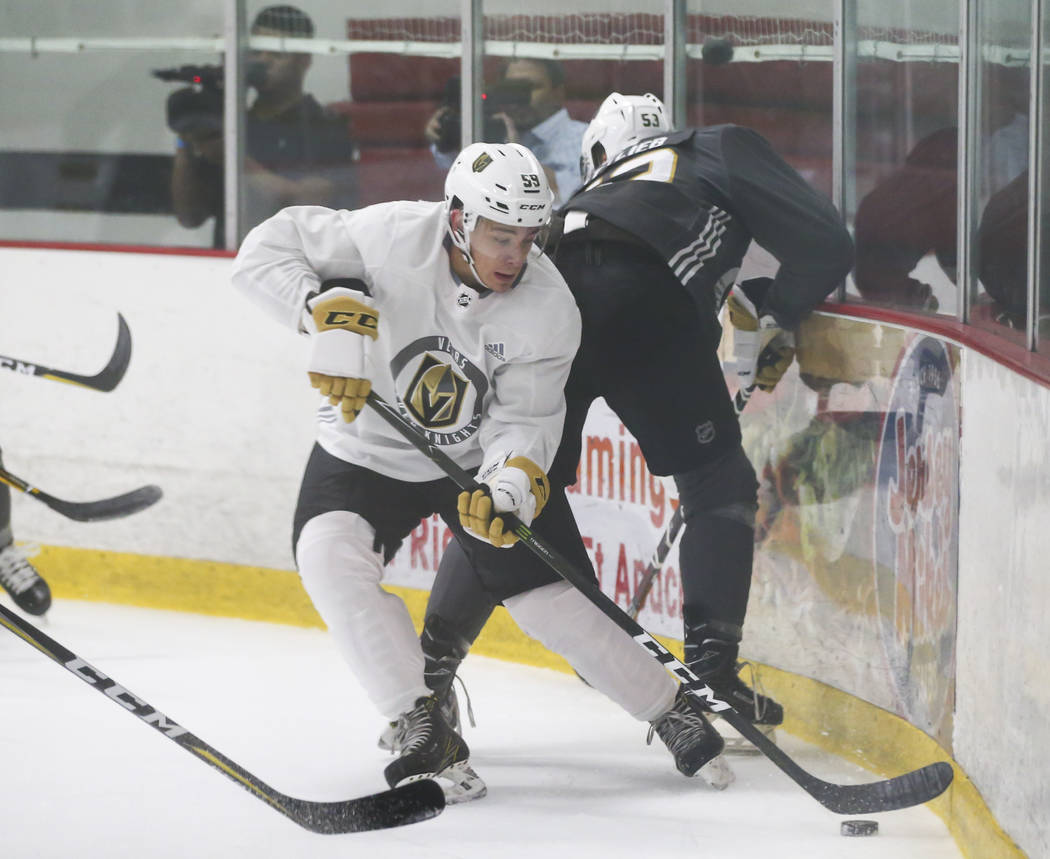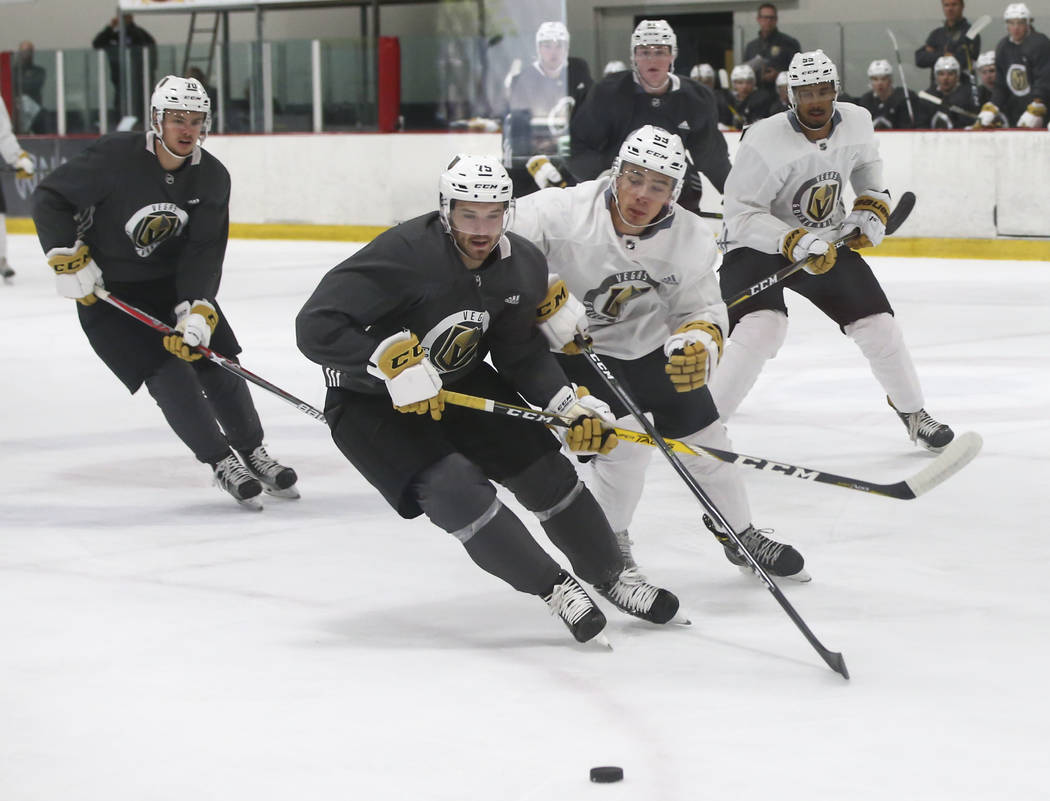 Nick Suzuki, a Golden Knights first-round pick and Team Gray center, was disappointed his team's comeback fell short in Thursday's scrimmage at the expansion franchise's development camp.
He was pleased with the end result Friday.
Team Gray overcame a 4-1 deficit by scoring six goals in the third period and held on for a 7-5 victory over Team White on Friday morning at the Las Vegas Ice Center.
Both teams have one victory and will scrimmage one final time Saturday before wrapping up the five-day camp.
Suzuki said Friday's scrimmage went a lot better than Thursday's, and attributed the improved play to chemistry.
"Everybody kind of knows each other," Suzuki said. "For this camp, I'm just trying to soak up everything I can and learn as much as I can to make me a better hockey player."
He scored again Friday after scoring twice Thursday. Alex Tuch scored twice for Team Gray, and Keegan Kolesar had two goals for Team White.
Kolesar also noticed an improvement in the play and said "the first scrimmage was a little sloppy at the start … I think today, over the course of the whole game, it was a pretty solid game for everyone."
Team White dominated the 5-on-5 portion of the scrimmage. It shifted to 4-on-4 midway through the second period and concluded with 3-on-3 for the final seven minutes.
Knights general manager George McPhee, speaking to the media for the first time since camp started, said he's pleased with what he's seen but isn't drawing any sweeping conclusions about the personnel.
"You can't put too much stock into evaluations," McPhee said. "Our opportunity to work with these kids starts now. Our mandate is to find out how we can help these kids succeed, what we can do to make them better players."
First-rounder Glass scores
Golden Knights first-round pick Cody Glass is still getting used to playing against bigger and stronger players. After four days of camp, he seems to be settling in.
Glass scored a goal eight seconds into the third period Friday and excelled as a facilitator during several of his other shifts. Other players, including fellow Winnipeg native Kolesar, have lauded Glass' approach.
"Cody is one of the smartest players I've played with probably," Kolesar said. "There's a bright future for a lot of guys here. Vegas has some really good players."
Glass was deferential after the scrimmage and credited his teammates for his improved performance.
"When you get more comfortable with your linemates, you feel a lot better in your game," Glass said. "You feel a lot more confident in your teammates. As the games went on, we got a lot closer."
Glass said he plans to go back to Winnipeg after camp to work on strength and conditioning, and his shot. He's scheduled to participate in World Junior Camp with Team Canada before rejoining the Portland Winterhawks of the Western Hockey League.
Former teammates reunite
Darian Romanko found out in October that he would be at the Knights' development camp.
Jake Bischoff found out last week.
Different paths. Same destination.
They played two seasons together at Minnesota and helped the Gophers reach the NCAA Tournament in both years.
Bischoff, the 2016-17 Big Ten Defenseman of the Year, was drafted by the New York Islanders, who traded his rights to the Golden Knights last week.
"It was definitely a little bit of a shock," Bischoff said. "It's been sort of a whirlwind, but a lot of fun."
The Knights contacted Romanko in October about coming to the camp, and he was excited when he heard Bischoff would be there.
"It was nice, you know, the sense of comfort with a guy," Romanko said. "It's easier to talk to guys. You're not just inserting yourself into conversation. You can go as a tandem."
More Golden Knights: Follow our coverage at reviewjournal.com/GoldenKnights and @HockeyinVegas on Twitter.
Contact Sam Gordon at sgordon@reviewjournal.com. Follow @BySamGordon on Twitter.