Tomas Nosek showcases skills skating on Knights' first line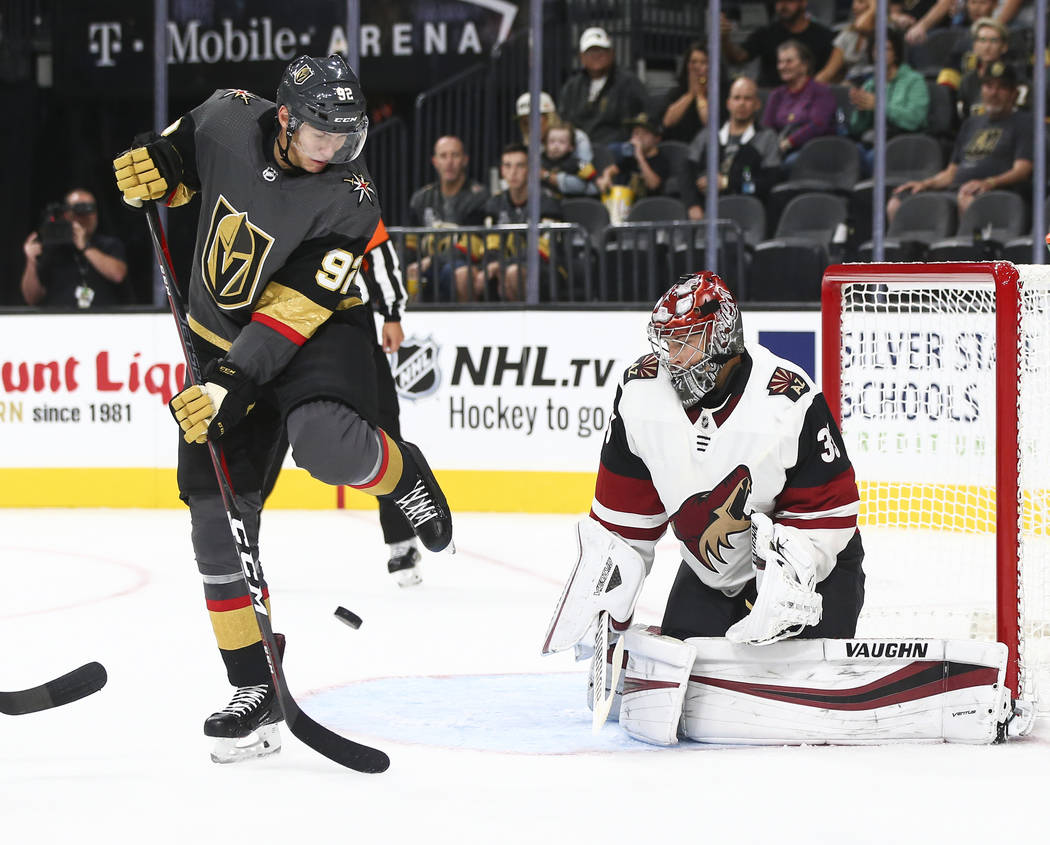 Tomas Nosek got to play on the Golden Knights' first line Sunday, and it took him 16 seconds to show he belonged.
The forward took the puck down to the Arizona Coyotes' end and dished it to Jonathan Marchessault for a lightning-quick assist. For Nosek, who skated with Marchessault and William Karlsson during even strength and on the power play, it was an opportunity to show he's ready for a bigger offensive role.
"He's had a good camp," coach Gerard Gallant said.
Nosek, 26, played in a career-high 67 games last season and finished with 15 points. The Pardubice, Czechoslovakia, native was part of several big moments for the Knights after being selected in the expansion draft from Detroit, beginning with the first home goal in franchise history.
Nosek also scored three goals in the Stanley Cup Final, including the game-winner in the Knights' 6-4 victory in Game 1.
"I like (Nosek's) game," Gallant said. "I don't know how many goals he scored last year — I'm not a big numbers guy — but he scored some big goals for us last year. He played well. I want him to come in and do the same thing he did last year."
Nosek was brought back on a one-year, $962,500 deal and likely will play a bottom-six role again after averaging just more than 11 minutes per game last year.
Sunday gave him a chance to audition for something more, and he had three assists 41 seconds into the second period.
"Obviously we know he's going to be there if everybody's healthy Day One," Gallant said.
Pacioretty calls draw
New Knights forward Max Pacioretty visited T-Mobile Arena on Saturday, taking in the WBC/WBA middleweight title fight between Saul "Canelo" Alvarez and Gennady Golovkin.
Alvarez won by majority decision, but Pacioretty said the fight was a draw in his eyes.
Also, Pacioretty got to play against former Montreal Canadiens teammate Alex Galchenyuk on Sunday. Galchenyuk played six seasons in Montreal, all with Pacioretty, before being traded to Arizona this offseason.
"I haven't kept up with his camp but I'm sure he's doing well," Pacioretty said. "He's a great player that I think will flourish in Arizona."
Notable
■ The Knights gave out commemorative pucks honoring Gallant for winning the Jack Adams Award (best coach) in June.
■Karlsson, Marchessault and Pacioretty were the Knights' assistant captains for the preseason opener.
More Golden Knights: Follow all of our Golden Knights coverage online at reviewjournal.com/GoldenKnights and @HockeyinVegas on Twitter.
Contact Ben Gotz at bgotz@reviewjournal.com. Follow @BenSGotz on Twitter.