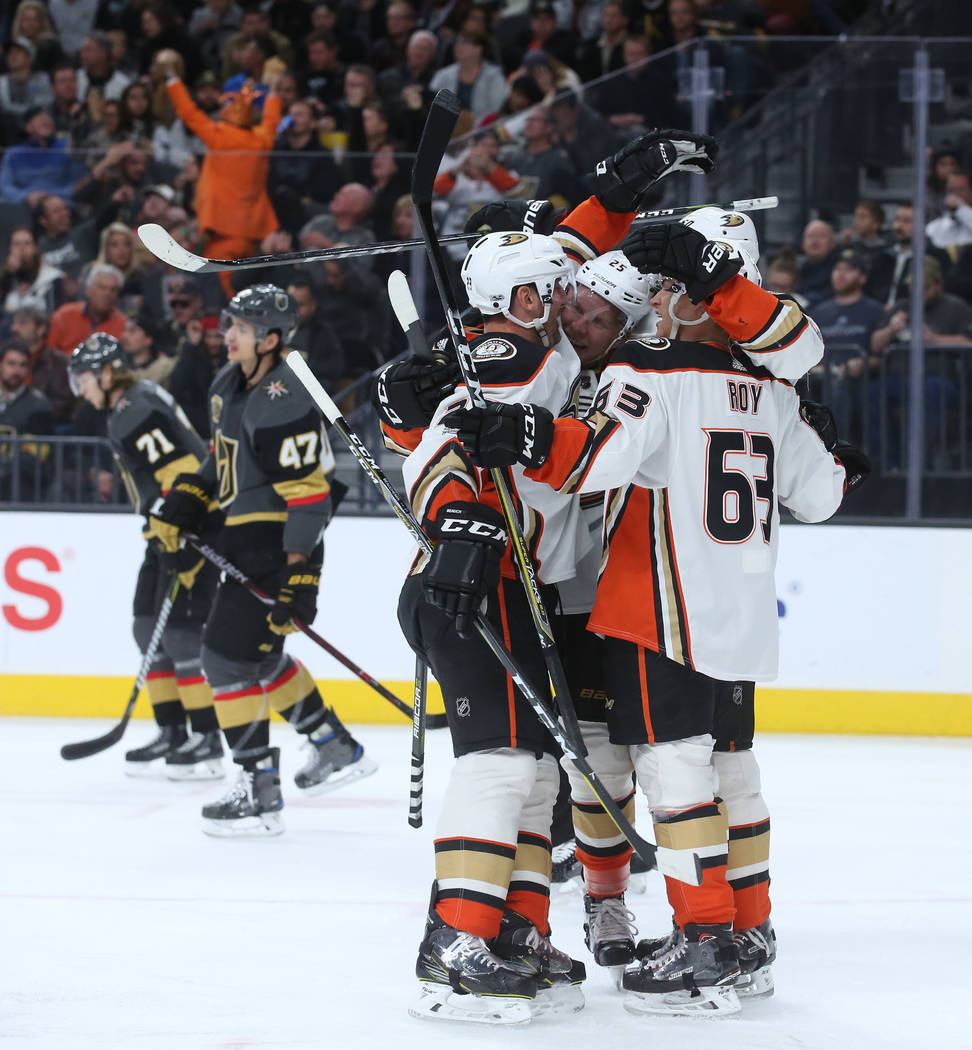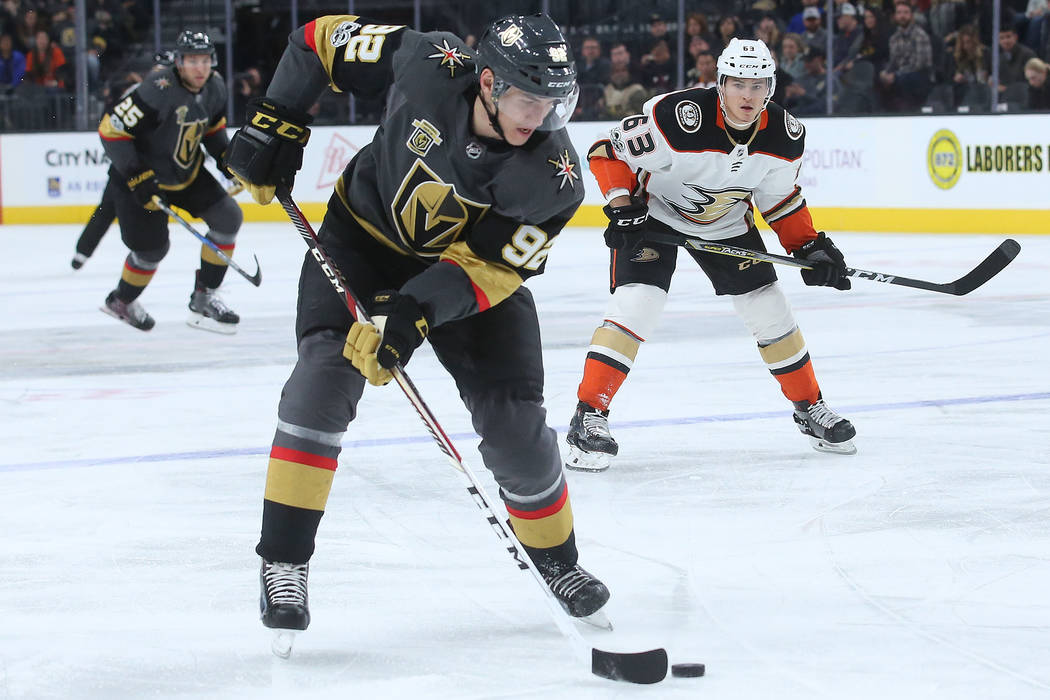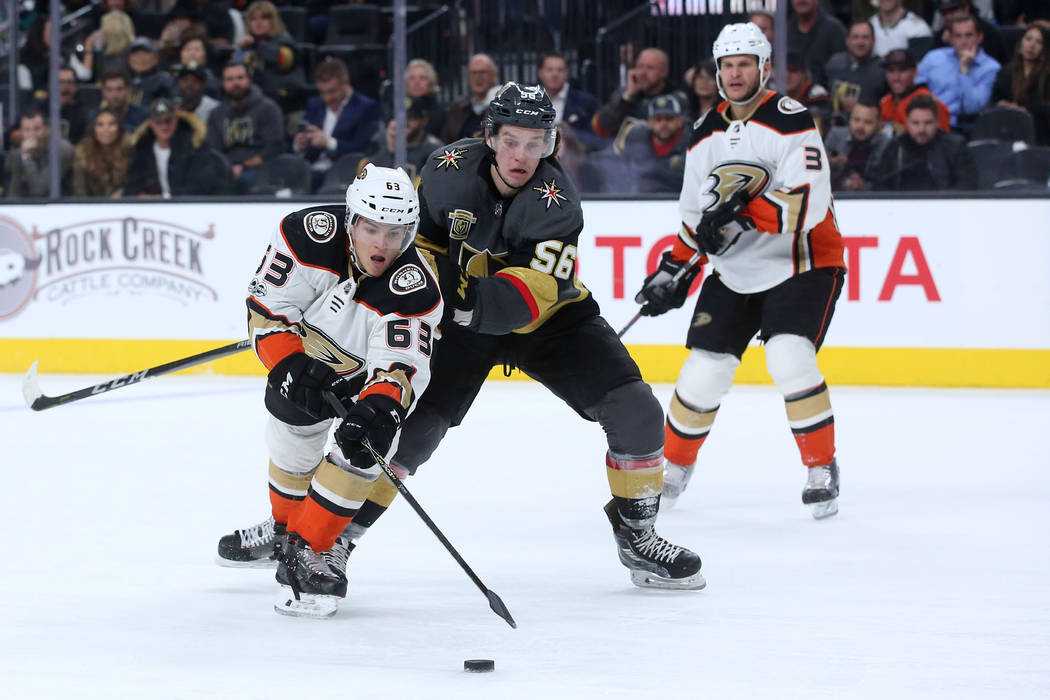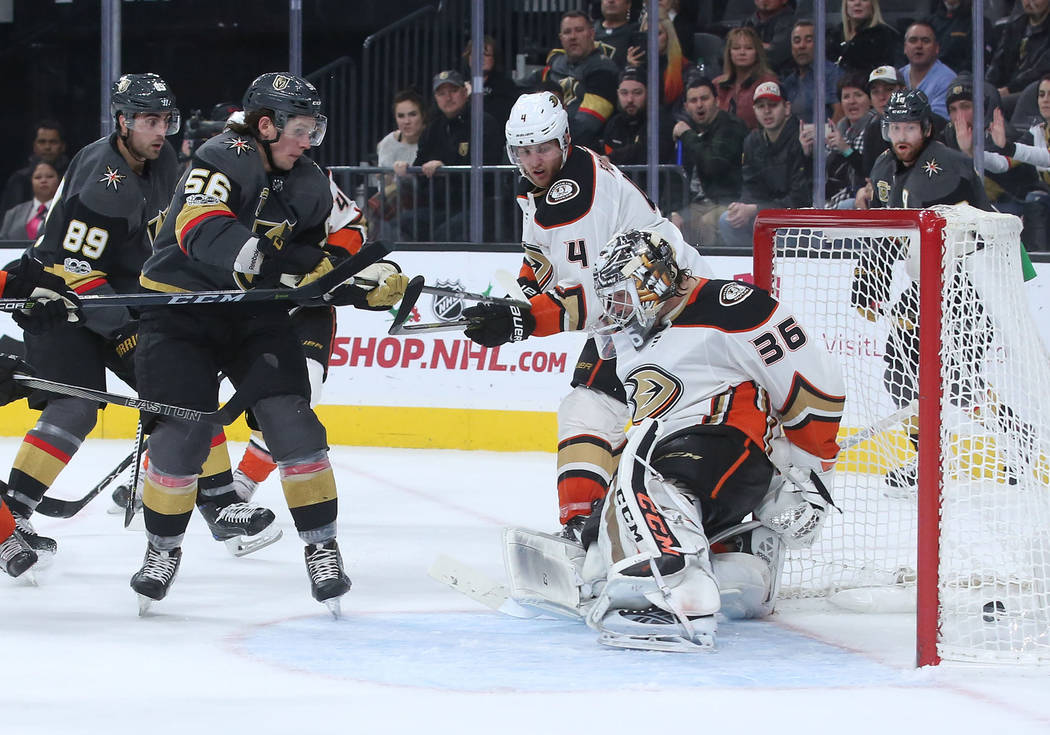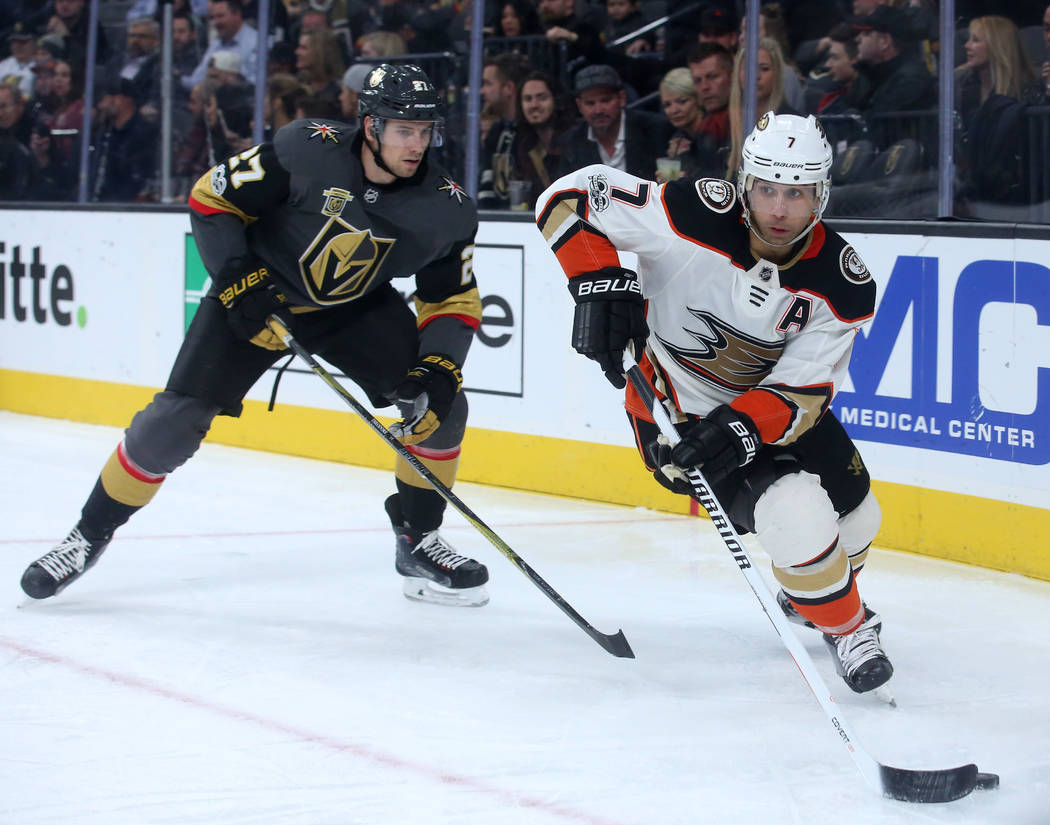 Alex Tuch figured something good was bound to happen to him.
The Golden Knights' right wing was robbed of a first-period goal, then took a bad tripping penalty early in overtime. But Tuch redeemed himself by scoring the lone goal in the shootout to help push the Knights past the Anaheim Ducks 4-3 on Tuesday before 17,608 at T-Mobile Arena.
"Yeah, I needed to do something positive after that penalty (in overtime)," said Tuch, who put his team in a 4-on-3 disadvantage. "I'm just grateful my teammates bailed me out."
The win allowed the second-place Knights (17-9-1) to keep pace with first-place Los Angeles in the Pacific Division.
Tuch found himself playing on a couple different lines in the third period, and he created the turnover that allowed James Neal to feed Erik Haula for the game-tying goal with 4:22 left in regulation after Anaheim had scored three unanswered second-period goals from Franciois Beauchemin, Antoine Vermette and Corey Perry to erase a 2-0 deficit.
Coach Gerard Gallant said of switching to Tuch: "It was a lucky break. I was trying to get some size there. Sometimes it works, sometimes it doesn't. I'm glad it worked."
"I'm glad I was on the ice and was able to make a play," Tuch said of the strong forecheck in the Ducks' end that led to Haula's ninth goal.
Neal and Oscar Lindberg scored 16 seconds apart late in the first period as the Knights took a 2-0 lead. Earlier in the period, Gibson made a sensational glove save on Tuch, sliding across his crease and snagging a shot that was ticketed for the right corner.
"I still don't know how he stopped that," Tuch said of Gibson, who had 40 saves in all. "I was aiming high to the right. I guess I didn't go high enough."
For the most part, the Knights struggled defensively, leaving goaltender Malcolm Subban out to dry. The Ducks had four breakaway chances with Perry capitalizing on his. But Subban came up big late in regulation, throughout overtime, especially when he stopped Ondrej Kase off a 3-on-1 as he and Gibson put on an amazing display of goaltending.
In the shootout, Subban stopped Perry, Rickard Rakell and Kase to give his team the extra point.
"I just tried to stay in the moment," Subban said. "I wanted to be aggressive and challenge their shooters."
Gallant said Subban, who had 26 saves, was definitely a standout performer.
"He was tremendous," Gallant said. "You couldn't blame him on any of the goals. He was great in the overtime and stopped everything in the shootout. He definitely came up big for us."
For the Ducks, it was frustrating to not get that extra point.
"We sat back too much in the third," Perry said. "We got away from what we were doing in the second, playing on the forecheck and getting pucks in deep. We received a little too much in that third period. Those are learning curves throughout the season, and we'll fix those and move forward."
For the Knights, it was matter of overcoming some of their own lax play and finding a way to grind out two points in the division.
"It was a little nerve-wracking, but it was fun," said Tuch of the franchise's first shootout win. "We just tried to keep at it, get a little harder on the forecheck and (Haula) came through."
Contact Steve Carp at scarp@reviewjournal.com or 702-387-2913. Follow @stevecarprj on Twitter.
Three takeaways
1. Defensive lapses. It's great the Knights' defensemen want to jump into the play and help create offense. But they got caught four times Tuesday as Anaheim sprung players loose for breakaways. Corey Perry took advantage with his second-period slap shot that went whizzing by Malcolm Subban to give the Ducks a 3-2 lead.
2. Powerless power play. Once again, the Knights' power play sputtered. They had a four-minute power play in the first period after Erik Haula was high-sticked by Brandon Montour — and the Ducks had the better chances. The Knights are 0 for 15 with the man advantage going back to Nov. 25.
3. Lindberg lights lamp. Oscar Lindberg had not scored since Oct. 31. It's been a tough stretch for the forward, but he has played well with Haula and James Neal the last couple of games. Maybe that goal, which came 16 seconds after Neal got his 13th, will spark Lindberg.
Steve Carp Las Vegas Review-Journal