US patent office denies 'Golden Knights' trademark
December 7, 2016 - 11:35 pm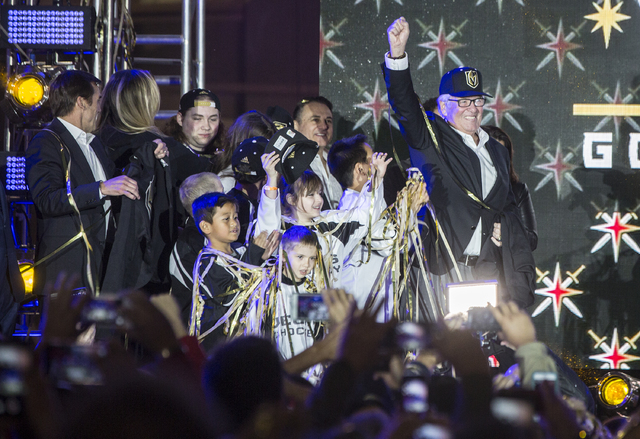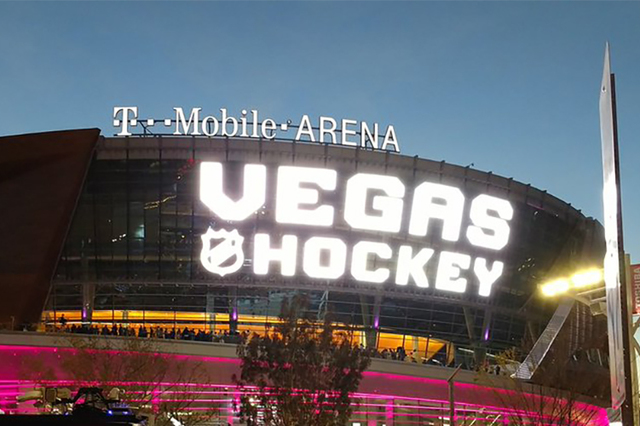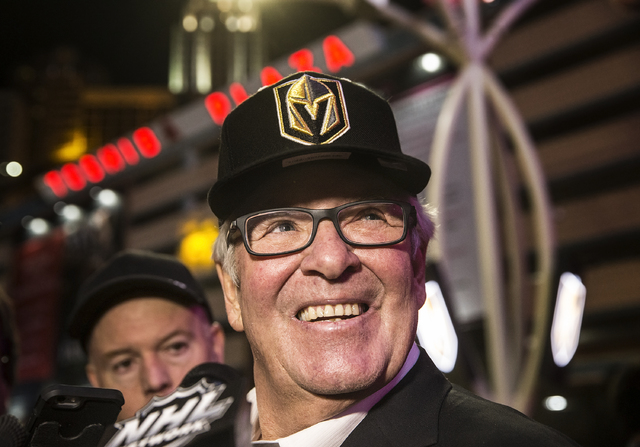 Just more than two weeks after its grand unveiling, the Golden Knights nickname for Las Vegas' new NHL team faces challenges.
The Vegas Golden Knights' trademark request was denied by the United States Patent and Trademark Office on Wednesday because of a "likelihood of confusion" with the registered mark of The College of Saint Rose. The Albany, New York, school also uses the Golden Knights nickname.
The trademark denial was first reported by the website SB Nation.
Golden Knights owner Bill Foley didn't return a voice message Wednesday night seeking comment.
"We believe, at the end of the day, all parties will embrace the fact that we are the Vegas Golden Knights and this absolutely will work out," said Murray Craven, the team's senior vice president, who was traveling in Toronto. "I hope people don't overreact to this at all. We believe everyone will be satisfied. We are only going to enhance the name Golden Knights for everyone. That's our goal. I won't put words in Bill Foley's mouth, but we all believe this will be fine."
Golden Knights VP Murray Craven: "We believe, at the end of the day, all parties will embrace the fact we are the Vegas Golden Knights …

— edgraney (@edgraney) December 8, 2016
The team will continue to sell merchandise as it prepares its response to the U.S. Patent and Trademark Office. The response must be filed by June 7.
"Office actions like these are not at all unusual, and we will proceed with the help of outside counsel in preparing a response to this one," the team said in a statement.
Statement sent by Las Vegas franchise to @SINow on rejection of the Golden Knights trademark: pic.twitter.com/SvSym76VXv

— Alex Prewitt (@alex_prewitt) December 8, 2016
The Vegas Golden Knights nickname was revealed Nov. 22 at a ceremony in front of the team's stadium, T-Mobile Arena. Foley, general manager George McPhee and NHL commissioner Gary Bettman gave speeches at the event, which revealed the name, colors and logos for the first major professional sports franchise in Las Vegas.
Bettman told Review-Journal reporters he had been intimately involved in the process.
"I wouldn't be here," Bettman said that day, "unless I was completely behind the final result."
Foley, who was awarded the NHL's 31st franchise June 22, also owned the trademarks, domain names and copyrights for Silver Knights and Desert Knights, but chose Golden in part as a tribute to Nevada's gold mining industry.
The Vegas Golden Knights also came under fire soon after its unveiling when the Fayetteville (North Carolina) Observer reported that the U.S. Army wasn't sure it approved of the NHL's use of the nickname. The Army's parachute unit goes by the same name.
Review-Journal columnist Ed Graney contributed to this story. Contact reporter Ben Gotz at bgotz@reviewjournal.com. Follow @BenSGotz on Twitter.